It is the 3rd birthday of csschopper.com on 12th Oct 2012. When it is the occasion to celebrate one more successful year of this prosperous journey of CSSChopper then how we can forget our honored customers.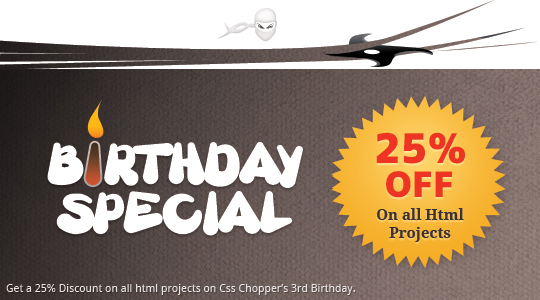 On the day of the grand celebration, CSSChopper is appearing with the birthday bonanza by offering 25% discount with coupon code 0CWCHZIC on its HTML projects. The discounted projects comprise HTML, HTML5 and Responsive Web Design. This must to avail deal will be valid on 12th Oct 2012. Thus, it is not the time to ponder on other things but it is the right time to utilize these useful 24 hours and chop up the cost up to 25% from the grand total of the invested money.
Amid this joyous atmosphere, it seems a good opportunity to enhance the partying mood. For sure, this pleasure would get doubled when we share the blissful voyage of three booming years with the following happy stats:

Make hurry and be beneficial of this ""Birthday Special" deal to get 25% discount on varied projects.