Celebrate Sparx Foundation Day With Special CSSChopper's Discounts
CSSChopper's company SparxITSolutions is about to complete 7 years of its journey on 1st July 2014, on this special day, we are delighted to announce manifold exciting discounts to our honorable clients. We take immense pride by bringing CSSChopper's COUPON CODES, including NEW10OFF, 9ECOMMERCE, 8CMS, 7PSD, OFFER1500, OFFER1000, OFFER500. With CSSChopper's discounts fair, our clients can attain great benefits as this offer is going to run throughout the month of July'14.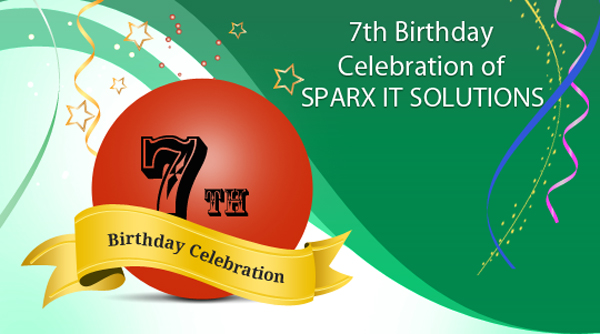 To commemorate the long journey of SparxITSolutions, we not only want to say thanks to our team, but also want to make this day special for our clients. So, we have come up with wonderful treat for the new & existing customers by offering various CSSChopper's COUPON CODES, have a glimpse:
NEW10OFF
Take advantage of getting 10% off on every project throughout July
Special discount offer only for the new users
To grasp this coupon code, apply via custom or online order
9ECOMMERCE
Offers will be activated throughout July'14 to grab 9% discount on every e-commerce project
Both online & custom orders are acceptable to enjoy this exclusive offer
Available for our potential (existing) customers only
8CMS
Get 8% discount till 31st July'14 on every CMS project
Acquire the fantabulous deal of stunning discounts via online/custom order application
Only existing users are right applicants to avail this COUPON CODE
7PSD
Wonderful deal to obtain 7% off on numerous PSD conversion projects
The existing & new, both customers can use this Coupon Code
Discount will end on 31 July'14
Confirm your conversion project through custom or online order application
OFFER1500
Place your order to get desired project by investing minimum 1500 USD or more
Golden chance for the existing customers to save their money and get 15% off on every project
Runs till 25th July' 14
OFFER1000
Till 22nd of July (2014), our valued customers means existing users can enjoy 10% discount on every project by spending at least 1000 USD or more
To obtain this marvelous opportunity, book your project through online/custom order
OFFER500
Give the confirmation of order via custom or online order till 20th July'14 to grab 5% discount on each project
At least 500 USD or more is required to pay for this discount
Only existing customers can avail this awesome offer
We always endeavor to offer some surprising discounts on every festival, so how can we forget our honorable clients, when it is the 7th Foundation Day of our company (SparxITSolutions)! These discounts are just a way to bid thanks to our esteemed clients, who have been our companion in this fruitful journey of 7 years. May we celebrate more & more years with our clients and keep flourishing with their blessings!