Great Deal Announced This Labor Day With up to 15% Discounts
In our quest to add wings to your joy, we are proudly announcing the exciting labor day discount offers. Our incredible offers are available on almost all the services including HTML, E-commerce, CMS, Dedicated Hiring and many more. So, start placing your order as such golden opportunities never knock again and again. All of you have a wonderful chance to choose the desired project, book and get up to 15% discount on it. Such interesting and fruitful offers resist for a few days, but this time, you can enjoy them from 1st to 15th September 2015.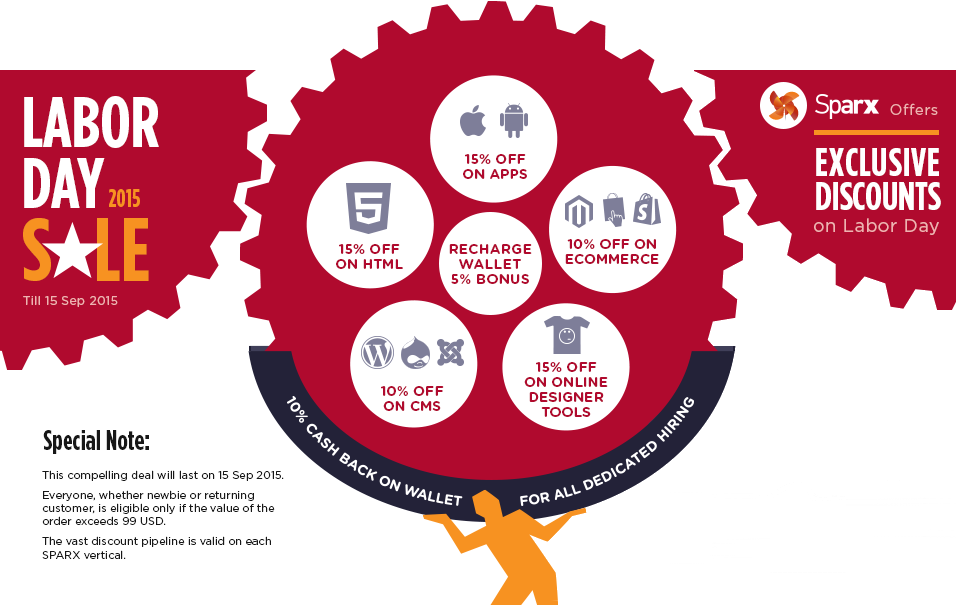 This is a wonderful chance to save a huge amount and get standard quality projects within the deadline, so why to miss it. Just browse our website today and confirm your order at discounted price. It's a labor day special collection that has never been provided before at such lowest pricing. There is no compulsion regarding the participants as everyone is eligible to become the part of it and enjoy unbeatable discounts.
Unveil The Services That Come With Labor Day Discount Offers
Attain 15% OFF on All HTML Projects including custom & online by applying LBDHTMLALL coupon code.
Get 10% discount on all custom & online E-commerce projects using LBDECOMALL.
All CMS projects, custom & online, with LBDCMSALL coupon code, are available this day to grasp flat 10% discount.
All dedicated web developer hirings bring the opportunity for you to get 10% Manual Cashback in your wallet.
Attain supplementary 5% value on wallet recharge of 2499 USD amount as a manual bonus.
Use LBDOPD code if you are looking to place a custom order or sending a quotation and get a manual discount of 15% OFF on our Online Product Designer Tools.
Special Note:
This compelling deal will last on 15 September 2015.
Everyone, whether newbie or returning customer, is eligible only if the value of the order exceeds 99 USD.
The vast discount pipeline is valid on each Sparx IT Solutions vertical.
The stunning discounts have a huge chain which is applicable on multiple services. All of you can sustain glittering business growth this labor day by saving huge amount as whopping discounts on our numerous services are available. This time, you can take the advantages for 15 days through our exclusive offer & attain satisfying outcomes for the expected projects.
We welcome you to pick the project from the bundle of services and place the order which is the process of just a few simple steps. Hence, complete the process successfully and get top-grade services with utmost quality at quite lower price. We hope that this labor day, our exciting discount offers will provide you tons of wonderful opportunities to boost your business and augment your profits.