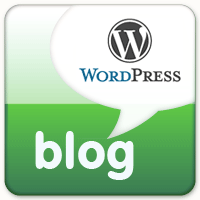 An Internet is considered one of the most standard platform for conveying messages to target audience. Presently, there are millions of Internet users who are blindly following the latest trend of blogging as an online platform by using powerful WordPress to share their views with others. From past few decades, a positive growth has been noticed in the trend of blogging on popular WordPress platform. Now-a-days, people are creating and managing blogs for personal as well as official interests to generate buzz with daily updates.
The BLOG is originated from the word WEBLOG which stands for website-blog. As per market research so far, an increase of 62% in the span of blogosphere has been noticed between 2007 and 2008. The best part about blogging is that its a highly revolutionized online medium through which one can easily disseminate information across his potential online visitors.
Now-a-days, people are also preferring blogging for promotion of their online business strive to immediate brand recognition. This brings PSD to WordPress conversion and WordPress developer into real picture. WordPress is the most user-friendly blogging platform for creating high professional custom blog website. A web developer with solid knowledge of WordPress platform can give new dimensions to your blogging site.
There are many websites in the World Wide Web through which one can set a blog to share his views. All you need to do is simply sign up to your account and get started. You should consider below mentioned factors before setting up a custom blog based web portal:
Choose your blogging software wisely
Get registered with some related forum
Solve received queries
Create sitemap
Proper links and trackbacks
Put high quality content
Tag web content carefully
Say no to plagiarism
Never forget to maintain level of consistency
Simply, follow the above discussed useful tips to get a good custom blog based web portal for blogging as an online platform. Just sign up to share your views across the globe.
you can visit https://www.csschopper.com/ to get more related article and blog stuffs.
Posted By: CSSChopper Team