A big news has been disclosed with the announcement of latest iPhone. iPhone 6 has been officially released and we are very excited with this announcement of Apple iPhone 6 and iOS 8 release. As the news was published by Apple that it will launch 4.7 and 5.5 inch devices as well as Safari 8 in September month.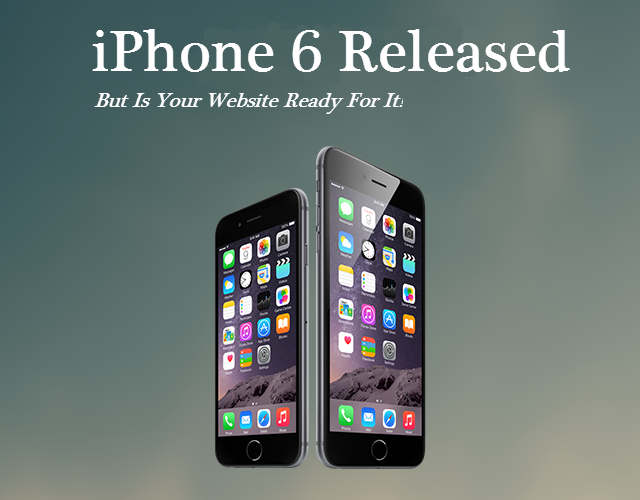 What's Brand-New In iPhone 6?
From the inception of first iPhone release, Apple was sticked to 320 px screen width and it had become the standard mobile resolution for a long period of time. But, with the release of iPhone 6, this stickiness or standard of 320 px screen width has broken up. Now, 4.7 inch iPhone 6 will cater you a width of 375 px viewport and 750 by 1334 px physical resolution. On the other hand, 5.5 inch iPhone 6 Plus will provide you 1.80 by 1920 px physical resolution and 414 px width with advanced pixel ratio (2.6).
Enhanced Features of Next generation iPhone
Comparatively, the new iPhone provides a better experience with lots of advanced & pioneering features that let you see content of the webpages in more readable way than the previous versions. Furthermore, the users will be able to view the content of iPhone 6 Plus optimized websites more easily with the bigger screen size, in which the appearance of websites will be more beautiful.
This new iPhone 6 device will bring the changes in the global market that how the users can view websites more interactively by using mobile devices. Safari 8 has come up with many fastest & advanced HTML features. To checkout its detailed HTML features, go via this link: http://www.sencha.com/blog/apple-shows-love-for-html5-with-ios-8
What Will Be The Future of Responsive Websites With iPhone 6
iPhone 6 mobile devices have upped fee to get responsive websites for the online marketers and even website owners due to bigger screen size and enhanced resolution. Hence, if you require a responsive website, which can be accessed easily on the users' various popular mobile devices with stunning appearance, then you should never forget to consider the latest screen resolutions. Your designs will give an idea to optimize that markups that are designed for you.
After testing dozens of websites on the latest iOS 8, now we can claim with confidence that our hand-coded coding also works flawlessly on this afresh operating system. Furthermore, we assure you to deliver the best markups that will be displayed perfectly on the newest iPhones/smartphones.
Thanks to give your precious time to read this post! Kindly share your comments and thoughts with us, we are waiting for your feedbacks.