Open Forum Offering an Interactive Platform to Developers
It is very true that whether it is personal life or professional workplace, interaction makes the problems or complicated topics simpler and more comprehensible. In the direction of providing such interactive platform to its employees, Sparx IT Solutions Pvt. Ltd has come up with a discussion forum. Discussion forum is defined as an online community where people of similar interest can share non-instant messages with other members. All members need not to be online at the same time and are able to reply later on as per their schedule.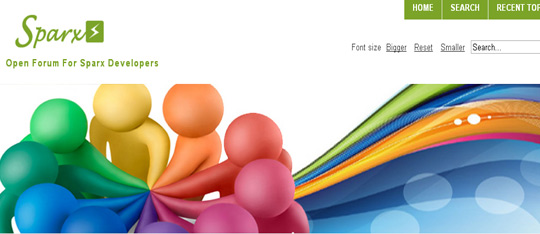 Being a forum of a web development company, its forum comprises various topics including CMS, E-Commerce, PHP, HTML, Flex, Mobile Application, Database, etc. This forum is open for its own developers as outsiders will not be able to join and comment. It has been designed in an organized manner where everything will be followed by step by step rule like:
One topic will be decided that is in interest of several members of the organization and all members consider it worth collaborating.
There will be subject experts who must respond to the topic within particular hours after the topic is posted.
Definitely, this forum will act as a medium of the new topics and opportunities in the field of web development and designing that too with the complete consent of the developers of the company. In this way, whatever is discussed in this forum will result the best as it will be a perfect blend of everybody's opinion.