Welcome to our fresh and all-new website! We hope that you must be feeling good looking around it. It has been created with full of creativity and we think it looks fab! We are very much eager to inform you that the new version of CSSChopper website is now live at https://www.csschopper.com/. We specially designed this all-new site to give a convenient and quick access experience to our clients' to our past catalogs and services.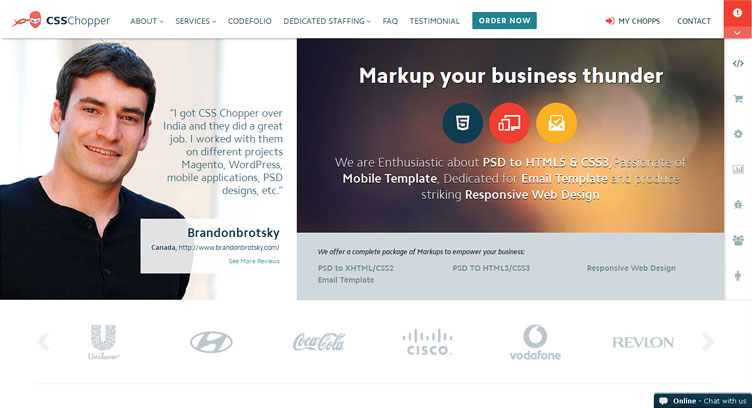 CSSChopper is a 4+ year old service known for delivering high-quality work. In order to match the effective and instinctive features of CSSChopper, our website needed a state-of-the-art look. We are very much delighted about this advanced facelift, which will form our website simpler to use for both current and prospective clients. The new website of CSSChopper features the latest and remarkable web standards for a more user-friendly experience on any device.
We are really excited with this new update and we have already received a lot of appreciation from our customers together with our partners. There are several other incredible enhancements, which are added in the site in order to make it easier to navigate along with maintaining the current architecture and resources that were appreciated by our partners and customers previously.
Earlier, we started with just few number of people to assist clients and companies in various conversion services. Today, we invented a new industry in real with almost 300 people.
We Draw The Curtain For Our Fresh Website!
New design
New concept
Better service
New order page
User-friendly platform
Our all new website is recently launched and we want to share some of our essential and amazing features:
Completely refurbished layout and designs
Updated, engaging and comprehensive images and content
Quick access to Services, Codefolio, Testimonials, Blogs, etc.
Newly designed order online page with all the clearly defined and given functionalities
Easily accessible information about testing tools, discounts, availability meter, contacts, etc.
Up-to-date company history
On the new website, our powerful business strategies together with the latest services and offers are prominently displayed on the start page. An additional landing page is also their in order to give you the description about the services. The website is created in such a way, so that you won't miss out any new offer or service. We always believe in maintaining a good and cordial relationship with you all. Our motive is to work 1-on-1 with you in each of your projects, so you can now place your order anytime through web on our website or message on Skype, send an email, etc.
Our founders are very much pleased with the launch of the new site, commenting, "The main aim of CSSChopper is to deliver the top-notch quality services to our partners together with our varied customers. The all new website describes the functionalities and services in a more detailed and innovative manner."
As we have built a brand new website with fresh content so, we want you to take the site for a test drive, have a look at our team with smiling faces on at our team page and get acquainted with us all. We always aim at becoming the best company with a thought that our customers mean a lot to us. In the end, I would like to thank for all of your support and trust since 4 years. We couldn't have made to it without you.