progressive web apps development company
A Progressive Web App (PWA) is a web app that uses the latest web capabilities to deliver an app-like experience to users. These apps are accessible through URLs, thus no need to download. According to research analysts, PWAs have been shipped in 62 languages to 178 countries. Thus, you should also choose PWA for your business to get more leads.
CSSChopper offers a secure and fast loading PWA for your business. We are always open to deliver innovative ideas to our clients. We aimed a maximizing user engagement by developing faster application that runs across all the platforms with rock-bottom attempt with 100% client satisfaction.
9 awe-inspiring PWA secrets to make sky-high web application
service worker

service worker

With the help of service worker element, our developer creates background syncs and offline work mode related website that responds to user interactions with the app.

high-user-engagement

high-user-engagement

We build an outstanding PWA with the help of automatic update facility and advanced fixatures that helps to increase the conversion rate for your website.

improved performance

improved performance

We at CSSChopper use the core principles of 'progressive enhancement' that allows web apps to be created to have better performance across various platforms and under resource constraints.

seo-friendly

seo-friendly

We at CSSChopper design & develop the progressive app as per SEO guidelines by implementing efficacious SEO technique to increase the traffic on your website.

native app-like

native app-like

From starting to project delivery, our developer craft every component in a systematic way that the app appears the same as a native application in as well as it has almost same features.

high-speed

high-speed

Our seasoned developer builds amazing web app that responds quickly and loads content faster which helps in mitigating the customer bounce rate.

cross-browser compatible

cross-browser compatible

We create the efficacious PWA that is cross-browser compatible and provides a seamless interactivity across various browsers of multiple devices.

secure

secure

Security is our key concern. Our developer implements security transfer protocol such as HTTP, SFTP, and SSL to make a a fully secure PWA for your business.

Customizable Website

reliability

We create reliable progressive app for your website, no matter which network conditions a user works in, our designed progressive app loads quickly.
Smashing Approaches Towards PWA Development Services
Having experience with the latest technology, our developer implement modern PWA development techniques and features to create every application that implicitly runs in both offline and online mode.
connectivity independence

connectivity independence

Our experienced web app developer builds a perfect website that can work both on degraded-quality networks and offline.

automatic updates

automatic updates

There is no need to worry about new version or update it. The progressive app we create will be updated by itself whenever any new version is come so apps keep alive.

push notification

push notification

We build outstanding web apps for your business by which you can send out push notifications to create communication between the user and your business.

customized solution

customized solution

Our experienced team of progressive developers with the latest development techniques provides you with custom and high-quality apps for multiple devices.

app shell model

app shell model

With single page checkout, we provide easy to navigate, fast speed, and better progress in your e-commerce website.

installation

installation

We create easily installable app for end-users. The user does not need to install Progressive app, they go to the website and add it to the home screen of the mobile.
Tremendous Progressive Web App Development Services
CSSChopper provides top-quality PWA web development services to clients across the world. We are pleased to stand among one of best PWA service providers with an amicable team of PWA expert, sharpening our nails with the modest PWA technology tools and updates. Our services are:
Custom Progressive App Development
Responsive Progressive App Development
Load balancing service
Background synchronization
Progressive web design
Application shell architecture
Web App manifest
Cross-platform mobile app development
Cutting-edge progressive app integration
Transport layer security
No app store submission
Progressive app lead generation
How we Improve PWA performance with PWA Development Services?
We follow a remarkable development methodology with inflexible quality standards.
We offer flexible engagement models such as full-time, weekly and bucket-hours at reasonable price rates.
Our developers use service workers that help in improving user experience.
With progressive enhancements, our developers provide features similar to native-app when viewed on any device.
With PWA webpack features, we successfully handle complex project as well.
By using PWA's latest tool, we develop a perfect site that can help your online business to grow faster.
In our development process, we believe to look into every detail of your PWA development need.
With PWA, we provide continuous deployments to bring new features and fixes instantly.
Our Eminency on Progressive Web App Development Services
CSSChopper renders industry-leading progress web app design and development services. Our deft PWA developers help businesses improve their online presence with responsive, modern and engaging website design solutions. We trust to develop a website that brings traffic and more users for your business.
why CSSChopper is a leading place to avail PWA service
We create perfect PWA to ensure that your site converts visitors into customers regardless of which device they use.
Our developer maintains our high standard of quality in our entire process of developing website designing.
We provide on-time delivery with estimating time before starting any project.
Our adept PWA developers have skill in providing satisfying solutions to the clients ranging from simple PWA to more complex PWA.
We build an attractive UI for your webpages and magnify its user experience.
Experienced PWA development team builds the fascinating layout, and design of your website.
We offer smooth integration of existing website to the latest PWA.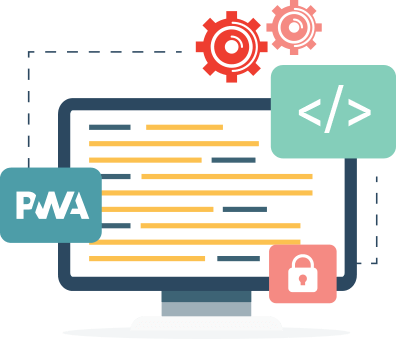 Frequently Asked Questions
These are a few general questions about Progressive Web App development services.
What does progressive Web App mean? icon

A progressive web application (PWA) is a kind of application software, manufactured utilizing basic web advances including HTML, CSS, and JavaScript. It is proposed to perform on any platform that utilizes a standards-compliant browser.

How much does it cost to build a progressive web app? icon

The cost of building progressive web apps depends primarily upon three factors:

Design complexity.
Total time needed to make a layout.
The number of realizable features.

Other than the above factors, some more aspects derive the total development cost of responsive web applications.

Is Progressive Web Apps the Future? icon

PWAs are continuously gaining traction and allow a lot of brands like Twitter, Pinterest, Starbucks to survive in the competitive business world. The key PWA features make it a future of web application development.

Why is PWA so fast? icon

Due to the potential function, PWA offers like offline access, push notification, full-screen functionality, faster and interactive design it is considered as the fastest web app development. It allows us to speed up user engagement and long term client relationships.

Will PWA replace native apps? icon

Where native apps offer a superior experience, PWA has so much to offer to have a mobile-first experience. PWA is on continuous growth most applications end up in the progressive web apps format.
Brings Clients a Fortune with Real Results
With our persistent efforts and diligent work, we have been successful in pleasing more than 10000 clients. We have reached several milestones and obtained a lot of appreciation from our valuable clients. We are known for serving many top brands in the world by delivering them the real results.
icon coca cola
icon necco
icon stoli
icon hp
icon duracell
icon dlink
Factors That Make us an Ideal Partner!
iso icon
magento certified icon
shopify partners icon
nasscom icon
silicon india icon
mailchimp icon
Let's Discuss Your Project