WordPress has been present for more than a decade, and we have seen its extensive use in web development. Today, WordPress is recognized as a leading platform for building sites within business communities.
Every IT firm these days wishes to deploy WordPress to support digital methodologies. However, choosing a professional WordPress development company for the project is difficult.
In this blog, we will explore the reasons why it is crucial to choose the best company for your project and provide tips for selecting the right WordPress development Agency. Also, you will understand which development approach between offshore and onshore suits you best. Let's take a look:
Why do you need to choose the best WordPress website development company?
Before understanding the tips to choose the best company for your project. Understanding the need to choose them is essential. There are various benefits of partnering with the right company. Some of them are explained in the below points. Let's understand them:
1. Work Quality
You can get high-quality work from a WordPress development company. It is because they operate with a skilled team of developers that can create a visually appealing and functional website that engages with your audience.
2. Technical Expertise
WordPress is constantly evolving with the latest trends. Also, if you want a unique web presence of your business aligning with your needs. Then, you should partner with a custom WordPress development services company to stay updated with trends. They can help you to build a fast, secure, user-friendly website for your business.
3. Time and Cost Savings
When you work with the best, you may save time, effort, and money. They can speed up the development procedure, get rid of pointless delays, and guarantee that the launch happens on time and within budget.
4. Support and Maintenance
A reputable company provides continuing support and maintenance services. This helps to make sure that your website is secure and up to date. So that you can concentrate on managing your business, they can offer routine backups, security upgrades, and technical assistance.
5. Competitive Edge
In today's cutthroat online environment, gaining an advantage is crucial. It is also true that having a website designed by professionals might provide you with a competitive advantage. With the help of a WP development company, you may stand out from the competition and attract more visitors to your website.
Tips for Choosing the Best WordPress Development Agency
Tip no.1- Dig Deep Into Their Portfolio
It is necessary to check the portfolio of the agency first. Checking their work samples will give you a good idea of their service quality. You will also get to know what type of projects they have tackled earlier. This can help you decide whether the company is a perfect fit for your project or not.
Tip no.2- Test Their Technical Proficiency
Before collaborating with a company, you should always test their technical skills. Note that a reputed company is equipped with a team of WordPress developers who stay updated with the latest development trends. You can put up questions related to HTML To WordPress Conversion, the latest WordPress features, etc. If they answered it correctly, then it would be great to hire them.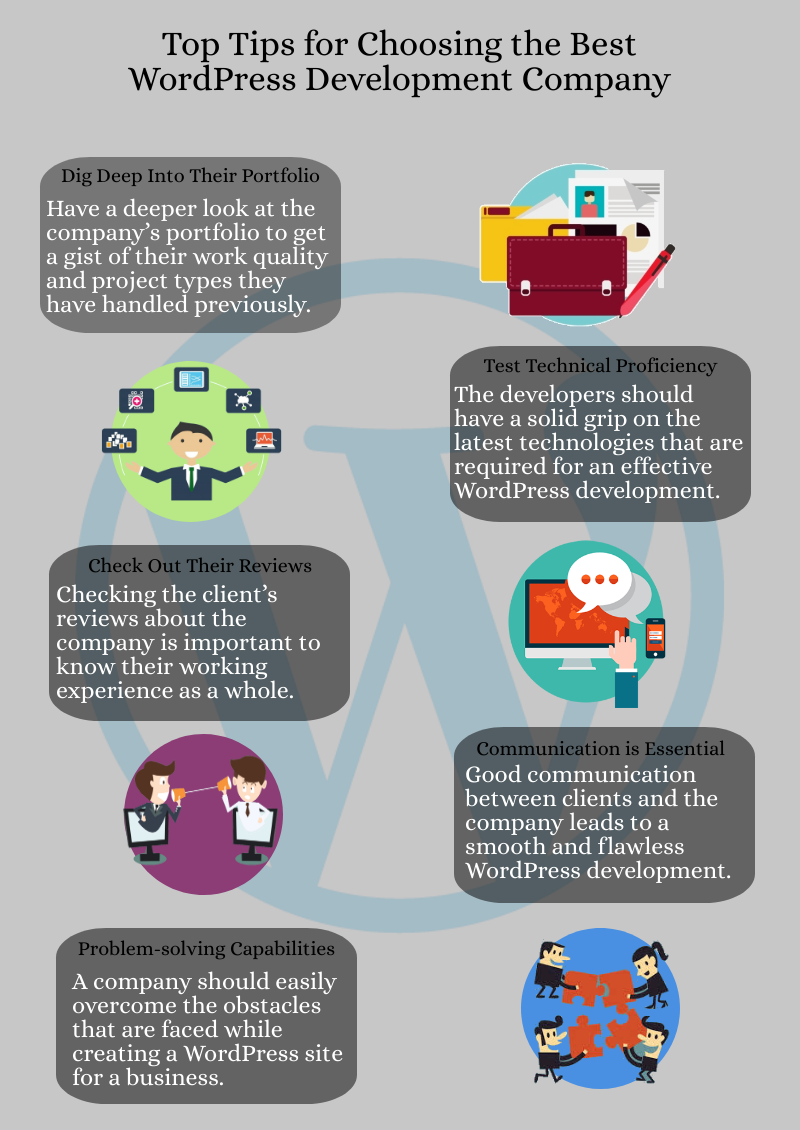 Tip no.3- Check Out Their Reviews
Do research about the WP development company before finalizing it for your project. You should visit their client testimonial section to know their working experience with that company. You can even ask for the contact details of their clients, so you can directly ask them for their feedback. You can surely choose it if you hear only positive words about their service.
Tip no.4- Communication is Essential
For a successful collaboration, it is important to establish effective communication. How your technology partner expresses their ideas and how well you understand those are vital for building a successful project. If they respond slowly or communicate poorly, this indicates that you will face issues while working with them.
Tip no.5- Problem-Solving Capabilities
Website building is a complex process, and you are going to witness multiple problems throughout the process. You need to hire WordPress developers who are great problem-solver who can quickly overcome any obstacle. This quality of developers proves useful for the effective web development process. So, you should give them problematic situations related to the development and ask for a positive solution.
Development Approaches to Choose from
Now you have understood the benefits of working with a company and essential tips for choosing the company. The next step is to choose the right approach to development. There are basically two development approaches to choose from.
1. Offshore Development
2. Onshore Development
1. Offshore development
This approach involves outsourcing WordPress development services to a company or a team in a different country. One of the benefits of choosing this approach is that you save the cost of labor and operational expenses. Plus, it can be lower in some countries with a lower cost of living.
Here are some of the pros and cons of offshore development:
Pros
Offshore development can be significantly less expensive than onshore development.
You can access a larger pool of developers with specialized skills and expertise.
The time-zone difference can enable round-the-clock development and faster turnaround times.
Cons
Due to cultural and linguistic differences and time zone differences, communication can be challenging.
Misunderstandings and work delays are possible because of differences in work culture, practices, and processes.
2. Onshore development
Completely opposite of offshore development. When you approach a WordPress development company within the same country. This approach has several benefits, such as easy communication, cultural and linguistic similarities, similar time zone, and, most importantly, better control over the development process. However, this approach is often more expensive due to higher labor and operational expenses.
Pros
Communication is typically smoother and easier because of language similarity in onshore development.
It can help ensure the end product is culturally appropriate and meets your needs because of cultural and linguistic similarities.
Similar time zones is one of the advantages of onshore development. This means that the collaboration between you and the development team can be done during regular business hours.
You have better control over the development process since the work is done in their country.
Cons
Higher costs is one of the biggest advantages of this approach. Due to high labor and operational expenses, the cost of onshore development is higher.
Another demerit is the limited access to a larger talent pool, which can limit the project's potential.
Also, you may have limited access to around-the-clock development because of shared time zones.
Which approach is good?
It is tough to determine which approach is good for you. Both have their pros and cons. Choosing between them depends on budget, timeline, and project needs.
When you hire WordPress developers/company who provides offshore development services, it turns out to be a cost-effective option. It can be a good choice for projects that require lower communication. Whereas onshore development is a bit costlier. It is a good fit for projects that require frequent communication and collaboration.
Ultimately, you can choose the right approach for your project by carefully considering the factors.
Read Also: Hire WordPress Developer: Get Outstanding Site Building Service
Final Thoughts
This comes to the end of this blog. Choosing a suitable WordPress development company is intimidating, and hiring for the first time becomes even tougher. This is because you are unaware of the factors that need to be focused on while opting for the Web development company. Before saying "yes" to any firm, apply these tips in your decision-making process to achieve good results.