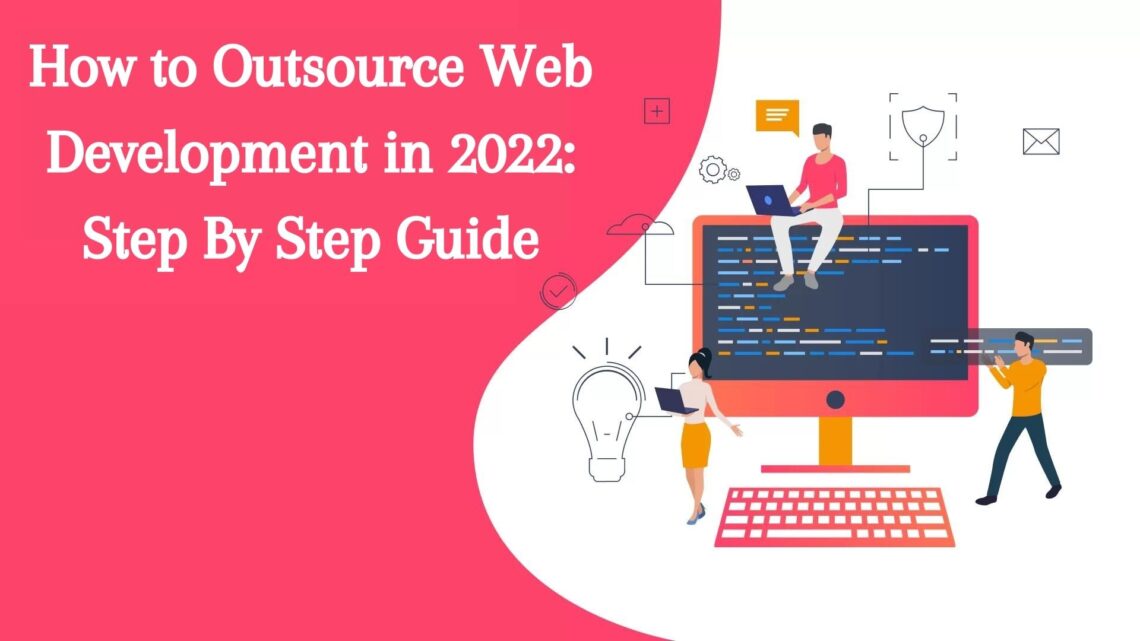 5
mins read
Today, businesses have no boundaries, and they have become widespread due to the trend of globalization. Hence, every business gets an opportunity to reach broader markets that weren't possible in ancient times. Moreover, the key instrument that enables companies to reach their prospects easily worldwide is websites. Indeed, websites are playing a crucial role in the success of businesses in every domain today. Consequently, every business wants to have an online presence through a feature-rich and user-friendly website. There are projected to be more than 4 billion internet users by 2022, up from 3.4 billion in 2017.
If you don't partner with the right website development company to outsource web development work, you might have a tough time starting your first website development project. As the demand for websites increases, more and more tech companies are entering the field to serve varied customers. Creating a robust website is easier now that we are in 2022 and can utilize many advanced technologies.
Also, it does not follow that the company that works best for others will also work best for you. So here we will look at some great tips to find a trustable technology partner in 2022 for your project.
What is a website development company and why should you outsource to them?
A website development company is a company that is involved in the development of websites and software. They are also known as IT companies. These companies have different developers who have the expertise to accomplish a project. Also, they have the equipment and infrastructure that are required for the development of websites. 
To develop a website you require specific skills and knowledge of the latest web technologies along with some experience in web development. Businesses don't have this expertise and skills that's why they outsource their projects to these web development companies. Indeed, lots of companies partner with different technology companies to accomplish their projects. 
Besides skills and expertise, there are many other factors that compel these companies to outsource their projects that include low cost, business focus, time to market, and access to intellectual capital. These companies help you create custom websites that are created based on your needs and requirements. You can read our blog to know what is custom web development and how it works. By opting for custom web development, you can build a unique website for your business.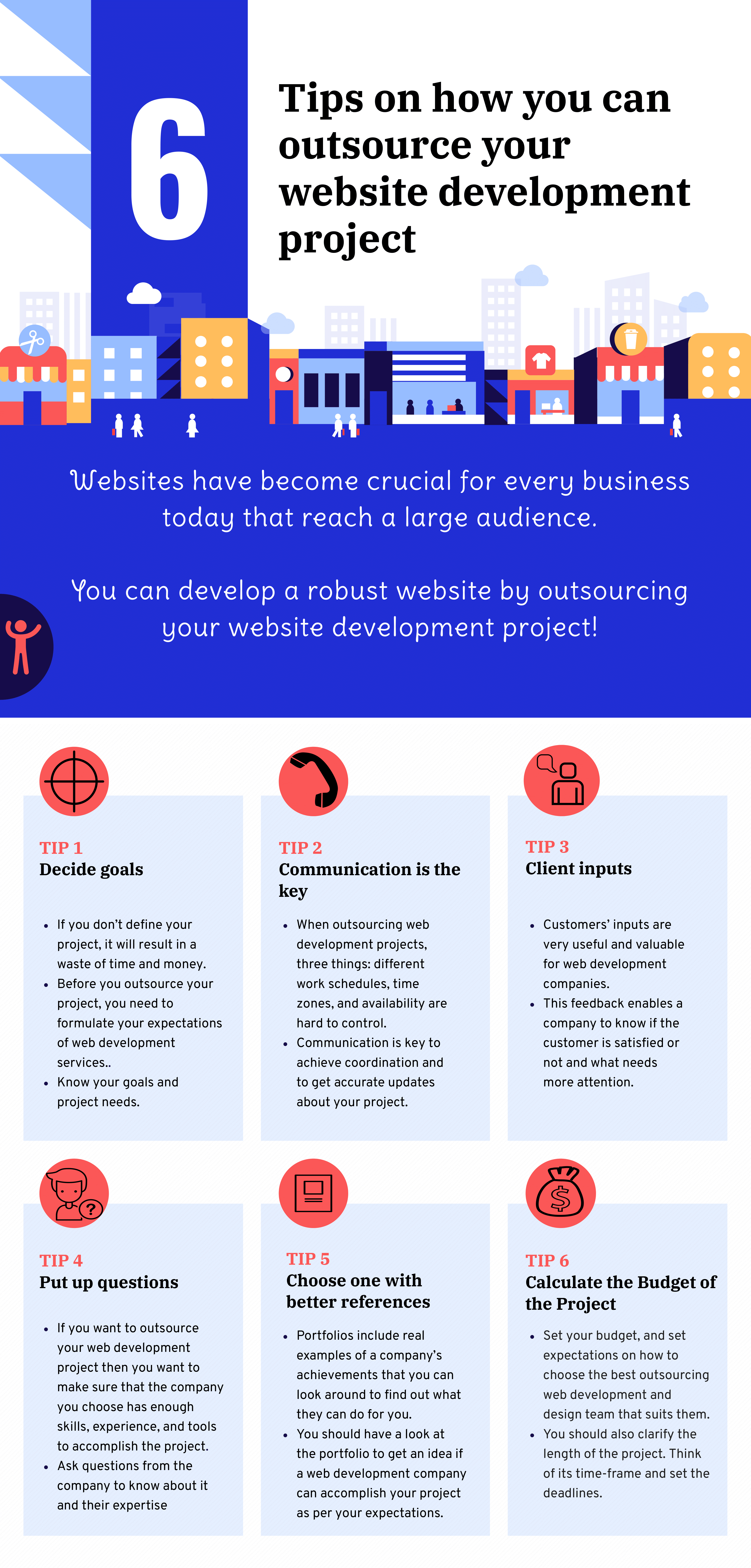 Pricing models of a website development company
When it comes to developing a website, you will need to partner with a tech company depending on your requirements. However, all tech companies have some pricing policies. However, there is a similarity between these policies.
Here are the pricing models of CSSChopper:
Time & Material 
Under this pricing model, you only pay for the resources you hire depending on the time period. You can hire resources for any time period.
Dedicated team hiring
You can hire a dedicated team of developers on an hourly, monthly, or yearly basis.
Fixed cost hiring
You can request a free quote for your project and our experts will specify the time and cost depending on your requirements. 
Let's Discuss your Web Development Project!
Contact Us
What are the different types of outsourcing web development projects?
The following are the methods of outsourcing web development projects:
Onshore outsourcing
Onshore outsourcing is also known as domestic outsourcing where a company outsources a project to another company in the same country or region. 
Offshore outsourcing
Offshore outsourcing occurs when someone obtains services from a people or company outside the country. 
Nearshore outsourcing
In nearshore outsourcing, a company or person obtains the service from a neighboring country.  
Tips to choose the right web development company
When it comes to finding the right website development company the first thing you should avoid is making a hasty decision. You should do proper research and choose the right service provider. You need to make preparations before you choose a web development company.
The following are some preparatory steps you can follow:
Find your project requirements and needs.

Clarify your project requirements by deciding tech requirements.

Get an estimate of your project and the expected time frame.

Choose the type of outsourcing.

List potential outsourcing companies.

Prepare questions for interviews.

Choose a tech company based on your preferences and needs.
To find the right technology company, you need to take different things into account.
Here are some useful tips to choose a perfect outsourcing company.    
Decide your Goal
Before you outsource your project, you need to formulate your expectations of web development services. Know your goals and project needs. If you don't define your project, it will result in a waste of time and money. So first decide what you want and what are technology requirements to choose the right company. 
Communication is key
The next important thing that you should pay attention to is communication skills. When you outsource web development projects, three things: different work schedules, time zones, and availability are hard to control. Communication is key to achieve coordination and getting accurate updates about your project. You can avoid mismatches in processes and build the right solutions. Hence you should choose a company with perfect communication skills. 
Client inputs 
Customers' inputs are very useful and valuable for web development companies. You should look for a tech company that respects customers' inputs and feedback as well as promote them among clients. This feedback enables a company to know if the customer is satisfied or not and what needs more attention.
Put up questions
If you want to outsource a web development project then you want to make sure that the company you choose has enough skills, experience, and tools to accomplish the project. Envision all the challenges that might arise from start to finish of your project and make a list of questions. Ask questions from the company to know about it and their expertise so that once you commit you won't be disappointed with your decision.
Choose one with better references
A reference isn't just a screenshot of a site that has been created by a company. These references include real results of their works. Website Development Portfolios include real examples of a company's achievements that you can look around to find out what they can do for you. So, you should have a look at the portfolio to get an idea if a web development company can accomplish your project as per your expectations.
Choose one with excellent skills
You should look for a company that has highly skilled web developers. Every developer should have a special skill instead of being a jack-of-all-trades. You can ask a company about the capabilities of its team and what skills they have. Find a company with skilled developers who can meet your requirements and deliver unrivaled solutions. You should also make sure that they have proper experience working on different projects.
Choose one that fits your budget
Price is always important and it plays a crucial role when it comes to taking a service. You need to be more realistic about your budget when you want to hire a web development company. You will want to have more and more features on your website but not all of them can be helpful for you neither they help in costs. So, you would like to choose a company that fits your budget.
Choose one with passion
While skills are important to choose the right web developers for your project, you should also make sure that the developers have passion for their work. The creativity of developers can help you build innovative and unique websites that give you a competitive edge. So, you should look for a company that has developers who not only have skills but are also creative.
Wrapping up
Website development has become a necessity for all kinds of businesses today. Hence every business wants to build a website. But finding the right technology partner becomes a challenge. Businesses are outsourcing their projects to reliable website development companies. The availability of lots of these companies makes it difficult to find the perfect service provider. A technology company can help a business to build a unique website as per the latest web development trends. Go through our blog to know about the latest web development trends that developers are using for website development. We have discussed some useful tips in this blog that you can consider to find the best custom website development company.