5
mins read
No doubt, websites have become crucial for all kinds of businesses today, whether big or small. These websites represent individuals and organizations on the web. Moreover, if you want to get the utmost benefits of a website, then you need to focus on creating the best website. Nevertheless, the process of website development has also become convenient over time. And we have effective technologies that help to create websites without any knowledge of coding. 
Interestingly, you can choose WordPress website development or pick any other website development platform to create a decent website for your business or organization today. Content Management Systems (CMSs) are meant for custom web development that helps in creating unique websites. 
Another trend in website development is the design to code conversion process that offers another unique way of creating custom websites as per clients' requirements. Such methods like PSD to HTML conversion have many advantages over conventional web development methods. No matter what approach you follow to create a website, you should always use the latest web development trends to develop a best-in-class website.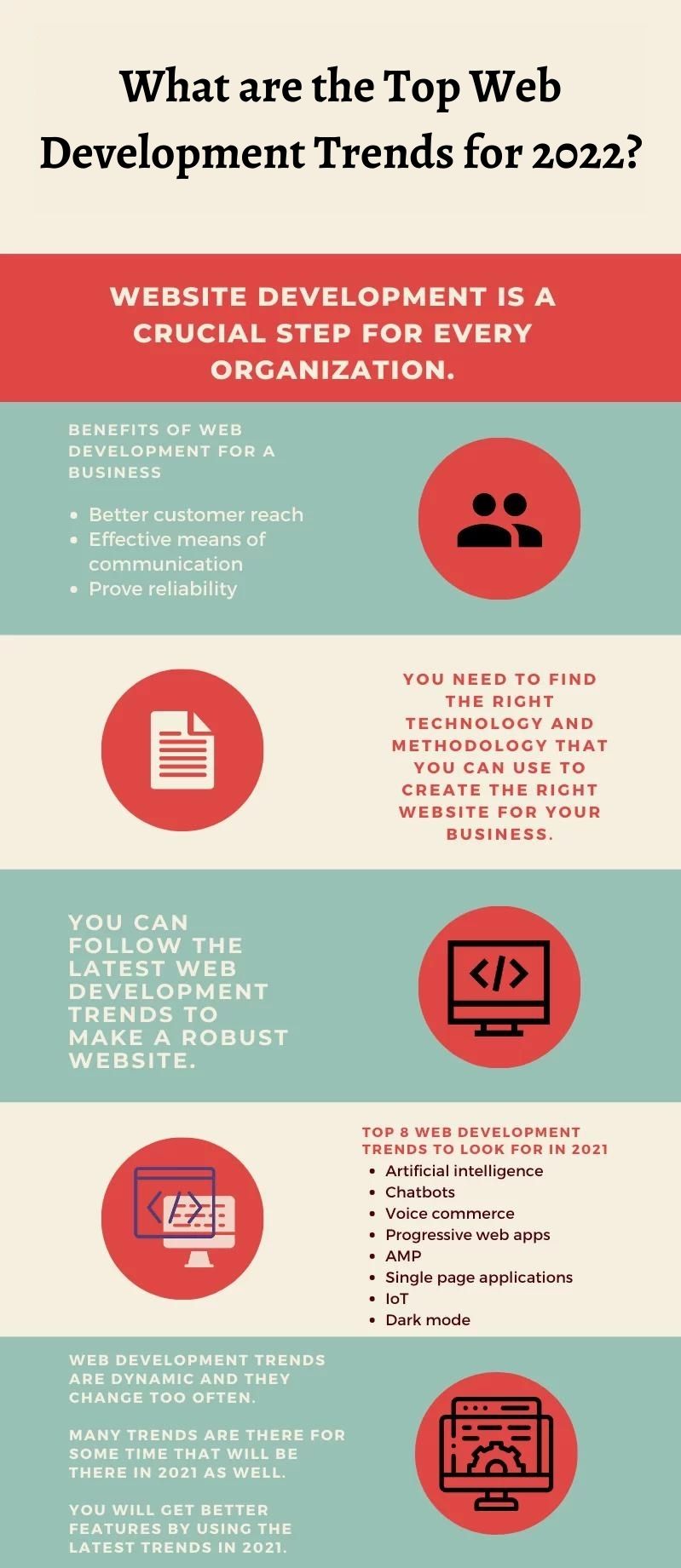 Accelerated Mobile Pages (AMP)
Accelerated Mobile Pages or AMP is one of the top web development trends today and beyond. It will be a key web development trend in 2022 too. The use of AMP is to speed up the performance of a web page and to reduce the chance of leaving it by a user. AMPs are optimized web pages that operate fast and have convenient and simplified design with only basic features compared to full-scale web pages. These web pages are not only mobile-friendly, but their content is also easily readable. These new trends like AMP are aimed at creating websites more user-centric. Accelerated Mobile Pages enhance the user experience by providing faster and user-friendly operations. You use AMP for a successful custom web development strategy for your business by creating a user-friendly solution for your end-users.  
Progressive Web App (PWA)
Progressive Web App has been a trending phenomenon for the past few years, and it will also remain a hot web development trend in 2022 as well. PWAs offer a high-quality user experience that is close to native apps. Indeed, PWAs resemble native apps in many aspects, including user interface, features, installation, and overall appearance. Progressive Web Apps make it possible for users to access websites easily on their devices with mobile-friendly functionalities. You can take advantage of a PWA to reach every user through mobile devices. These apps offer functionalities that are traditionally available on mobile devices, such as hardware access, push notifications, offline access, etc. PWA is a much better choice when it comes to PWA vs web app. 
Voice Search Optimization
Voice Search is another hottest trend in web development today, and it will remain for many years now. Indeed, the future of the web seems to be more voice-based than text-based. Therefore, voice optimization has become an important trend in website development that takes user experience to a whole new level. Indeed, this is the age of voice assistants like Siri, Amazon Alexa, Google Home, etc. In the coming years, more searches will be done through voice commands that will start a new era of web searches with a different level of user interactions. Voice commerce will become a prevalent phenomenon in the near future, and people will be shopping through voice commands just like they do through mouse clicks today. Hence voice search optimization has become crucial for online businesses to incentivize the benefits of voice searches.   
AI-enabled chatbots
Another web development trend that has been around for a few years is the use of AI-enabled chatbots that will become commonplace in the future. Chatbots are a great piece of tech with excellent features and benefits for end-users. Chatbots are quite beneficial from the customer service's perspective. Thanks to chatbots, customers can get quick and hassle-free customer support conveniently. Modern businesses work across boundaries, and they operate in different time zones, so they need a way to serve their customers effectively where chatbots are highly useful. Chatbots make customer support easy and effective. AI-enabled chatbots can help resolve customers' queries quickly. AI-enabled chatbots work like human customer representatives and can provide answers to questions effectively. AI-based chatbots come with advanced functionalities like behavioral analytics capabilities and 24×7 problem-solving skills.  
Single Page Applications (SPAs)
A Single Page Application or SPA is a kind of web application that runs in a web browser and doesn't reload itself. Indeed, these SPAs offer a pleasant user experience because users don't have to click the reload button every time to update information on their site. The apps we use daily, like Gmail, Twitter, Facebook, etc, are all examples of SPAs. These apps load content automatically, and they are always fresh. Single Page Applications are one of the top web development trends that are expected in 2022. SPAs have a high capability to hold the attention of the end-users because they are quick to use and provide instant information, unlike websites where users have to navigate through different web pages and reload pages to get certain information. Hence, SPAs offer instant feedback to users, unlike websites where they have to wait for page loads.       
Final Note
Today, the significance of websites is apparent with their wide range of uses and capabilities that they provide to businesses to serve their customers effectively. When it comes to creating a website, one needs to make sure that the latest features and functionalities are integrated into the site perfectly to keep abreast of the competitors. Hence, when it comes to website development, you should take advantage of the latest web development trends to build a state-of-the-art product for your business. There are many web development trends that have been at the forefront of the website development strategy in 2021, and many of them, if not all, will also remain a hot topic in 2022 and beyond. You have the opportunity to integrate these trends on your site and incentivize your business from the latest developments in the web development industry. You can rely on a trusted custom web development company to create the right website with the latest trends for your business. 
Frequently Asked Questions
What technologies are used in web development?
Various technologies are utilized for developing websites, including databases like MySQL, PostgreSQL, MongoDB, etc., HTML, CSS, JavaScript, PHP, ROR, Laravel, CakePHP, and more. CMS like WordPress, Drupal, Magento, etc., are useful for custom web development. Frameworks like AngularJS, ReactJS, Express.js, Node.js are used for front-end development.  
How does the process of web development work?
The following are the steps taken by a web development company in the development process:
Gathering of requirements & consultation
Building a plan of action
Creating mock-ups or prototypes
Setting up databases and creating site architecture
Creating website
Testing and launch
Maintenance and support
What is the cost of developing a website?
Website development cost depends on multiple factors. The complexity of the project, number of web pages, features, and other requirements play a crucial role in determining the cost of developing a website.