5 Important Aspects to Consider When You Hire a PHP Developer
If you are planning to set up a business, there might be several issues in the web development process you will be worried of. The primary step in this context is to create a powerful website that is complete in all terms with necessary features embedded into it. PHP is turning out as a strong and sturdy technology in today's arena to create a powerful website. It is good to hire a PHP developer that can deliver you a full-fledged website for a profitable business.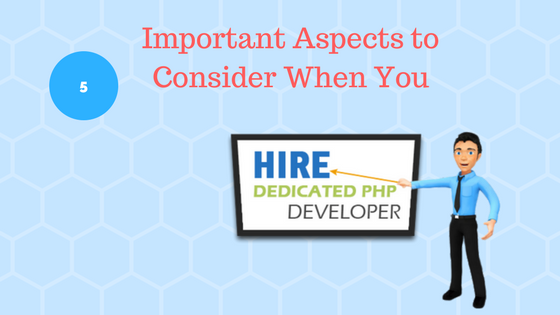 Want to Hire a PHP Developer? Be Cautious!
There are so many factors that need to be considered while hiring a PHP developer if you want flawless results. If some important points are injected with your requirements, the resultant outcome will be a much qualitative and optimized website.
PHP web development has empowered the digital market and convinced the startups to run their websites on this most popular server-side scripting language.
Let's notice the below points that need to be followed for a wise decision-
Developer Categorization – As per the technical proficiency, PHP developers can broadly classified into three groups, namely beginner, mid level and advanced. Beginner level developers are those who just came into the industry and works under the guidance of some senior developers.
Thus, they cannot be relied in general purposes. Mid level and advanced level PHP developers can be an optimum choice for your project as they have polished their skills after working on multiple projects.
Source for Hiring – Along with the correct skill-set, a reliable source is also mandatory to hire PHP developer for your business website. Among the different options available, suitable references should be taken from your known industry people.
Freelance developers can also be chosen as a secondary choice if you have some sort of limitation. A better option would be to hire PHP developer from a reputed web development company.
Model-based Hiring – You have an ease to hire a PHP developer as per some dedicated model or fixed cost.
With dedicated model, you have to pay the developer according to the number of hours utilized on your project; whereas for the fixed cost, you have to decide a fixed quote charged for your project by a service provider.
Go for a Background Check – It is advised to go through the list of company's past projects and check how well those websites appeal to you.
After seeing their portfolio, you will have a better understanding of the company and you can figure out whether the concerned team can come up with a website up to your expectations.
Study the Testimonials – Your website is the gateway to the web world and you cannot think of a sustainable business without a tempting brand website. So, after seeing the portfolio, you can take the feedback from people who have hired PHP developers from the specific companies that are in your good list.
Word of mouth of these business owners adds authenticity and credibility and help shape your decision-making.
Thorough Communication – You have to communicate clearly regarding what are your requirements. Likewise, assess the developers to ensure that they are as good as claim to be.
Along with the communication, it is equally important to gather requirement regarding their skill set. Their years of experience is also a noteworthy point.
Authenticity Checking – It is very important to ensure that your website is in right hands. It must comply the industry standards and also conform with the legal norms.
Once you are certain about the quality and work aspects, you can proceed to sign the contract and embark on website development.
Few Common Mistakes that Need to be Avoided While Hiring a PHP Developer
Pricing is important while hiring any organization and it needs to be treated with utmost care to avoid any ambiguity. You have to be sure enough how much money has been spent in your specific project.
You have to check whether the firm with which you are planning to associate with is ready to give utmost support with proper communication channel to resolve all the queries.
You should not search for a specific region to hire a PHP Developer for your project. Expand your boundaries to find the perfect service provider.
It puts a negative impact if you have not gone through their previous work and trusting them blindly.
A website must be neat and error-free for the smooth performance. It must be thoroughly tested for all the odds.
Sum Up
If you are planning to hire PHP Developer, it is recommended to go through the above checklist. These suggestions help you hire experienced PHP developers who can get you the best website pertaining to your business. It is actually the need of the hour to embed the best resources within your brand website to gain sustainable growth and hired PHP developers can give quality results in this context.