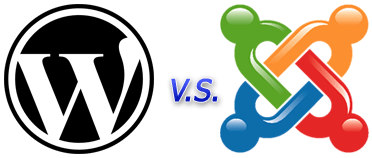 CMS is great platform through which one can manage the various parts of the websites and manage the websites without having technological knowhow. Soon after observing the conversion process of Photoshop files in HTML search for a perfect content management system is the next matter of concern for building a website. This is the major apprehension that draws us at the edge to choose the best among the rest. Majorly, competition rest between the two titans i.e. WordPress and Joomla.
While comparing CMS solutions we often slowdown to conclude the first-rate among WordPress and Joomla. Both are greatest content management system widely used by people for launching their content based site. Both provide easy to use, effective and attractive features. In order to compare the both we will provide pros and cons of both the content management system to let you evaluate the utility of the two.
WordPress– WordPress is also known as the ideal blogging platforms. WordPress offers easy method for content management solutions and customization. One can install a number of plug-ins as well. It is a platform that avails an in-built podium for comments and suggestions for users.
Advantage
? Easy to use without amendments.
? Supportive platform for blogging and opinion sharing in a systemized approach.
? Disability of technological proficiency is not a hindrance to use it.
Disadvantage
? Non affable for a developer
? Lacks support of specialist community.
? Advancement of the site requires affording expenses.
Joomla– It is complete programmers platform that avails the programmers to design attractive websites easily with advanced form of modification.
Advantage
? Best for people who love to code i.e. friendly for programmers.
? Backed by a large community of programmers and users.
? Provided with extra attractive features to customize the web pages.
Disadvantage
? Quiet technical to use and need coding proficiency.
? Not user friendly; offers a complicated pattern.
? Involved with steps to convert and not easy for a common man.