CSSChopper has made a decision to extend their NEW YEAR discounts. This is the perfect time to make your remaining eves special as the offer is now valid till 15 January 2016. So, enjoy the chain of different but exciting discount offers and ensure your business growth for the future. Because, our current sizzling discount sale is now available for few more days due to soaring customer demand.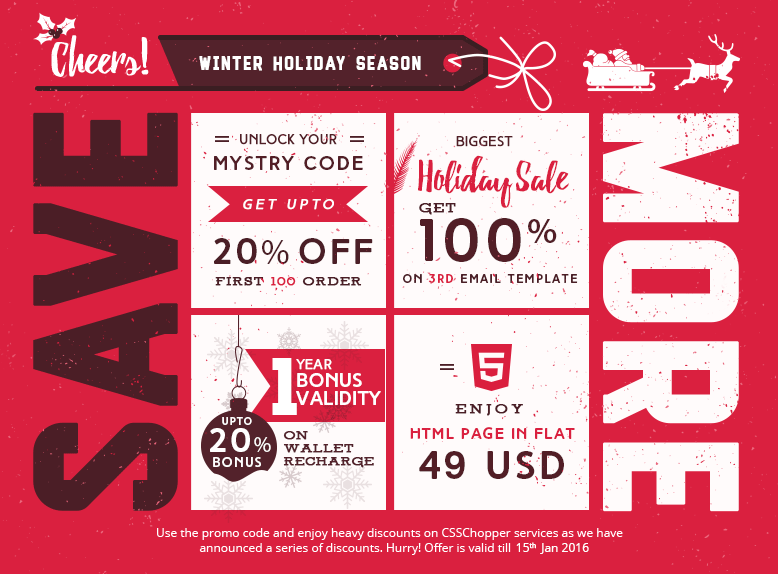 Despite reducing the percentage of discounts, we are offering the same discounts, but the date has been stretched. So, keep your joy of getting benefited continue in the successive year. After seeing a great demand of our discounted services, we thought to give another surprise to our clients. We are overwhelmed with the announcement of reappearing discount and welcome you all to join the celebration that can definitely turn your holidays into unforgettable days with cost-effective services like Web Design & Development, Design to HTML Code, Email Templates, and Wallet recharge.
Let's Have A Glimpse Over Our Varied Services Floating In The Flow of Discounts
WEB DESIGN & DEVELOPMENT
20% off

on first 100 custom orders but only the mobile app users are qualified for using "APPONLY20" COUPON CODE and take the advantages.


Flat 15% discount on booking via the website and applicable coupon code is "XMAS15OFF".

Note:
The above condition/offer is not valid for HTML projects.
WALLET RECHARGE
You can get up to 20% bonus amount in your wallet valid

till 1 year

through only Wallet Recharge. It may provide you a relief in Dollar variation circumstances.
Bonus Amount on Addition of What Amount, Here Is The List:
==> Add 5.5k to 9.9k USD – Attain 12% bonus to your deposited wallet amount
==> Add 10k to 14.99k USD – Attain 15% bonus to your deposited wallet amount
==> Add 15k USD or above – Attain 20% bonus to your deposited wallet amount
There is no need to be tensed about the bonus amount expiry as you can enjoy this for complete 1 year.
Recharge the wallet via Wire Transfer now and become eligible for this offer.
Once the deposit confirmation is received, bonus on your deposited amount will be manually transferred to your wallet.
Note:
Wallet recharge would be applicable only through wire transfer payment. Thus, download the wire details soon via following the link and make this process done.
EMAIL TEMPLATES
Get flat 50% OFF on every second newsletter order. Sounds cool & surprising? Contact our sales executive and ask the personalized coupon code before placing an order for the second email template.
Want newsletter free? If yes, then here a wonderful chance is waiting to make your desires true. For this, just only pay for 2 newsletters and get the third one at

ZERO cost

.
Furthermore, enjoy free MailChimp Integration with our newsletters that we develop considering the clients' business needs.
DESIGN TO HTML MARKUP CODE
Complete PSD to HTML conversion service is now available at $49 only.
Besides this, our other HTML markup conversion projects have reduced with sizzling discount such as:

PSD to HTML5 === Cost Fall Down From $119 —> $49
PSD to Responsive Markup === Cost Fall Down From $159 —> $49
Sketch to HTML / HTML5 === Cost Fall Down From $159 —> $49
CSSChopper keeps their clients at the top and always endeavors to make them contented. Sketching discount date (1 January 2016) is also a step to give our customers' demand a special value. We are pleased with this announcement and hope for your esteemed business future with our cutting edge services that you can now avail with discount till 15 January 2016.