The demand of advanced open source platforms has overcome the popularity of costly technologies with rapid growth that were used before to develop the websites. Popular as the highly secure CMS, Drupal has launched a new version of 7.x series with some wonderful features. Hence, convert PSD to Drupal 7.33 to take all the advantages offered by this version. To attain the world-class custom Drupal development, Drupal theme development, Drupal module development and other Drupal development services, CSSChopper is the most reliable website development company from India.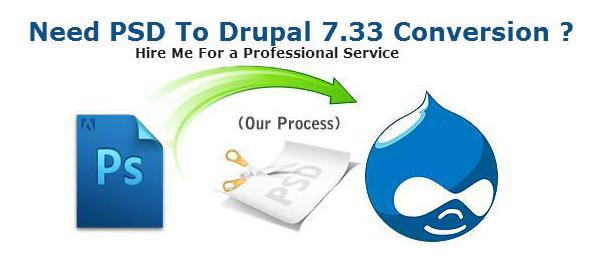 Abreast with every technical advancement, our experienced Drupal developers are also adept in Drupal 7.33 and ready to execute your challenging needs. Being a trustworthy Drupal development company, we assure you to cater standard PSD to Drupal 7.33 conversion service according to described specifications. You can come true your dreams to get the strong website visibility by availing Drupal theme customization service from CSSChopper,
An Brief Introduction of Drupal 7.33 That Has Come Up With Free Downloading
In the series of Drupal 7.x, a new version named Druapl 7.33 has also come in the market for downloading. Reason behind the launch of this maintenance release is to provide new functionalities and cover all bug fixes. Launched on 7 November 2014, this new version of Drupal covers all those features that were not available in the previous release. The previous version i.e Drupal 7.32 was completely based on security vulnerability, but this newest version features bug fixing & improves API. In order to upgrade the website into this version, making so many changes are not required. There are no changes or upgrading required into the documentation fixes and other essential files such as settings.php, web.config, .htaccess and robots.txt.
Newly Added Changes (Features/Functionality)
With the release of Drupal 7.33, a wide array of changes for the web development concepts has been added in this latest version. Have a look at some of those changes regarding features & functionality:
Entity view mode prepare(), the latest API function has included into the modules in order to invoke hook_entity_mode_alter() appropriately for bug fixing.
A new variable (theme_hook_original) has been added in this version to the template/theme function and theme debug mode.
With file modification time (which is stored in database or in the system), one can identify recently changed modules & themes easily. To meet this purpose, use system_get_info() function.
To make the task of running test class simpler for the web developers, a new feature named "Did you mean" has added with run-tests.sh script. In this way, you can run automated tests feature without any hassle.
You can enable block cache in the website via a variable i.e "block_cache_bypass_node_grants".
If source image is not found, despite of 500 error, a 400 error will be returned.
This Drupal 7.33 version includes a bug fixing feature and helps you recover data loss.
With the worldwide delivery of number of quality-rich PSD to Drupal conversion, customization and Drupal integration services, CSSChopper has become an offshore web development services provider. We believe in maintaining a perfect tuning with our clients. Thus, we do have 100% clients' contented ratio.
CONCLUSION
Besides Drupal based web development services, we also provide a facility to hire Drupal developer, who possesses expertise in all versions of Drupal including its latest version 7.33. You can check our best endeavors, efforts and technical proficiency via our portfolio section.
CSSChopper Team– Get Professional Drupal Web Developer from #1 CSSChopper.com