A website is an absolute necessity for all types of businesses even for seasonal ones. Roll out a spooky Halloween-themed e-commerce website this year to give a spine-chilling experience to the customers and upscale your business. It's a one-time investment that renders lifelong returns for your business as Halloween comes every year.
When October is around, we start feeling the jitters of Halloween. People start preparing for the holiday many days before. They start searching online for Halloween costumes, candies, chocolates, decorations, party supplies, and more. The market gets a boom with the graph of profits going upward.
The Halloween-themed e-commerce website gives your business a boost by enabling you to serve customers on a global scale. You can celebrate Halloween with your customers with a spooky website and do good business as well.
For the years 2017 and 2018, the combined total spending during Halloween stood at $18.1 billion which is a record high. As apparent from this data, Halloween not only brings surprise and excitement, but it is also an opportunity to make good earnings. Get digitized with an amusing Halloween-themed eCommerce website development and earn more revenue at every Halloween season.
Good reasons for making a spine-tingling eCommerce website this Halloween
When Halloween is in full swing, retailers miss out the opportunity to encash the festive season since they are bound to the customer base within the vicinity of their physical location. But with their website they can increase the reach of their business globally, which will not only increase their customer base but also helps in their branding.
In 2017, total spending on Halloween products was recorded the highest, the average spending per buyer was a record high in 2018 at $86.79 as compared to the average spending (per buyer) of $86.3 in 2017.
Expected spending on different products on Halloween in the previous year was $3.4 billion on Halloween costumes by 69% customers, $2.7 billion on decorations spent by 72% shoppers, $2.7 billion on candies purchased by 95% consumers, and $410 million was spent by 37% shoppers on greeting cards
Where do people find the inspiration for their Halloween costumes?
Here is the data, 35% people go online to find the right costumes for the holiday, 30% people visit a store to look for the perfect costumes, 20% people take help from friends and families to choose the right costumes, 18% use Pinterest and Facebook to find the best costumes, 17% are inspired from pop culture, and the rest 14% are inspired from print media.
If your business is not online, you're missing out a hell lot of prospective customers who are not even aware of your presence !!
These numbers tell how fruitful Halloween retail business is and having a website entails greater benefits as you can also cater to online customers.
Halloween is not a one-time event, it occurs every year, you can do something different every year with your website to grab your visitors' eyeballs; and make their Halloween more spookTACIOUS.
How to take advantage of a Halloween-themed eCommerce site to boost your business?
  
For any business, be it small or big, Halloween represents a bonanza that boosts its revenues. A Halloween-themed website helps you target online visitors and make them land on your site to buy costumes, chocolates, candies, or whatever you sell. There are lots of benefits that you can obtain with an e-retail website including the opportunity to sell products across borders. Here is the list of advantages of having a Halloween-themed e-commerce website for your business
Website decoration
Halloween is around and people have started their preparations for the event. After creating a website, you can offer a large assortment of products to customers. To attract more visitors, you need a website with the right Halloween decor. Halloween is the festival when you can showcase your creativity and dress up your virtual store. A great Halloween-themed website is beyond some carved pumpkins and may have some funniest gravest elements. This kind of website will help you grab eyeballs and compel visitors to make some purchases.
Reach to mobile users
Today, online traffic not only comes from desktops, but mobile phones have also become an essential source of traffic. Therefore, you need a responsive website that can appear well on both mobiles and desktops. With a responsive Halloween-themed website, you can easily capture traffic from both desktops and mobiles. So, you can increase your revenue with your website.
Customized branding elements
You can have fun with your branding elements such as logo, slogan, story and more by adding some Halloween effect. Besides Halloween-themed website design, you can also customize your logo to give a catchy and spooky appearance. Your website will look more attractive and compelling with such tailored elements.
Provide discounts and offers
You can provide discounts and offers to customers who visit your site and buy something from you. This is the best way to capture huge traffic and boost your sales. Giving discounts and offers can help you draw people into your store. It will help you to get the attention of visitors and enable you to increase your sales as well as build a reputation.
Landing page design
Once you have built a Halloween-themed e-commerce website for your business, you can create an engaging landing page that helps you drive visitors to your website. Landing pages are quite useful for generating leads as they entice visitors to call a business or fill out a form. They directly support your business goals such as making new customers, reaching targeted niche, closing more sales and more. In addition, they are also used for improving conversions, increase credibility, improve brand awareness, and much more.
Global reach
While your brick-and-mortar store is restricted to a physical location and has a reach only to the local customers, a website reaches to customers even from other countries. With its global reach, you can make your website suitable for varied customers in different countries by customizing it based on language, geographical location, interests, etc.
Online existence
This is the era of digitization and every business is getting online in the exploration of greater opportunities. By taking your business online, you can enter into eCommerce world and try to make your own identity. You now have the opportunity to serve different customers even across borders and beef up your business. With online existence, you can strive to upscale your business as well as globalize your operations.
Why do you need to create a spooky eCommerce website for Halloween?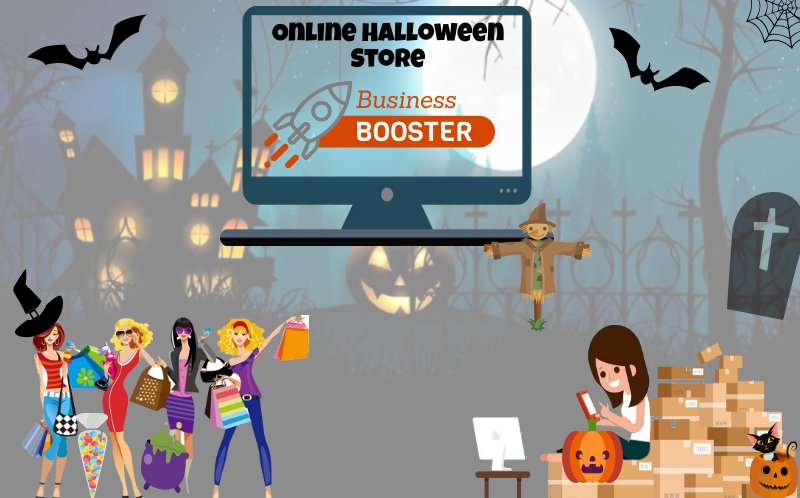 Halloween is a huge celebration and a big opportunity to grab higher returns on your investment. Don't miss the chance of increasing your customer base by catering to online customers. You can also make Halloween special by enjoying it on your site with a scary design.
Better reach to target niches
Create a website to reach your target niche as well as to get online visibility. When you have a captivating website on the internet, people can find it and make the desired purchases. In addition, they can also know about your shop as well as get an understanding of your services.
One-Time Investment
It's a one-time investment that you make to create a Halloween website that will drive you recurring earnings. With this investment, you can bring fortune and build an online presence to give customers a simple way to do business with you. Once you create your site, you can use it to boost your Halloween business every year.
Build Credibility
When customers are happy with your online service they recommend it to others as well as share information regarding your business. Apart from this, online testimonials, reviews, and ratings are also helpful for boosting the image of your business. All of these things enhance the credibility and reliability of your business which results in more customers and sales.
Get your business digitized this Halloween with CSSChopper
If you want to digitize your Halloween business, you are on the right spot. CSSChopper is a full-fledged custom website development service provider which brings you the topmost e-commerce development service. This Halloween, you can opt for developing a modern, dynamic, responsive, and spooky e-commerce website.
We understand the importance of the website design and its features for its optimum performance. Therefore, we ensure to create a website with a magnetic appearance and state-of-the-art features that represent your business in the best manner.
With CSSChopper, you can always ensure to get a website that helps you in getting 10X more conversions. If you want to reap higher benefits this Halloween with your business as well as celebrate the holiday with your customers, choose CSSChopper for the best Halloween e-commerce web development service. We assure you that our creation will give a boost to your business and goosebumps to your visitors.
Wishing you a Happy Halloween!