Hiring the best developers is a lot of challenging today, especially if you are looking for talented JavaScript developers. The heavy competition in the tech market poses the challenge to hire talented developers. Choosing the right JavaScript developer is essential for creating top-notch solutions for your business. If you select the wrong person, your project can go haywire, and it will hurt your business. Here we will give you valuable insights into how you can hire the best JavaScript developers for your business project.
JavaScript is a leading web development technology
Whether you want to create a web application or a website, you always require JavaScript because it's fundamental in web development. Therefore JavaScript is one of the most sought-after technologies for creating web solutions. JavaScript allows developers to make quick, app-like websites or web applications using only a single set of technologies. Due to the high demand for JavaScript developers, finding experienced and talented developers is tricky.
Let's look at the points you should consider before looking for any JavaScript developer for hire.
Is your project still under development?
It may be easier to find a developer if you have already kicked off your project. You have to find the right developer who fits the frameworks and technologies you have chosen for your project. For instance, if your codebase uses the ReactJS framework, you just need to look for a developer with experience in this framework. If you don't have enough time for a thorough interview, you can opt for a team extension that can benefit you from professional services. You can rely on a tech partner like CSSChopper to hire a dedicated developer for your project.
Are you beginning from scratch?
If you start your project from scratch, it could be challenging to hire the desired developer. But you shouldn't worry as you can find a good option!
In this condition, you need to start by evaluating your project requirements and the specific skills you are looking for in a developer. Find out your needs to determine why you want to hire the developer.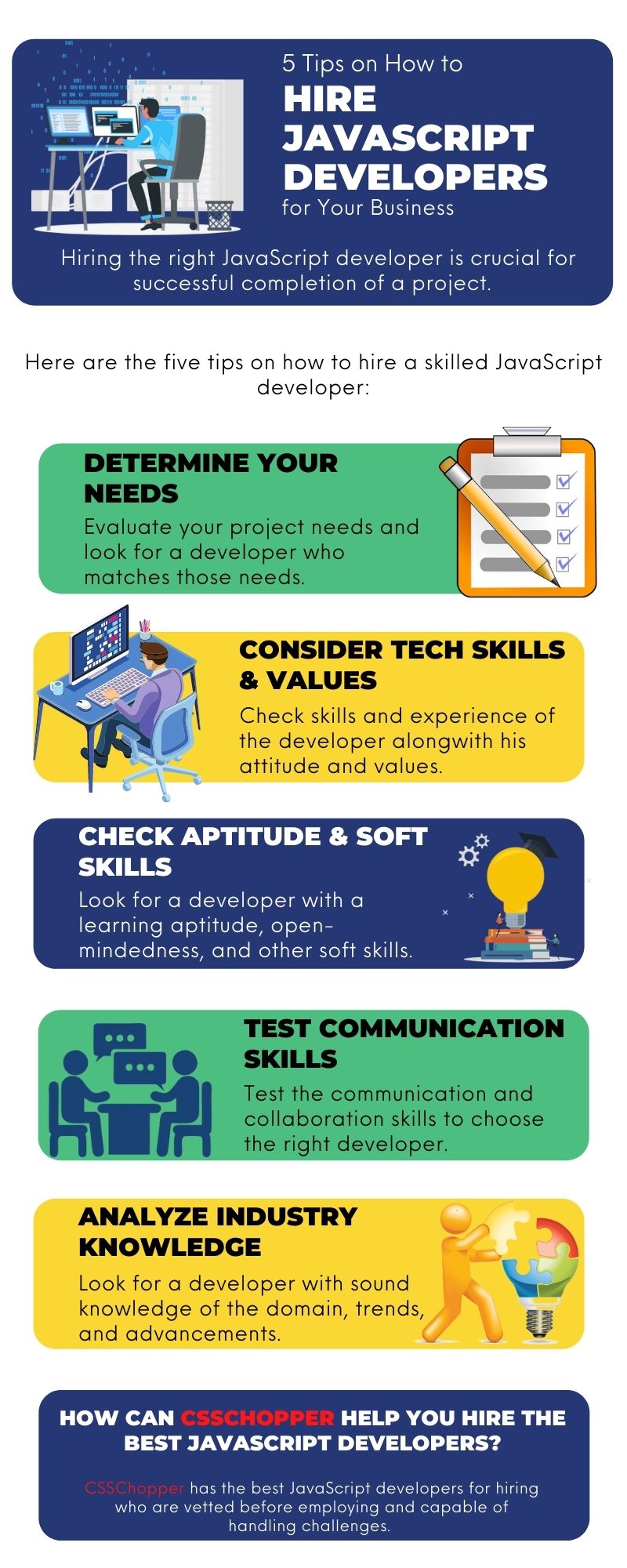 Here are the five tips on how to hire JavaScript developer for your business:
Determine your needs
Firstly, you need to have a clear set of requirements in your mind for your project. Hence, to hire a skilled JavaScript developer, you should start by identifying your project needs and business requirements. Do you have a complex and long-term project in hand, or are your requirements limited? You can choose a developer based on what you want from them. You can also judge whether you want a developer with specific skills like expertise in certain frameworks or technologies or a simple developer with some experience will do.
Consider tech skills and values
Undoubtedly, you need to check out the skills and knowledge of the developer to make sure it matches your requirements. Check the knowledge of the developers for the JavaScript frameworks and libraries you want for your project like AngularJS, ReactJS, Vue.js, etc. There are different JavaScript frameworks, and each requires different skills that you can test. If you want to develop a web app, knowledge of these frameworks is necessary.
Also, find out if you want a developer with expertise in front-end, back-end, or full-stack development. Besides skills, you should also check the values of developers. Checking the values like attitude, responsiveness, and cooperation helps you select a compatible developer.
Also read: Angular vs. React vs. Vue Frameworks: Which is Best For Web Apps?
Check aptitude and soft skills
A candidate may solve the issues in your coding test or make mistakes when answering questions. But you should check if the developer tries a creative approach or unusual way to solve the problem. If you are impressed by the intellect and mindset of the candidate, you should select him/her. This is possible when a developer has a learning aptitude that enables him/her to learn from mistakes, adapt, and improve their skills.
In addition to tech skills, you should also stress the soft skills when you want to hire a skilled web developer. Indeed, soft skills like teamwork, open-mindedness, ability to improve, accountability, creativity, and inclusiveness are essential attributes of good developers. You must ensure these skills.
Test communication skills
When you hire a developer remotely, communication becomes a crucial element of your partnership. Miscommunication can be devastating for the whole project. Hence, before finalizing any developer for your project, you must make sure he/she has good communication and collaboration skills. The developer has to communicate in a language and manner compatible with you.
You should inspect various aspects of their communication like active listening, to-the-point speaking, stress management, nonverbal communication, etc. Also, check whether the modes of communication align with your needs.
Analyze domain knowledge
How a developer can accomplish a project depends on skills, experience, and domain knowledge. The knowledge of the domain is essential as it helps a developer keep updated with what is going on in the industry. Hence, the developer should be aware of the latest web development trends and advancements in the industry.
Besides the domain knowledge, the developer should also be able to understand your business. Check if the developer has worked on a project similar to yours. Further, he/she should have experience working on a project related to your industry or business domain.
CSSChopper is the right place to hire JavaScript developers
At CSSChopper, we have the best JavaScript developers who are well-experienced and skilled. Our developers can work on any challenging project and deliver top-notch solutions. You can hire our developers for a wide range of projects, from front-end development to creating a complex web application. Our developers are adept in various JS frameworks and libraries. Check our hiring models below:
Time & Material Hiring
You can hire any resources for a specific time period and pay accordingly. It's suitable for short team hiring.
Dedicated hiring model
Hire dedicated developers for as many months as you want. You can hire developers for the duration of a project.
Offshore development center
Hire an offshore team that can work for clients from different time zones. They can work dedicatedly for clients as per their needs.
Final thought
You have to take enough time to find and select a JavaScript developer for your project. Undoubtedly, the success of your project depends on the type of resources you deploy for accomplishing it. When you look for developers, you have to consider a lot of things like what the cost will be, where to find them, how to interview, buzzwords they use, and more. Hence, you should do proper research, consider crucial factors, and evaluate your needs before hiring a developer.
Moreover, you can also approach a web development company to find and hire developers easily. These companies have excellent talent that has been proved in the projects they have accomplished in the past. So, you can confidently choose developers from them. But you should make sure to select a reliable company like CSSChopper. Don't hesitate! Contact us for a discussion on your project requirements.