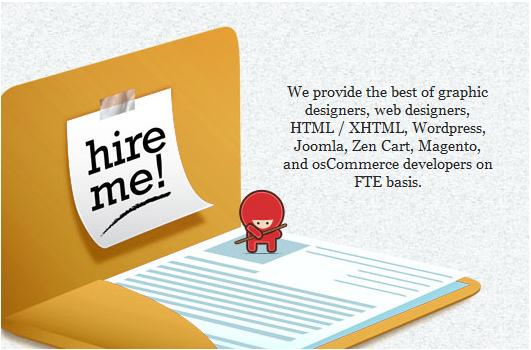 A boom in the field of World Wide Web has been noticed in recent consecutive years. This is because of the simple reason that internet is catching fire as a standard platform by ultra next generation for carring out e-business in most effective way. Every hour a new site get launched by a common intention to generate high revenue. Almost every website owner comes in the cut-throat market with a dream to see his portal in top most ranks of major search engines. In fact, it is very tough to survive in such a competitive arena and requires lots of efforts. To beat this competition, one requires specialized web developer but how to choose best professional when everybody ensuring for top-notch services.
Hiring a professional for web development is important decision and should be taken carefully. Don't worry this is something that where we can bring you some relief. There are numerous factors which a person should keep in mind while hiring a web programmer and here, we have come up with some tips which can really help you in finding out the best web developer.
First of all, find out whether you really require a dedicated web developer or not as it plays very crucial role in framing out your expenditure and minimizing degree of commitment (say for next 1-3 months). This mainly depends on your project's nature, scope and scale. Decide as per your requirements, what you exactly wants which may well mean that whether you want development services on project-by-project or stage-by-stage basis. It is the best option in case you do not want to get longer term commitment with a dedicated professional.
As per this type of hiring option for project development, we provide you a detailed information of work involved in project development on a stage-by-stage basis. In broader sense, you will send us all you requirements and queries. Our skilled web developer review and go through through it in depth in order to understand what you exactly want from us. After reviewing your requirements, we send you a complete information regarding fixed cost quote, estimated time frame involved in completion of project,  development phase and lots more.
We believe in serving our clients with best services and therefore, comes with complete customer satifaction guarantee. In order to provide you top-notch results, our experts address one set of requirement at a particular time and after completing it proceed to next stage of development. The major advantage of stage-by-stage basis is that you can start and stop the project anytime. On the other side of coin, the biggest disadvantage is that unusual start and stop can result in delay in completion of project.
Besides stage-by-stage basis, a person can also opt for hiring a personal dedicated web developer, who work personally on your assigned project and look after it from starting to end of development phase. In broader sense,  a dedicated developer entirely dedicated to your project for particular period of time means you get complete dedicated attention along with immediate development and support. Furthermore, by hiring a solely dedicated professional you can  scale the development capacity utilized.
I hope with the above discussed tips you get some sort of help while hiring a web developer from any web development company. Save your hard earned money by assigning your project in right hands.
you can visit https://www.csschopper.com/ to get more related article and blog stuffs.
Posted By: CSSChopper Team