Hurry Up! Most Exhilarating Christmas Discount At Your Door Step Now
Like always, CSSChopper comes with most exciting offers for their esteemed customers. Now, unleash the special benefits on this Christmas festive season on every project with three amazing packages offered by CSSChopper. Let's have a quick glance on each: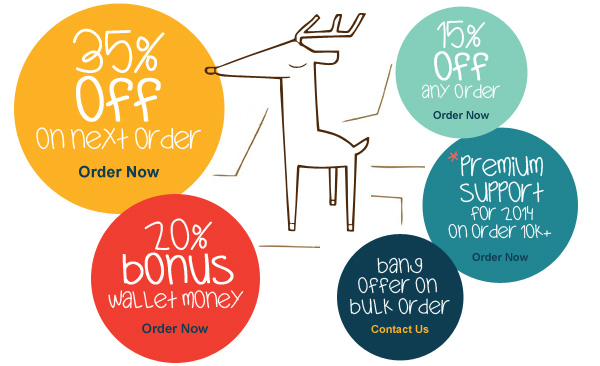 December Bang:Flat 15% Christmas Discount on All Projects
CSSChopper is introducing flat 15% Christmas discount on the every project. Now, our customers can earn more benefits on their projects with us by availing the exciting offer this December. To make this festive season more special, grab this offer as soon as possible.
Terms & Conditions:
This Offer is valid till 31st December 2013
Available for all our respected clients
Two or multiple offers cannot be clubbed together
It is Amazing & Innovative! CSSChopper offers you to refill your wallet today with 20% bonus value. We bring a special offer for all our esteemed customers. This wallet system allows you to get 20% amount extra as bonus in your wallet.
Terms & Conditions:
Bonus offer is valid till 31st December 2013
Two or Multiple offer can't be clubbed together
20% Bonus value will alive till 6 months from date of refilling
This offer is not available for Indian Resident customers
Get Flat 35% Discount offer on Your Next Project
Get benefitted with flat 35% discount offer on your next project with us. In this offer, CSSChopper allows you to order a project without any discount coupon this December and get flat 35% off on your NEXT order with us.
Terms & Conditions:
Validity for this discount offer is 3 month from date of first ordered project
Difference between the first order & second order must not beyond 500 USD
Two or Multiple offer can't be clubbed together
Premium Support 2014: Pamper with Excellent Support on Order Value of 10k USD or Above
With this offer, CSSChopper lets all customers to make an order for value greater than or equals to 10K USD and you will be entitled for PREMIUM SUPPORT from CSSChopper for the whole 2014.
Our Premium Support Entails:
Instant support through DIRECT PHONE
Skype & Email
Direct Interaction with Development team
Extended 60 days support on all your projects
Unlimited Training, Demonstration & Support
Special Offer for Bulk Order
There is the special banging offer for the bulk order! If you have many pages or projects ready to order, then you will be able to get more surprising offer from CSSChopper. You just need to reach the sales team with project details. We will connect you soon with the pack of exclusive offer for you.

 visit www.csschopper.com
So, why are you waiting for, grab these exciting & lucrative offers as soon as possible!
For further information, you can reach us through phone:+1 (707)­ 921-7269 or can directly contact to our sales department.