In the broad spread e-commerce industry, an open source enterprise-class platform, Magento has made a powerful mark from 2008 to at present, which is now acquired by eBay. Only in 5 years, this technology has placed with its strong footprints. With a proven track record and impressive solutions list, Magento theme development is used across the world by millions of developers. This widely used flexible CMS has caliber to build large, small or gigantic online stores hassle-free and effortlessly than other e-commerce platforms.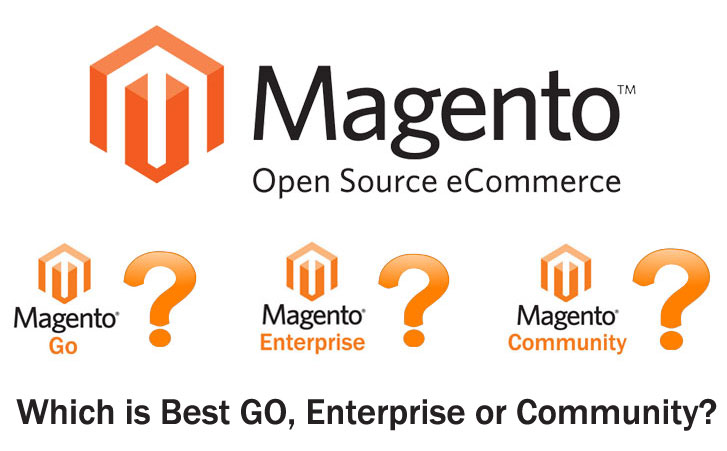 In fact, Magento web development always does justice with your web retailing needs to fulfill in minimum time, but the main question arises in mind that which Magento solution would be the most suited for your business? Keep in mind that Magento targets a variety of business owners and enterprise groups. It has charted out 3 different marvelous plans and take a look at these three plans:
Magento Go

The development of "Magento Go" is particularly for small business providers to create a quite fast and easily accessible web store. The good thing with this software is, there is no need to install any other software or administering any kind of server. Automatically, it is equipped with a set of most powerful tools that help your business to reach it at the level of success. This software is designed especially for those, who want an online store, but not aware about technology.
Design which you like: 

Without having knowledge, you can still use its various features like edit the text of menus & buttons, pick up logo, line up the attributes and much more. It also gives a free hand to let you use its CSS editor to align with your trusted web designer.

Flexible: 

This is flexible, allows to categorize products and its searching tools make to looking out for any product.

SEO-friendly: 

It has built-in capabilities to create an SEO-friendly website, even it can also create Google sitemap by itself.

Reliability:

Customer loyalty is most important and it is at on its high radar. This is why, this software retains a number of customers.
Magento Enterprise

The main moto of "Magento enterprise" is to target mid-sized entrepreneurs. eCommerce website development provides a wide array of features it provides such as flexibility, scalability, relevancy, optimized speed to accommodate thousands of transactions simultaneously, product comparison facility and data & forth movement amenity between systems. You can upgrade Magento enterprise edition without losing old data and expand your website's visibility to attract maximum customers.
Few key features that facilitates by "Magento Enterprise" rather than "Magento Go":
Invitation & Events
Gift Registry
Content Roll back
Reward Points
Enhancement of customer categorization & targeting
Highly-optimized speed to handle thousands of transactions
Secure & easy payment gateway
Many more

The majorly utilized open source CMS through various vendors and organizations is "Magento Community", which is available to download on the internet without having any changes. You can easily upgrade Magento community edition to explore your development creativity with the help of easy to alter code, additional functionality and attributes. This highly-demanding software also allows developers to create custom Magento themes development and Magento eStores for commercial purposes. Magento doesn't provide any technical support here, but you can get support from any Magento expert developer.
Order management
Multilingual support
Integrated mobile HTML5 theme
Mcommerce
SEO friendly URL
Multiple store and lots more
Theme & Extension development
Conclusion
Firstly, go thoroughly over all the functionalities of Magento products/plans and make your mind to decide, which option is the best for you. For high-quality Magento development services, contact now to renowned web development company, CSSChopper.