The great evolution in online shopping technology has opened several doors for the online shop owners to get tons of substantial benefits. The considerable advancement in this arena provides the easiest ways to make their e-stores more appealing, faster and smarter. It has become a primary need of almost all types of business owners to own the interactive websites that bring their existence in the limelight.  Ruby on rails web development provides excellency to your e-commerce site with the balance of intuitive interface, plugins and advanced features to get optimized loading speed.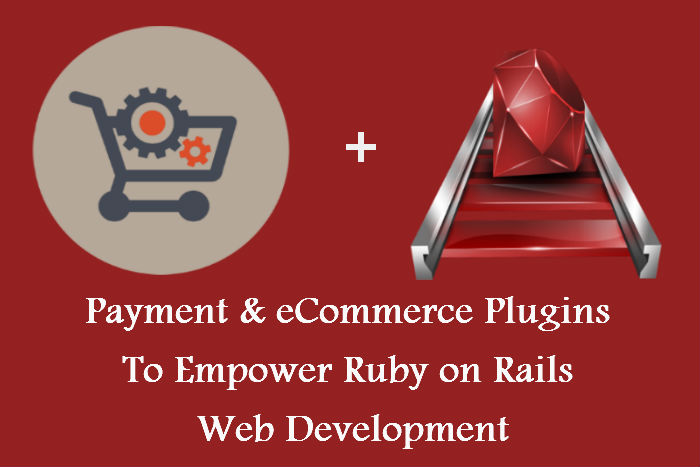 The web and mobile applications powered by custom ROR web development are powerful enough to make money as the code written in ROR is robust that elevates performance of entire website. With more secure payment options, it enables the website owner to add a wide range of products and offer some shining deals in order to grab customers' attention.
Powerful Ruby on Rails Plugins That Make Payment & E-commerce Better
ROR E-commerce
To build and display manifold invoices, ROR e-commerce is one of the best ROR frameworks.
It is considered as an ideal solution especially for commercial Rails apps that deal with different kinds of payment & eCommerce systems.
With the flexible business logic handling, it offers numerous stunning tools for commission calculation, automatic generation & the fastest deployment of payment transactions information as well as invoices. Besides this, tool for taxation handling is also offered with this framework, which is quite accountant and development-friendly.
Freemium
This easy to use Subscription management tool is quintessential to give new power to the web applications built with ROR, which provides help in managing archiving and mass subscriptions conveniently.
Being a significant plugin, it caters service subscriptions' facility for the visitors and also offers them help in signing up at your site without any hassle.
This plugin is competent enough to handle group and individual customer's subscription plans, including paid premium, totally free, paid premium plus, and many more.
E-store owner can also keep control on his business invoices through Freemium. It also allows you to enter along with a merchant gateway that supports credit card storage format along with automated recurring billing.
ShippingLogic
ShippingLogic is one of newest plugins powered by Ruby on Rails to easily handle distinct tracking portals and shipping for final shipment with the help of eCommerce portals/websites. Currently, it supports FedEx only and will probably support almost all popular portals in coming days.
Unbeatable project management provides ease to you to include support for recently added classes and services.
The code of this plugin works ingeniously on Shippinglogic::Fedex::Track repository, which is interactive for simple tracking implementation of shipment through QR codes or barcodes using modern in-scan technology.
To keep the customer updated regularly with your e-commerce store, payment gateways and scans both get integrated together. This approach updates the customers about delivery location of product with estimated time for in-transit.
ActiveMerchant
It seems like Freemium plugin, but ideally used for the purposes of one-off billing such as retail environment.
ActiveMerchant is comparatively better for archiving login data, card data and managing passwords whereas Freemium handles miscellaneous storage and offers support for handling recurring bills generated by credit cards.
Freemium is dependent completely on ActiveMerchant to use Credit Card mode, which is used together usually to handle payment gateways.
Spree
Being an issue tracker, this flexible plugin allows spotting a variety of bugs in the available payment gateways, so that you can sort those bugs thoroughly before finding payment or invoicing wrong.
Bugs can be displayed of almost all kinds through collaborators and teammates that are vital to sort login data and sign-up related issues, including update time, age, comments, labels, filtering using open & closed issues, milestones to precisely document all issues that can raise in the future.
Conclusion:
The above-mentioned ROR plugins are prominent worldwide as all these support well to a myriad of payment gateways. Some of those eminent payment gateways that use these plugins are: Amazon Flex Play, Stripe, Remi, PayPal, DataTrans, and lots more.
Meticulous utilization of these plugins bolsters the invoice generation, payment system and get retrieval published by the users regarding any sort of product. If you need customized solutions of your choices, then CSSChopper is the best Ruby on Rails web development service provider to build appealing and feature-rich e-commerce website/portals for better payments' experience.