In seek of affordable PSD to RapidShop conversion services; most store merchants neglect the significance of quality factor. We at CSSChopper are a professional design to shopping cart conversion expert that deploys 100% pixel-perfect theme development solutions. Being a global acclaimed service provider, we strictly focus on delivering one-hundred percent client satisfaction through our catered services.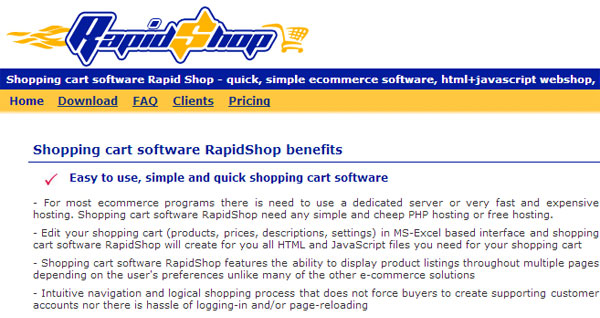 CSSChopper is an India's fastest growing e-commerce web development and outsourcing company in the web industry today. We are a specialized group of e-commerce professionals that have rendered successful shopping cart solutions to an array of businesses. We work closely and meticulously with the clients to provide flawless store development and configuration solution, fitting their clear-cut needs.
To convert PSD to RapidShop theme, our e-commerce experts strongly ensure:
Neat & elegant HTML/XHTML markups & CSS code
W3C compliant valid markup
SEO semantic coding
Table-less & lightweight layouts
Completely hand coded markups
High-quality PSD slicing
Cross browser compatibility with all major web browsers
Why RapidShop e-commerce platform?
RapidShop is a simple and ease-of-use shopping cart platform, which requires no programming expertise in handling the store. RapidShop uses clean HTML and JavaScript front store that allows you to establish your store virtually on any server, USB flash or CD-ROM. This platform comes integrated with multiple payment gateway support like PayPal, Google Checkout, etc. which make it extremely secure in terms of making monetary transactions from all across the globe. RapidShop is hyper-scalable and highly flexible with offering seamless customizable support to design the store completely your way.
Integrated search engine friendly with link indexation support helps the website to rank better for gaining increased visibility
Ability to display product listing all through manifold pages as per the users' interests.
Capability to edit products, descriptions, prices etc. of the shopping cart in the MS-Excel based interface for quick and convenient handling
Direct delivery of store's order notifications on to your mailbox
Unicode supported to display product listing from any of the multi languages
We at CSSChopper possess strong competency in delivering e-commerce customization service. Our skilled e-commerce team of web designers and developers is ready to provide complete RapidShop customization solution. We are well proficient in the following services:
PSD to RapidShop template conversion service
PSD to RapidShop theme conversion service
RapidShop design and integration
RapidShop shopping cart installation and configuration
RapidShop payment system integration
RapidShop shopping cart SEO services
RapidShop maintenance services & more
Our strong domain experience and matchless proficiency make us your ideal partner for your e-commerce customization solutions. We have gained years of excellence in developing and deploying varied open-source e-commerce solutions. The showcased portfolio of e-commerce projects will apparently render our in-depth competency and technical adeptness of our work style & project snippet.

Why to choose CSSChopper?
Professional assistance for your project with focused dedication & sheer commitment
Free technical support for the project for complete 30 days
Full *money back guarantee, if fail to meet your expectations in terms of punctuality & quality
24/7 professional assistance through emails, chats, calls and video conferences
Keeping your project secrets fully confidential through our non-disclosure agreement
Posted By: CSSChopper Team