Responsive Web Design is defined as an innovative technology for making the web-design more flexible in order to accommodate with varied browsers let it be desktop, iPad, iPhone, tablets with the motto of creating visual appeal of the design on all the devices. But, after the completion of all the steps of responsive designing, the question arises that how would one get assured about the compatibility of created responsive web design. Getting appropriate answer of this query CSSChopper has appeared with Responsive Design Tool for the sake of testing website designing online.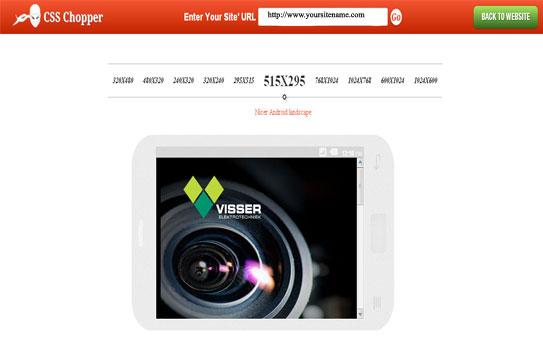 Users can use our  Responsive Design Tool in order to check the responsive web design online with simple steps:
Enter Website URL: Users are required to enter their website address click on the go button and get the results by using the controls and adjusting the width and height of the viewport in portrait and landscape size so that exact breakpoint width and height in pixels can be checked.
Check Your Website on Various Parameters: With this tool, resolution of your website design can be measured on the parameters including 320X480, 480X320, 240X320, 320X240, 295X515, etc.
As the responsive design is not confined to the small devices since it has expanded itself to the world of tablets and mobile devices. In this direction, team of our designers has come up with this tool keeping in mind all the aspects of responsive web designing.