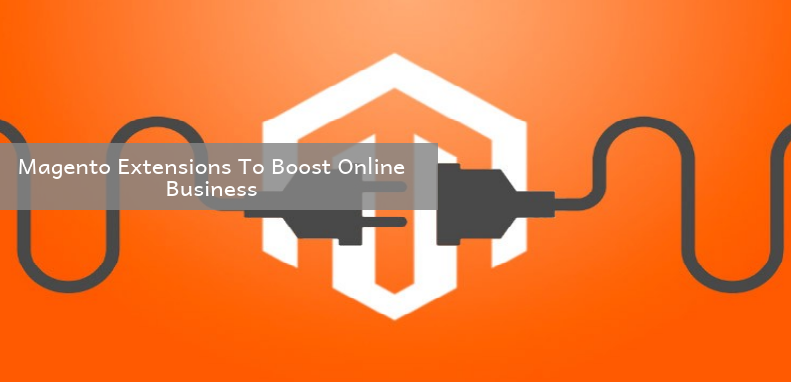 For a Magento e-commerce store extensions are not new and they are used for various purposes on these stores. Magento extensions simply extend the existing functionality or add new functionality to your site. From tracking sales, managing inventories to generating invoices, these extensions can be very handy for your online store. You can find tons of such extensions, when you browse the internet. Given so many different choices, it might be difficult for you to choose the right Magento plugin development service for your business. We have come up with a list of the top eight extensions that you can use with your Magento store and extend its functionality to boost your business.
Why should you use Magento extension?
Being a powerful e-commerce platform, Magento allows you to create competent online storefronts and sell directly to your customers. eCommerce website development provides numerous customizable options including a number of outstanding themes. However, how do you make it a full-fledged store? Picking up the correct theme for your online store is surely the first step, but what's next? Magento extension is the answer to this question.
These extensions help you unlock new functionalities and add further features to your online store. Your store can be loaded with all the functionalities and features that are required for building a superb virtual storefront with these extensions. You can install an extension from the Magento repository or you can also hire a Magento developer to build a custom Magento plugin for your storefront.
1. MageMob App Builder
It is a Magento mobile application extension which allows creating a customized mobile app for Magento stores quickly. This app is specifically designed to build apps for e-commerce stores. Using MageMob app builder, you can create apps that provide user-friendly experience to your customers on Android and iOS devices, and they can easily access your online store from their smartphones or tablets. Plus, you can also offer several other useful features such as notifications, product search, and product reviews for your customers and admin, etc.
2. Language Translator
Today, the online market is not limited to one region and providing us more reach than ever. As a result, we are able to sell products to anyone and anywhere in the world. It is a great thing for online sellers as they get a vast customer base to sell their products. However, language can be a huge barrier in your way. But, you can remove the barrier by using Language Translator extension for Magento, which is a fully-featured extension. It automatically translates your product details, pages, along with product attributes into your choice of language. This is a helpful tool that aids you in sales and reaches a large audience effectively.
3. Tawk.to
We cannot ignore the importance of live chat as it allows your customers to connect with your representative and get immediate help. By responding to your customer inquiries instantly, you not only provide greater satisfaction to your customers but it also helps to boost your sales. Tawk.to is an outstanding free live chat Magento extension that provides your customers an interface to contact you and get answers to their questions. You can provide real-time customer support to your customers with a simple and user-friendly interface. Plus, it enables you to collect the name and email address of customers which you can use to follow up, if the chat gets disconnected. You can offer customer support on desktop as well as on mobile devices, so customers can easily get assistance anytime wherever they go.
4. Delivery Date Scheduler
It is one of the best Magento extensions that you can use on  store as it allows you to provide customers with convenient delivery date. No customers will like to have only an anticipation about the delivery of the products that they ordered with you. If you do not want to disappoint your customers, then you should make deliveries on the dates decided by them. This is what Delivery Date Scheduler does for you. With this tool, you can allow your customers to decide a preferable time for delivery. After installing this extension, your customers will be able to decide convenient delivery date and time on your e-commerce store. Besides that, you can also provide a calendar view and the date and time for the delivery in a well-formatted manner, so that customers can view the delivery information. This is a smart extension that takes care of the delivery deadlines.
5. MageMob Admin
MageMob Admin is quite fruitful for online store owners that are always on the move. This amazing tool allows store owners to manage various aspects of their Magento store back-end directly from their smartphones or tablets. With the help of this mobile assistant extension of Magento, they can easily handle varied aspects like order details, new order notifications, product orders, stocks, and much more even when they are not at their workplace. MageMob admin can be obtained in both forms: as an extension or a mobile app. After using the mobile application (for Android or iOS), you won't miss out any product order, run out of stock and will make all deliveries on time.
6. SEO Hub
SEO is important for every online business as it ensures your visibility and position in the search engine results. SEO Hub is a useful Magento extension that allows you to manage data feeds, meta tags, canonical URLs and lot more. Besides some basic features, it also offers some value added features such as notifications when there is a wrong execution, provision to decide limits for meta data, set the number of products on which you want to apply the template. By using this extension, you can ensure that your online store rank high on the top search engines.
7. Apptrian Social Integrator
Today, social media plays a significant role in e-commerce businesses. Thus, integration of your social media with your online storefront can help you create new potential for your business. In this regard, Apptrian Social Integrator can be a great tool to do this. This amazing extension allows you to add social buttons as per your preference on different locations. For instance, you can add 'Follow' button for Google+, Instagram, LinkedIn, Facebook, Twitter and more. It offers a lot of options for customization and control.
8. FedEx Smart Shipping
This Magento extension allows store admins to adjust and control varied aspects of FedEx freight shipping. They can easily take care of these aspects right from their dashboard. There are dozens of functions that they can perform including get live shipping rates, offer multiple delivery options, manage shipment tracking, validate addresses, and arrangement for picking up consignment. You simply need to install this extension, configure settings and that's it. It becomes easy to integrate FedEx shipping into your e-commerce store with this extension.
Final Words!
Magento is a popular platform for building your e-commerce stores. Besides, tons of amazing features that you avail with this platform.  Further, it also enables you to add extensions to your Magento e-commerce store to extend the functionality of your store. Apart from this, you can also seek custom Magento extension development service to get a tailored extension built specifically to fulfill your business needs. However, if you want to know about some of the best Magento extensions, then you can use any of the above tools to boost your business.