When it comes to developing dynamic web solutions, the technology that comes to the forefront of your mind is PHP. Indeed, this is a leading web development technology that is widely used for creating outstanding websites and web applications. Hence whether there is a small business project or a big enterprise-level project, PHP is the first choice for many entrepreneurs and web developers. If you are considering creating a website or web application, then you may want to hire PHP developer to build a perfect solution.
Why is PHP Considered a Leading Web Technology?
When you want to create dynamic and interactive web solutions then you can always rely on PHP. It has a lot of features that aid in web development. It is a versatile server-side scripting language that is widely used for developing advanced business applications. Here are some reasons why PHP is an absolute choice for many entrepreneurs and developers.
Open-source Technology
One of the key reasons why PHP development services are flourishing because PHP is an open-source programming language. As a result, it is available to web developers and those who want to use PHP for web development without any costs. It means PHP is absolutely free! It has a huge community that supports the language as well as updates it by keeping it in sync with the latest web technologies. Being a popular server-side scripting language, there is no dearth of PHP developers.
Supported by All OS
PHP is supported on almost every operating system including Windows, Linux, Mac, etc and it perfectly interfaces with MySQL database and Apache server. It means that PHP covers varied execution environments that have become popular in the market today. So, you can simply hire dedicated PHP programmers to develop sophisticated and advanced web solutions for your business working on any popular operating system.
Less Time Consumption
PHP development is fast and consumes less time because it offers code reusability. PHP follows object-oriented programming that promotes code reusability. Hence, with PHP, you can create clean, efficient, and quality code for web applications.
PHP Frameworks
One of the key advantages of PHP development is that you can use different PHP frameworks like CakePHP, Laravel, Symfony, Zend, CodeIgniter, etc. You can choose CakePHP development services or pick Laravel or select any other PHP framework to build sophisticated and advanced web solutions efficiently.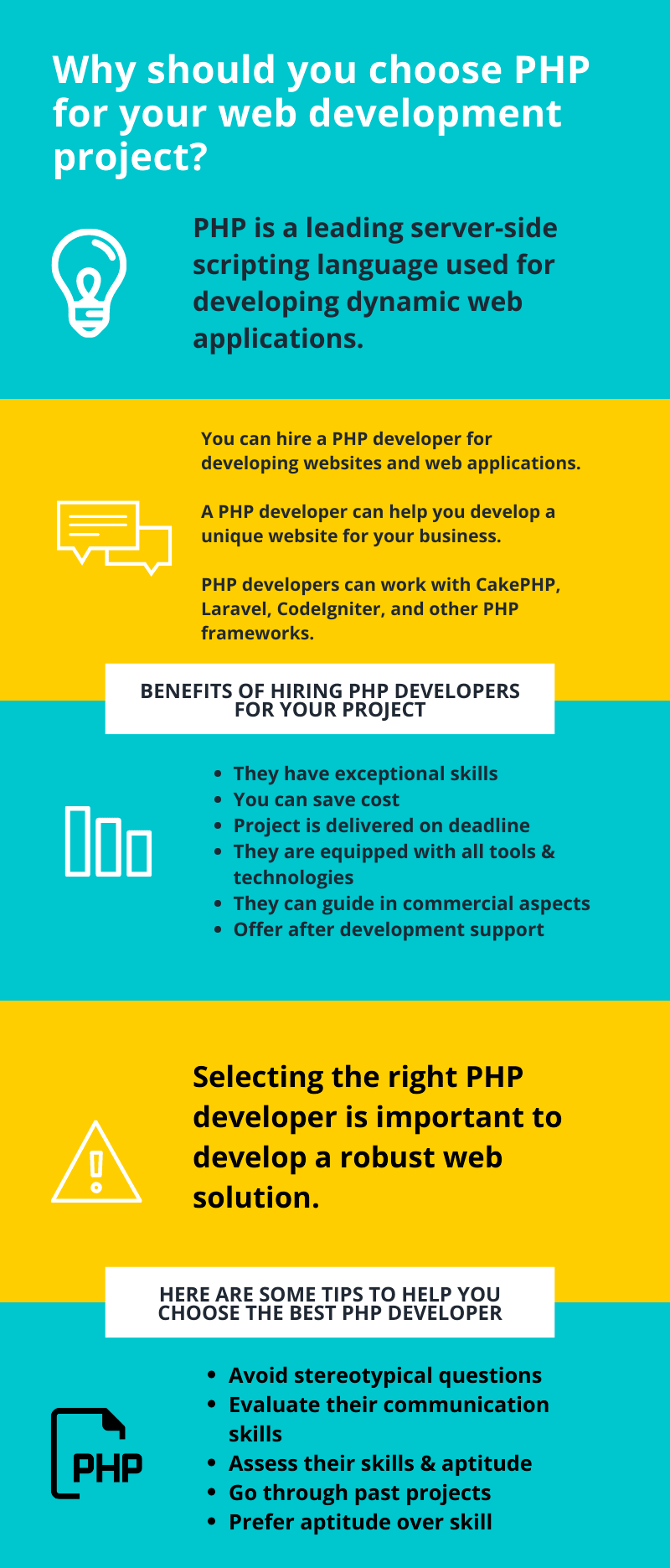 What are the Benefits of Hiring PHP Developers for Web Development Projects?
It is not easy to hire dedicated PHP developer and the process might be cumbersome at times. Moreover, if you find the right partner then hiring PHP developers will become easier. You will get many benefits by hiring PHP developers for your web development project and here are a few of these benefits.
They have Exceptional Skills
The most important reason why you want to hire web developer is that they have the knowledge and skills that you require for accomplishing your project. So, a PHP developer has all the required skills that you need for developing your website or web application. Having worked on numerous different projects, the developers have an understanding of every nuance that enables them to deliver the best solutions according to your needs.
Don't Cost you Much
Another key advantage of hiring PHP developers comes in terms of cost. PHP developers are available at an affordable cost and you can hire them when you require them. It means you hire PHP developer for a specific project that enables you to save money as compared to employing and training developers. Also, you can easily change a developer when you think they are not at par with your expectations.
The Value Deadlines
One key advantage of hiring PHP developers is that you can accomplish your project on time. PHP developers have enough experience and skills to complete your project on or before the deadline. These developers value deadlines because they want to maintain their images and provide the best services to their customers. Hence you can hire PHP developers to ensure that your project is completed on time and launched on time.
Infrastructural Support
If you employ PHP developers, you will have to provide operational facilities like desktops/laptops, software, and other perks. However, if you hire developers, you can save cost and time in arranging these resources. Hence dedicated PHP developers can help you create the desired solutions for your business needing any additional support.
Guiding in Commercial Aspects
You cannot expect that a PHP developer with no experience will start providing professional services and guide you on the commercial aspects at the outset. You need to provide proper training to make him/her useful for your organization. But if you hire a professional PHP developer, he/she has enough knowledge to help you guide on varied aspects of your project.
They Offer Post-development Support
A developer's work is not over once the project is finished. A lot of work is still there to do like testing and implementation. And, testing is a very crucial step in a PHP development project because a single error can fail the whole framework. The expertise of a developer comes to use at this stage. Also, the developer provides support after delivering the project by resolving issues post-delivery.
Tips to Hire the Best PHP Developers
Hiring a professional developer for your PHP website development project is not as easy as it seems. You need to make sure that the developer you choose for your project fulfills your requirements. If you are wondering how to hire the best PHP developers then you have to consider several points to meet this end. So, here are a few tips to help you find the right PHP developers for your website development project.
Don't Ask Cliched Questions
You have done a lot of research about PHP, evaluated your requirements, and are ready to interview some candidates. Moreover, when you prepare your list of questions, you must avoid stereotypical questions. It means you should avoid asking questions like "Who created PHP parser?" "What is PHP?" "Who was the creator of PHP?", etc. You shouldn't ask these memory testing questions and ask something relevant like "How to encrypt data with PHP?" "How much experience do you have in PHP web development?" "How to set cookies in PHP?", etc.
Evaluate the Communication Skill
Another important aspect that you should keep in mind is communication skills. Communication may not seem a crucial requirement for choosing the best PHP development company, but it is a necessary attribute for a good PHP developer. During your project, you will be frequently interacting with the developer to discuss varied project aspects. If the developer lacks the required communications skills, you won't be able to convey what you want properly which would fail the project.
Assess the Attitude
The attitude of a PHP developer is another important aspect that might seem trivial to you. However, the developer's behavior is also important to hire the best PHP developer for your project. If a developer is adept at PHP development but lacks interpersonal skills or has an undesirable attitude, you probably won't like to hand over your project to the developer. Hence attitude is another crucial quality of a developer that you will look for when it comes to hiring the developer.
Go Through Their Past Projects
One of the best ways to assess the intelligence and abilities of a PHP developer is by looking at the past projects he/she has accomplished till now. Whether you are looking for an offshore PHP development company or want to hire a PHP developer, it is always worth looking at their past performance. The best way to do this is to check out their portfolios. Check case studies and client testimonials on their websites to figure out what kind of projects they have worked on and what skills they used in those projects. This information will help you to evaluate their efficacy for your project.
Prefer Aptitude Over Skill
Often people who want to hire PHP web developers for accomplishing their projects pay extra attention to their skills and don't consider their aptitude towards new technology or trends. While skill is necessary to develop the desired web applications, aptitude is necessary to ensure that the developer can work in a changing environment when the project requires it. If your developer can easily adapt himself/herself as per the requirements of your project, then he/she is good to go.
The bottom Line
PHP has emerged as a prominent programming language for creating dynamic and out-of-the-box web solutions. It is estimated that around 79% of the net is using PHP that says a lot about the popularity of this programming language. Whether you want to develop a simple web application or want to create a more sophisticated eCommerce website, you can rely on PHP to build the best solutions. It offers excellent features, efficient database operations, and tightened security features to develop secure and high-performance websites.
You can hire PHP developers to create the desired web solutions for your business. But hiring the right developers is not easy. However, you can consider some points to find the right developers for PHP web development services. We discussed some of those points in this blog that can help you choose the right developers.