Gone are the days when printed classifieds were the only place to find suitable jobs. Today, finding a job is not a hassle anymore thanks to online job searching websites like Indeed. These websites have revolutionized the employee-employer relationship adding a new dimension to how they come close together. Whether you opt for CakePHP development services or pick a CMS like WordPress or go for custom development, choosing the right technologies is the initial step towards making an effective job portal. 
What is a Job Search Website?
A job search website is an online platform where employers can list jobs to find relevant candidates. Similarly, people who are looking for work can upload their resumes and search for jobs as per their interests and qualifications. It works like a search engine but it is concerned only with finding jobs. This kind of online job board website aggregates hundreds and thousands of job postings from different employers. 
Indeed is one of the most popular job search websites around the world. It was launched in 2004 that has become a worldwide job search engine used by millions of people around the world. 
What are the Functionalities Required to Create a Website Like Indeed?
Good job search websites possess all the required functionalities that both employers and job seekers need to achieve their goals. We will discuss some of the essential functionalities for a successful job search website by dividing them into two parts, one from the employer side and another from the employee side.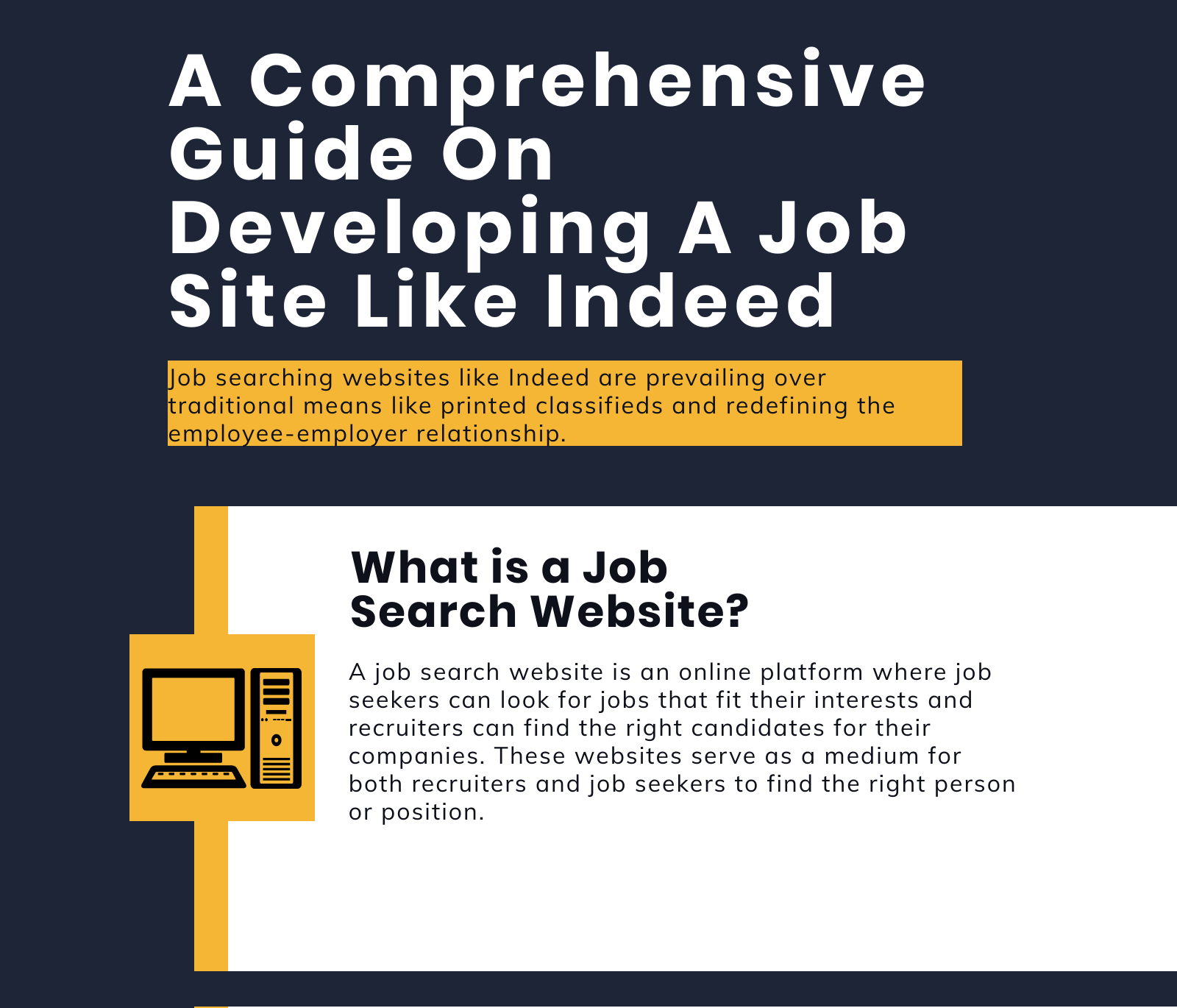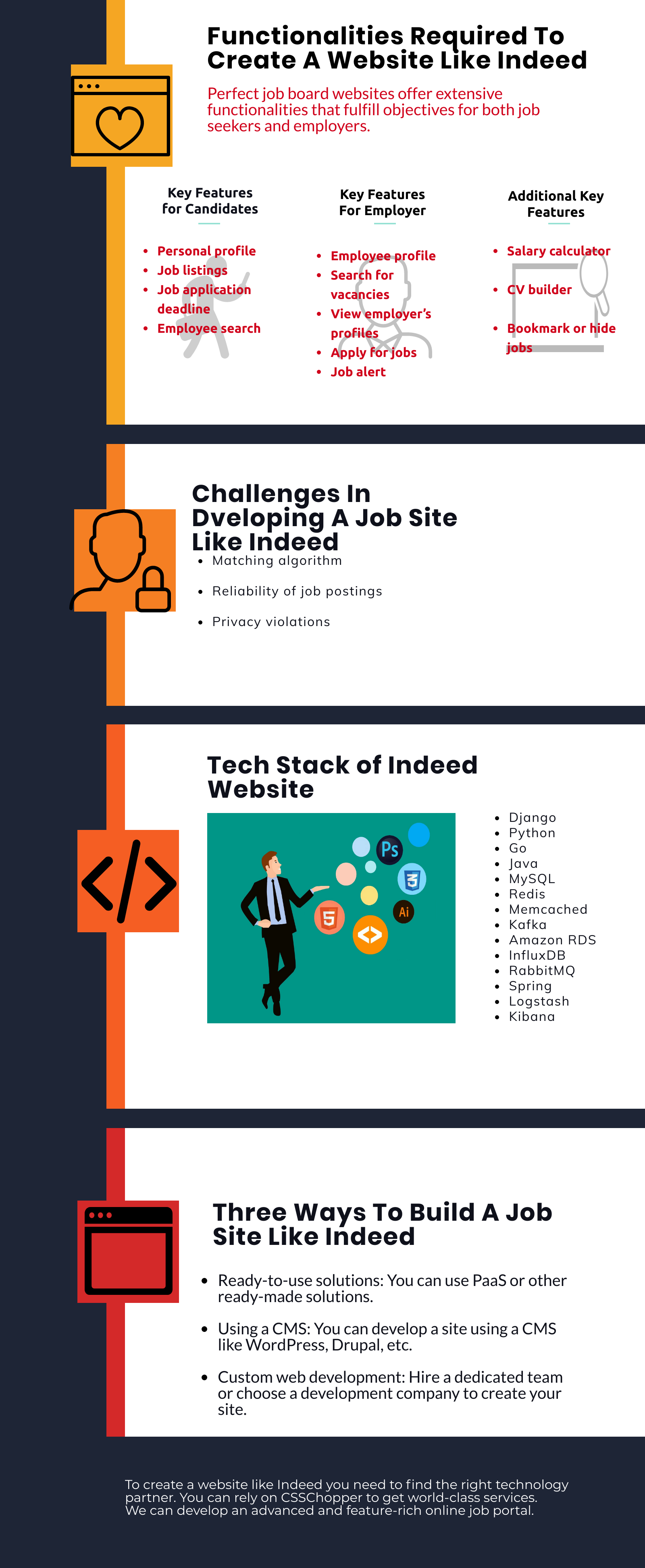 Features of a Job Site Like Indeed from the Employer Side
Personal Profile
Companies should be able to create their personal profiles by specifying the business or industry they operate in. They can include varied information in the profile including public statistics, main activity sphere reviews & ratings, short-term & long-term goals, benefits, etc as well as insert links to social media profiles or company websites. All in all, this feature allows companies to tell about them and what they do, so that interested candidates can know about the companies. You can find the best web development company to develop a robust job search website like Indeed that will allow employers to create profiles along with some added benefits.
Also read Why is Hiring a Web Developer The Best Choice For Businesses?
Let's take an example of Amazon.com on Indeed. As shown below, Amazon profile on Indeed provides lots of information including company details, employees' reviews & ratings, and more.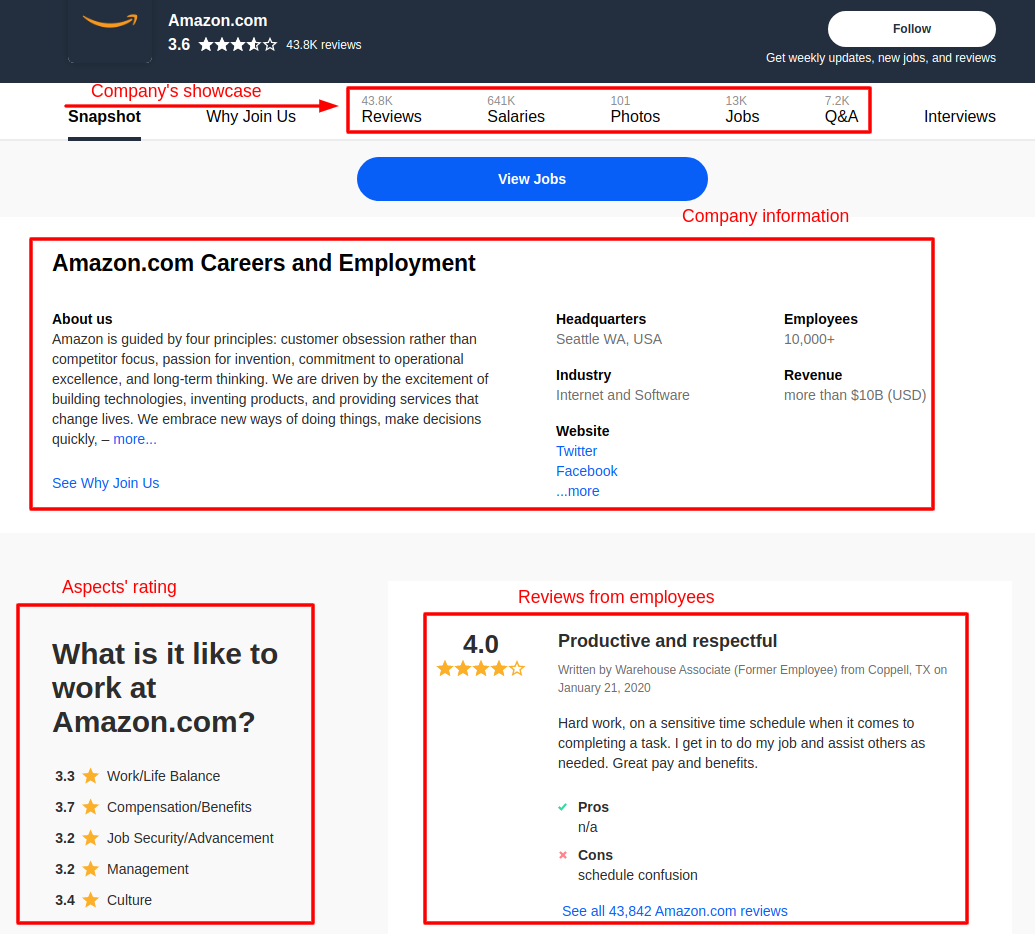 Job Listings
Job search websites like Indeed provide employers an easy way to find suitable candidates to fill the empty spaces in their companies. They can simply make job listings about the position opened in their companies. They can specify the details about the position such as working conditions, responsibilities, job requirements, and extra offerings available from the concerned company. Choosing the right technologies for developing your website is important as it may affect your ability to offer certain features. The use of CMS has become prevalent across different business verticals but you can also choose PHP development services to create an advanced and sophisticated solution that caters to all your needs.  
Job Application Deadline
Recruiters can set a deadline for job applications. By adding this feature to your job search website, you can allow employers to set a deadline for applications to be received for the job. As a result, candidates get a specified time to apply for the job, and on the expiration of that deadline, the job opportunity is no longer available. 
Also Read: A Quick Book for PSD To HTML Conversion

Employee Search
On a website like Indeed, just like job seekers can find jobs depending on their interests, employers can also search for suitable candidates based on their preferences. Your job searching website should offer employers a simple way to sort candidates depending on different parameters like education level, year of experience, state, distance, professional skills, and other abilities (critical thinking, project management, leadership skills, problem-solving skills, etc). 
These are the key features that your job search website should offer to employers to make it like the Indeed website. Look for the right technology partner to obtain world-class PHP web development services for creating an Indeed-like website with top-of-the-line functionalities. 
Hire Dedicated Web Developers 
Contact Us
Features of a Job Site Like Indeed from the Employee Side 
Employee Profile
Your website needs to provide a simple process to create personal profiles of candidates who are looking for jobs. To build a website like Indeed, you need to ensure that people who join your site can create profiles that include their details with personal and professional information. They should be able to specify names, email addresses, passwords, locations, and get an option to upload their resumes. Applicants should be able to send CVs or attach them to cover letters. With this feature, candidates can easily manage their personal information and relevant documents.
Search for Vacancies
This is an important aspect of any job search website as it allows candidates to specify their interests more accurately. Any job seeker can search for a job that fits his/her interests using different search filters like company size, location, salary offered, in-office/remote cooperation, and so on. By using these kinds of search filters, a candidate can make his/her job request more accurate.
View Employers' Profiles
To make your website as effective as the Indeed website, you need to ensure that the candidates who search for jobs on your site can view the profiles of different employers that match their interests. The candidates should be able to view company information, a list of opportunities, photos, reviews & ratings, etc. By making the best use of PHP development tools and other relevant technologies, you can build advanced visibility options to enable candidates to get broader information. 
Apply for Jobs
The candidates on your site need to get easy options to apply for different jobs that they find suitable for them. Your website can offer a quick view of different job listings that a candidate can click to find complete company information and a button to apply to the job. Your website should allow the candidates to upload resumes or attach them with cover letters when applying for jobs. 
Job Alert
This amazing feature allows candidates to receive job alerts via emails. After subscribing to email alerts, whenever there is a job that falls under a candidate's interests, experience, skills, and preferences, he/she gets a job alert email directly to his/her email account. 
These are some of the features that you need on your website to make it like the Indeed job search website. Nevertheless, there are some additional features that your website will need to get a competitive edge. And, these additional features are described below. 
Salary Calculator
By using this feature, a candidate can calculate an approximate salary value based on different factors like years of experience, current wages, and professional skills. The approximate salary calculation algorithm takes varied values entered as input and then estimates the salary depending on the present market situations.      
CV Builder
A CV builder feature is useful for both beginners who have no experience in filling their resumes and specialists who just want to save time. By offering this feature on your job search website, you can make your website development more effective for users. With this feature, candidates just need to fill up a questionnaire that asks for the required information to build a professional CV.   
Wishlist or Hide Jobs
If a candidate likes a position but is not willing to apply for it right away, he/she can add the job posting to a wishlist from where he/she can access it later and apply anytime. Similarly, if a candidate doesn't want to see a post, he/she can hide it. 
Challenges in Developing a Website Like Indeed and How to Tackle Them
Developing a website is not a simple task, it requires varied skills and expertise. Further, there are also many challenges that need to be dealt with to build a potent web solution. Here are some key challenges that arise during the development of a website like Indeed.
Matching Algorithm
A website like Indeed works on a matching algorithm that helps find job seekers the right recruiters and vice versa. This is the first challenge that needs to be tackled in custom web development to build a perfect job search website. Job mismatching is an issue for both employees and employers as they result in higher costs and a waste of resources. 
With a perfect matching algorithm, recruiters can find the right candidates for their companies, and job seekers can find the right positions that fit their interests and at par with their skills. The use of advanced technologies like Artificial Intelligence is becoming prevalent in creating more powerful and sophisticated matching algorithms. You can hire PHP developer to build a robust website with an effective matching mechanism. 
Reliability of Job Postings
Often users of many large job board sites like Craigslist and Monster.com have complaints about problems such as spam and outdated job postings. You can avoid such issues on your website by adopting varied measures. One way to do this is by devising an algorithm that automatically checks the date of a job posting, the company or person who made the posting, and the status of the job posting. You need to integrate better security measures to protect sensitive candidate information like phone numbers, email, etc to stop spamming. 
Privacy Violations
Sharing personal information or uploading resumes insecurely on a website puts privacy at stake for every candidate. Your website needs to be fully secure to ensure greater protection of the privacy of individuals who join your site. There are varied international laws and norms that force website owners to give greater attention to privacy and employ storage protection measures. GDPR, HIPAA, and CCPA are some of the examples of strict laws that prohibit website owners from processing sensitive user information insecurely. You need to find the right custom web development company to build a secure and standards-compliant site. 
Tech Stack That You Need to Build a Job Site Like Indeed
Django

Go

Java

MySQL

Redis

Memcached

Kafka

Amazon RDS

InfluxDB

RabbitMQ

Spring

Logstash

Kibana
Three Ways to Build a Job Search Site Like Indeed
Creating an advanced job site like Indeed requires you to be conversant with varied technologies and tools. However, you can also utilize many other ways to create such websites. Here are three methods for developing a job site. 
Ready-to-use Solutions
If you want to avoid all the heck of custom website development services, hosting, up-gradation, maintenance, etc, ready-made software like Monster TMS, SmartJobBoard, Recooty, Madgex, etc is suitable for creating a job board website within no time. While you don't require any specific skills and knowledge to create with this method, there are many drawbacks. Common disadvantages include no customization and limited control on your site. You can also use PaaS (Platform-as-a-Service) solutions.
Create a Site Using a CMS
Today, anyone can create a website without prior knowledge of coding or without any experience in web development service thanks to content management systems. A CMS is software that not only allows creating websites but also offers easy ways to manage websites and publish content. While using a CMS gives you freedom of choice and a lot of opportunities to create decent websites, some technical know-how is essential to create the desired websites. 
Choose a Custom Website Development Service Provider
The third method which is the best way to create a website like Indeed is to hire web developer. You can either choose a web development company or build a team by hiring web developers to create a customized job board site like Indeed. 
Final Words
Indeed is one of the most popular online job portals where job seekers can find desired vacancies. Similarly, employers can find suitable candidates for varied job profiles. If you want to create a job board website like Indeed, you need to look for a reliable technology partner. You can choose CSSChopper as your technology for developing a robust job search website like Indeed. We utilize PHP development tools and frameworks, CMS, Ruby on Rails, and many other technologies to provide cutting-edge web solutions. We assure you to build a quality web solution that meets all your expectations.