COVID 19 is the greatest reset for individuals as well as business industries. The graph of infected people is growing day by day. This global pandemic is a serious inference for individuals, businesses, and the economy. The COVID outbreak has brought unexpected variables that lead to the loss of manpower for various agencies.
Numerous people have to leave their jobs and stay indoors due to the major impact of coronavirus and unfortunately, agencies have to lose their resources. Business owners are shifting their focus to return to work and address the changing demands in the market. One big question for entrepreneurs is how to take business operations back on track with the absence of manpower and resources? What options do you have to get your project completed on time with insufficient assets? Here comes the concept of hiring an offshore developer.
How To Build Web Development Solutions With a Lack of Bandwidth And Skills In-house?
Outsource your projects to Offshore developers. This is the ultimate solution and the only answer to the biggest question during the major impact of Covid19. Let's move ahead and discuss why hiring a dedicated development team and outsourcing your project is the smart move for your business.
Why is Hiring a Dedicated Website Developer Important?
Much Beyond Development
When you hire web developer he/she offers you the things that are beyond development like hassle-free workflow, and a goal-oriented development approach.
No Hardware/Software Investment
When you hire dedicated developer to outsource your project, you don't need to invest in hardware, software, and development tools.
Flexibility
One of the main reasons why hiring a dedicated web development team is an act of intelligence is the flexibility they offer. They work exclusively on your project and scale up your project requirements to perform the required tasks.
It is not a tough task to hire dedicated developers due to the availability of huge IT service providers. But, based on your project requirements you need to understand what type of web developer can perform your project's development tasks better. Investing in something which is not fruitful is not an intelligent step, so it's better to analyze your requirements and choose the most suitable tech expert among three options:
What Type of Web Development is Suitable to Outsource your Web Project?
Front End Developer
Web site developers involved in developing the visuals using JavaScript, CSS, and HTML are labeled as front-end developers. You can hire a front-end developer to acquire services like:
AngularJs
MEAN Stack
MERN Stack
ReactJs
You can expect conversion services as per your business needs:
PSD to HTML
PSD to Responsive HTML
PSD to HTML5
Sketch to HTML
PSD to Email Template
PSD to WordPress
PSD to Drupal
PSD to Joomla
PSD to Magento
PSD to Shopify
PSD to PrestaShop
Back End Developer
Tech ninjas who are into making the website functioning and well-performing with the command over different programming languages are counted as back-end developers. You can hire a dedicated developer to avail back-end services like:
PHP development
Java development
PHP development
.NET development
NodeJs development
Ruby-on-Rails (ROR)
Web App Developer
These are software engineers and great practitioners of web app development. Hiring a web application developer can benefit you as below:
Custom web development
eCommerce web app development
Web app development
Responsive website development
Apart from the above-mentioned categories, you can also hire dedicated web developers based on their work style:
One who is a strict follower of traditional development rules.
One who uses frameworks and libraries.
One who is skilled in multiple programming languages.
A developer with an artistic nature to develop innovation.
You can contact a custom website development company to find any kind of web developer acceptable for your projects. A professional agency has the best of the back end, front end, and full-stack developers.
Since you know that according to the job type, web developers are also categorized into different types. The complexity starts from here, yes, when you know that a certain kind of developer you need to choose, then what matching criteria you should look for.
Simply understand how a company or team of developers utilize technologies, regulate its success or failure story. When you want to hire a dedicated web developer, make sure your decision doesn't let you regret it in the future. Here are six skill sets you must look for in your technology partner to avoid any disappointment: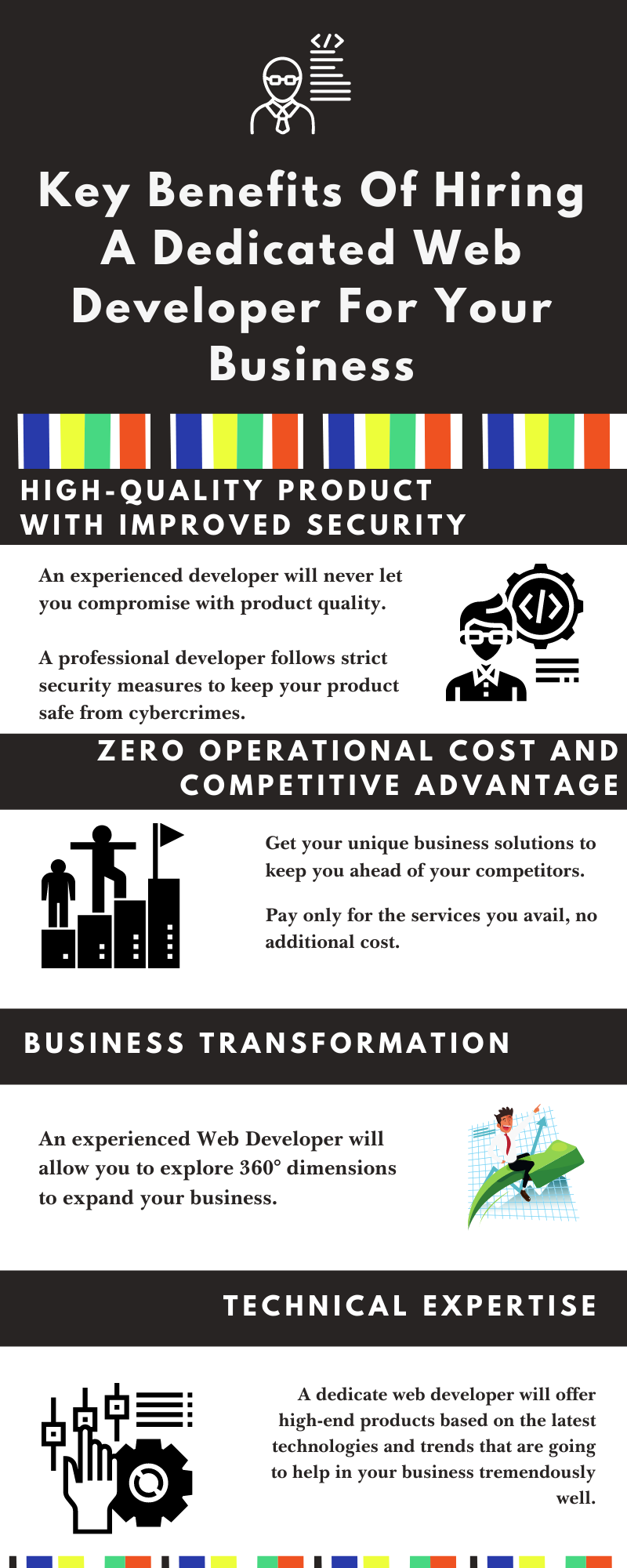 What Skills you Must Look for While Hiring a Web Developer?
Diverse Experience
Developers who have diverse experience of working on international projects of different niches will have more knowledge of advanced technology and the right development model. With diverse experience means one who has applied his/her hands on dealing with multiple industries successfully across the world. An experienced developer can measure your business needs and come up with the best possible solution.
Also read: Why Should You Hire Dedicated Development Team?
Technical Expertise
Technology is based on constant revolutions. It is extremely essential to look at whether the developer you are thinking about hiring has experience in advanced technology or not. It's a sign of a successful developer that he is updated about the latest technology, search engine algorithm, writing clear codes, and familiar with platforms and languages coming out in the market.
For deeper analysis, you can find the technical expertise of a developer based on the segment below.
Programming Languages
IDEs (Integrated Development Environment)
SDLC (Software development life cycle)
Basics of Testing
Cross-Platform Software
Source Control
Databases
Operating System
Data Structures and Algorithms
Responding to Client Queries
Quicker response to emergencies. A professional developer values his/her clients. Hire someone who is actively ready to give assistance to his/her client in case of any emergency and respond to the queries on time.
Communication
This is the biggest concern of all time. Effective communication is important for idea sharing and enhances the mutual understanding that leads to a productive outcome. The developer must be an active listener and know how to showcase his/her thoughts for better clarification of business objectives and requirements.
Understanding Business Objectives
One who cannot connect with your business plan or objective as his own can never develop what you are looking for. Have communication with your shortlisted developer and check whether he is listening and putting efforts to understand your business objective or not. A professional developer will take your projects as his own and follow the development approach that delivers satisfactory outcomes.
Development Approach
Is he working with the advanced methodology? Will it take your project development in the right direction? Choosing a specific development approach can make or break your entire project. Make sure he/she is a great practitioner of the right development methodology to take development in the right direction for quality results.
With the great technology evolution, web advancement services have also enhanced to a greater extent. A website can be customized as per the client's specifications, focusing on the business goals and based on the industry standards. Hiring a website development company will offer you bespoke services aimed to maximize your sales and conversion rates. Professional developers can serve you multiple services tailored to your needs.
Let's Start a New Project Together! 
Contact Us
What Key Services Can You Expect From a Professional Web Developer?
Agile development methodology
High level of integration and testing
Custom web development
Advanced infrastructure
Technical assessment of your project
Cost and time optimization
Ultimate user experience
On-time project completion
Imagine, how easier it will be for you to break down the workload and end up with productive solutions if you find the right technology partner for your business. To maximize the work process and uninterrupted development, the concept of dedicated hiring is in huge demand these days.
Dedicated hiring involves a group of trained tech professionals working on projects with a common goal of delivering what is expected by the client. This is highly beneficial for your business and offers great efficiency to achieve milestones. Let's have a summarized discussion of what benefits you can experience by hiring a technical executive.
How Can a Dedicated Web Developer Benefit Your Business?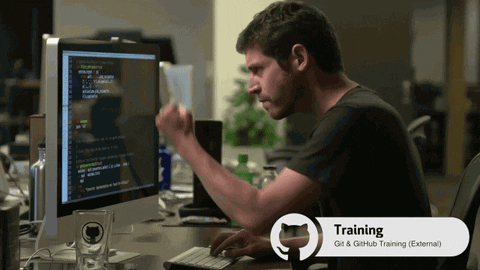 High-Quality Product
Never compromise with quality. Hiring a dedicated developer never disappoints you when it comes to quality. He/she assures passing the projects through a strict testing phase to remove any complexity. It leads to the delivery of a bug-free product.
Improved Security
Non-disclosure of confidential information. Security is the priority concern of industry leaders. Hiring a dedicated developer will benefit you in keeping all your business-related data secured. If you hire a website development service provider, you will come to know that they follow standard security protocols to avoid cyber attacks or data loss.
No Operating Cost
Hiring a dedicated developer will let you cut off costs related to infrastructure and tools to perform the business operations. They have a complete setup required to perform tasks in developing a successful website. All you need to pay for the services you will avail.
Risk Assessment
A risk factor is something that is unexpected or unplanned. A smart and well-practiced web developer knows how to handle conditions that can cause destruction or any kind of misshapen. He/she takes the required action before any loss or damage takes place.
24*7 Availability
Always at your service. Hire a developer who is proficient and keeps his/her client on the top priority. No matter day or night, you will get the service the moment you need. They look after their clients anytime, anywhere.
Competitive Advantage
A professional web developer understands that competition on the digital ground is extremely tough. Your developer will put 100% effort to get you a unique though highly functioning business solution that keeps you ahead of your competitors. He/she will make your brand stand out in the crowd.
Some More Unavoidable Reasons for Hiring a Dedicated Web Developer are as follows:
Helps you focus on your business expansion in other dimensions.
Get improved service quality.
Helps with business transformation.
Scale-up your work.
Reduce time to monitor workflow.
Now, when we have a detailed discussion about the need and the benefits of hiring a web developer. Let us emphasize the one most critical decision required in your development projects that is "choosing the right engagement model".
Outsourcing your web project is not an easy hand-off duty to third-party. A strategic and right partnership is a satisfying collaboration where expected product delivery and results are clear from scratch. So, you need to choose a suitable project plan or an engagement model that is focused on the needs, and interests of the client.
The type of engagement model you choose will affect almost everything in your project. Because every web development project is invariably unique, there is no one-size-fits-all engagement model that works for all types of web development solutions. Every Model has its sets of advantages, you need to choose the one that best suits your project requirements:
Let's Discuss the Different Type of Engagement Models:
Fixed Price
This model includes the predefined budget estimation of the projects. You only need to pay for the services you will avail.
Benefits of Fixed Price Models are:
No over payments
Simple workflow
Well-defined specification
Clear deadlines
The Time and Material Model
As per this model, the budget estimation will be based on the time and efforts put by the development team to turn out your business ideas into digital innovation. You will be required to pay for the material and the time spent on an hourly basis.
The Benefit of Time and Material Model
Offer great flexibility
Iteration until a solid MVP
Budget negotiation
Dedicated is hiring
Dedicated hiring
You can select the development team or hire a web developer on an hourly, monthly, or yearly basis. You will get a team of developers who will work dedicatedly on your projects by focusing on achieving the milestones.
Benefits of Dedicated Hiring Model
Access offshore expertise
Check real-time project progress.
Total control over the resources.
Lets Summarize:
The moment you have a tech requirement that is quite complex to handle independently, hire wordpress developer. You can hire a web development company and get in touch with experienced developers who will use his/her expertise and excellence to deliver guaranteed and secure business solutions. A versatile team of expert developers follows the right approach to develop technically sound products.
If you are keen to outsource your projects, then visit CSSChopper. They are known for their remarkable service which is not restricted by demographic boundaries. Having a huge clientele across the globe, they have become one of the leading technology partners in delivering diverse solutions with varying necessities.