The digital world is frequently changing, and with this, the demand for web content management systems is also increasing. Organizations want to keep up with user needs, and users look for personalized experiences with better connectivity between devices in their web experience. This makes it essential for a business to develop a website that offers a fluid user experience by achieving all the KPIs and business goals.
Here, the role of the right CMS is vital. Among various, Drupal stands as a powerhouse in web development. It enhances user experience, improves search engine rankings, and has no licensing cost. Whether you are an eCommerce business or a large enterprise, Drupal has covered you.
However, this content management system requires one to be technically strong to develop a fully functional web solution. This is where Drupal development company comes into the picture; they will help you develop a website that relates to the needs and requirements of your business.
Overview of Drupal
Drupal is a widely used content management system better known for the flexibility and extensibility it provides to users. It is not limited to any specific type of website and can be used to create anything from personal blogs to enterprise-grade web applications.
This CMS allows a business to easily manage, organize, and display its content to potential users. It is the right choice for your business because of its modular architecture, various themes and plugins, and strong community. This makes Drupal a CMS that offers a high level of flexibility and scalability.
However, considering the complexity of this platform, it is advisable to work with a Drupal CMS development service provider. The company will help you develop a website or web application that relates to the needs and goals of your business.
Quick Comparison of Drupal, WordPress, and Joomla
Three of the most-known Content Management Systems, WordPress, Drupal, and Joomla, are similar in various aspects. They are free to use (open-source), support MySQL, are written in PHP, and are community-driven. However, despite these many similarities, they differ in various aspects that are highlighted below:
| | | | |
| --- | --- | --- | --- |
| Points of Difference | Drupal | WordPress | Joomla |
| Customization | Highly Customizable | Customizable | Moderate Customization |
| Security | Highly Secure | Secure but requires plugins | Secure but require plugins |
| Multilingual Support | Excellent Support | Requires Plugins | Plugins for translation |
| SEO-capability | Strong support | Good capability  | Decent SEO capabilities |
| Enterprise Use | Preferable to use | Can be used to develop one | Used for small to medium businesses |
| Community Support | Strong Community | Largest user base | Active community |
| Performance | High-end Performance | It is performance-oriented | Optimum performance |
| Updates | Requires manual updates and patches | Easy to update with one click  | Updates and maintenance required |
Benefits of Drupal Web Development
Drupal offers easy and simple content management with its rich and robust features. From enhanced customization ability to unshakable security, Drupal offers a range of benefits to a business. Let's understand all the advantages of Drupal web development:
1. Scalability
Drupal is highly scalable and is an ideal CMS for building enterprise-grade websites. This makes it popular among businesses that have a large user base. This is because of its modular architecture, which allows a business to add features and functionalities on the website as required.
2. Customization
Drupal is one of the CMSs that offers superior customization ability to its users. It is open-source, which means that it is free to use and modify. This makes it possible to create a Drupal website that is tailored to the specific needs of the user. It offers various modules and themes that can be used to customize the look and feel of a website. This makes Drupal a popular choice for businesses and organizations that need a powerful and flexible CMS.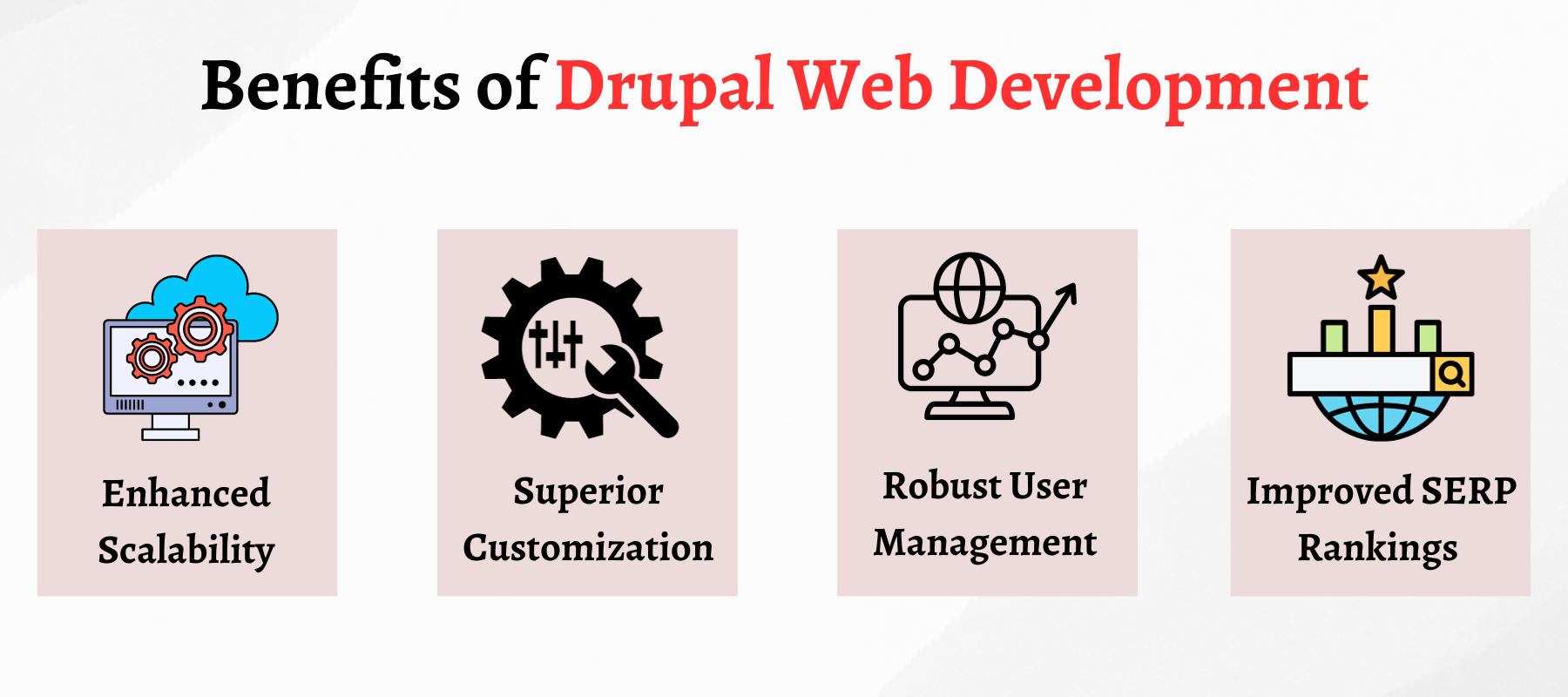 3. Robust User Management
Drupal simplifies content creation and management. It has an intuitive interface that makes it easy to create and edit content. Additionally, it provides robust user management capabilities, allowing users to define roles and permissions for other users. This means that you can control who has access to what content and what they can do with it. For example, you could create a role for administrators who have full control over the site and a role for authors who can only create and edit content. You could also create a role for editors who can approve or reject content before it is published. Drupal's user management capabilities are very flexible so that you can create the roles as per the specific needs.
4. Enhanced SERP Rankings
Every business wants to rank its website on the SERPs. However, it is not always possible. A content management system with in-built SEO capabilities ensures that search engines can easily find a website. This is where Drupal has an advantage over other CMSs. With its in-built prowess, enhancing the search engine rankings of a website is comparatively easier.
This content management system offers clean, structured URLs, device-independent design, built-in support for meta tags, and so on, helpful in enhancing SEO rankings.
Why Choose Drupal Over Other CMSs?
When you are looking for a CMS for your business, there are various options to look after, which creates confusion in choosing the right one. Among all of them, Drupal stands out as the top choice. It offers various benefits to a business when it comes to developing a web solution. Based on the benefits it offers, let's understand the reasons to choose this CMS.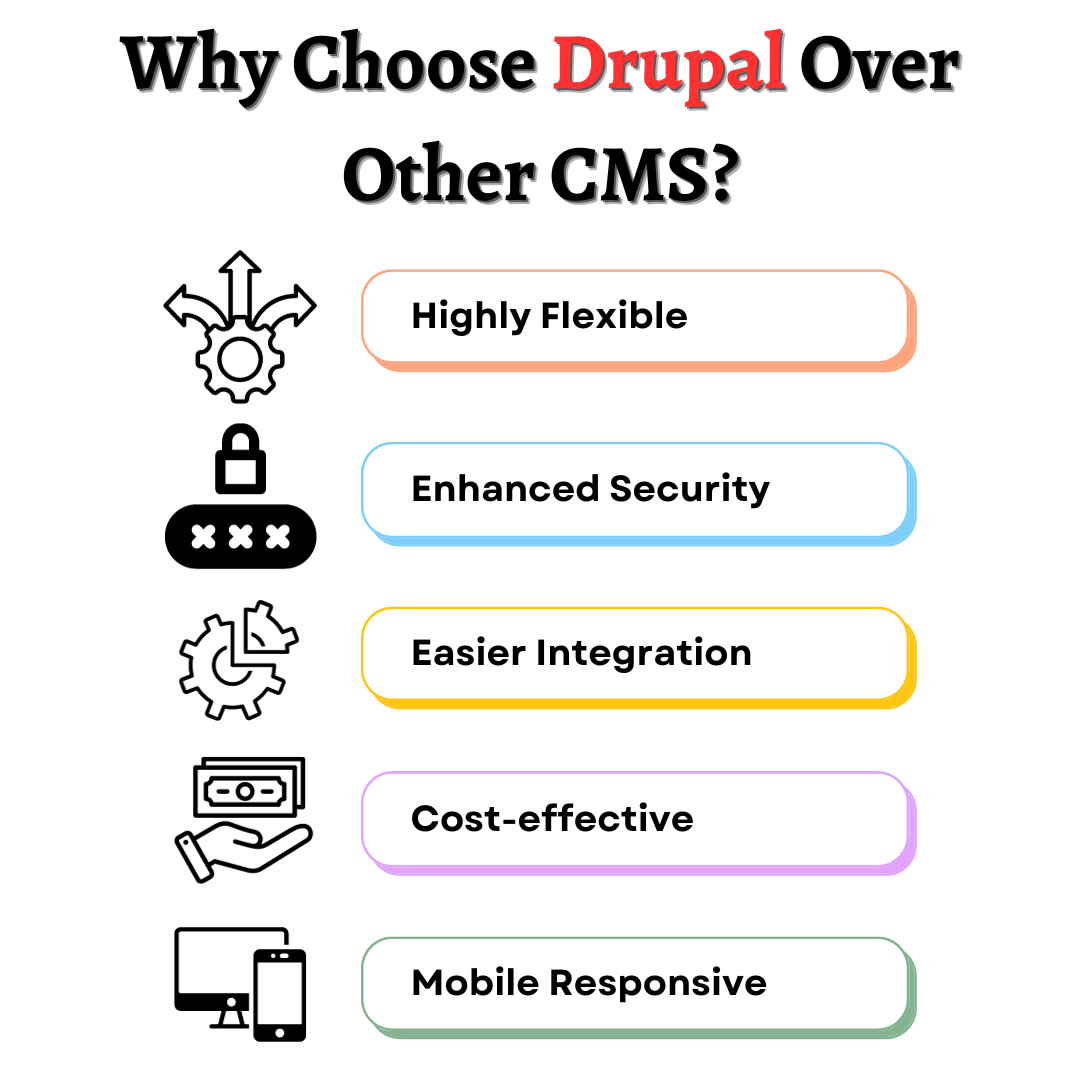 1. Flexibility and Scalability
One of the primary reasons for choosing Drupal is that it offers enhanced flexibility and high-end scalability. This ability makes it one of the preferred CMSs among businesses. It is highly flexible and scalable due to its modular architecture. It allows you to create custom modules and integrate them seamlessly into their website. Also, the content management system is designed to handle large amounts of data, making it a great choice for websites with high traffic. It uses PHP and relies on the MySQL database to store content and configure data. However,
2. Security
Today, the modes of online fraud and other vulnerabilities have increased. The majority of businesses deal with security issues, and it is vital to resolve them. Here, the role of a CMS that offers enhanced security is essential. This is where Drupal is good at, as it offers out-of-the-box methods to improve the security of a web solution.
With various core and contributed modules that encourage two-factor authentication, password security, and encryption, Drupal enhances security a step further. However, you can also increase its security if you opt for Drupal CMS development services. From frequent security updates to following secure coding practices, an expert team can enhance the website's security.
3. Easier Integration
Drupal allows easier integration with third-party apps, resulting in an increment in the functionality of a website. This enhanced flexibility makes it easier for a business to extend its services more dynamically.
How Does Drupal Help Businesses?
Drupal offers several tangible benefits to businesses, such as:
1. Cost-efficiency
Being an open-source content management system, Drupal is free to use. This cuts down the licensing fees and other miscellaneous costs. The only capital a business has to spend is for the Drupal development services related to the aspect of building and maintaining a website. This makes it a cost-effective web solution. As a business, you can allocate your budget accordingly to other essential aspects of your website, such as design, development, or continuous support.
2. Versatility
Every business has different requirements; some want to develop an eCommerce website, while others run a service-based business. Businesses to businesses, the requirements of websites differ, but a CMS that can cater to the requirements of every business type is a must to work with. For instance, you are a service-based business and want to develop an eCommerce store but are still confused about which CMS to select. This is because both website types are different and require different features and functionalities.
Here, Drupal comes in handy. Its versatility empowers it to adapt to the changing requirements of the industry. It is the right CMS for various industries.
3. Mobile Responsiveness
Nowadays, users want to gain information from their comfort zone anywhere, anytime. Mobile phones are the primary mode of accessing either social media or internet browsing, as they are portable and can be accessed easily anywhere. This makes it essential for a business to focus on responsive and mobile-first development.
With an estimate of over 7.49 billion mobile phone users by 2025, it indicates the necessity of mobile-first development. Luckily, with the help of its fluid grid layout that dynamically adjusts itself based on the screen on which it's displaying, Drupal ensures responsive development. This allows a website to be displayed on a variety of devices without sacrificing functionality or usability.
Why Consider Drupal Over WordPress?
Both Drupal and WordPress are two well-known content management systems, but they serve different purposes. In some aspects, Drupal outshines WordPress; these are elaborated below:
1. Customization
Both website development platforms offer customization abilities; however, they differ. WordPress, on the one side, enables a business to customize a website to its users as they can either make some changes in the theme or modify the website's code. On the other hand, Drupal is more customizable, allowing a business to create tailored website structures, making it ideal for complex projects. You can hire a Drupal web developer to work on your intricate Drupal-based website project.
2. Security
Without any doubt, security is a significant concern for businesses, and Drupal takes it seriously. Regular updates and a dedicated team ensure that your website remains well-protected. WordPress also offers security, but you need to enhance it with the help of plugins.
3. Scalability
With the growth of your business, you need a platform that can grow with you. Drupal's architecture and flexibility make it a better choice for large, dynamic websites. It can handle heavy traffic and complex content structures. On the other hand, WordPress is suitable for small to medium-scale businesses. It can be opted by an enterprise with the proper support of a WordPress development company.
Is Drupal the Best CMS?
While Drupal provides various advantages, including enhanced scalability, cuDrupal outshines WordPressstomization, security, etc., it is essential to undergo the various facets of finding the right CMS for your project. Before selecting one, it is important for you to be well-versed with the requirements of your business.
Drupal is the best CMS for businesses that are looking to develop an enterprise-grade web solution.
The modular architecture of Drupal makes it highly scalable and flexible, allowing a business to add or remove features as needed.
It is highly customizable, enabling a business to tailor the web solution to the specific needs of a business.
This CMS ensures high-end security for businesses (especially eCommerce or service-based businesses) that handle sensitive data.
The advanced content management features, top-of-the-line security, and enhanced customization make it the right fit for enterprise-grade businesses.
However, Drupal is not the right CMS for every business type; if you are a small business or a startup, you may want to consider an alternate content management system, like WordPress or Joomla. That is why it's essential to assess your specific requirements and consult with a web development service provider to determine the best CMS for your business.
Experience the Difference in Drupal Web Development With CSSChopper
At CSSChopper, we work with a strategic plan to help you develop a Drupal-based website. Our team can help you make a strategic decision by making efficient utilization of modern technology.
We have extensive experience in web development, enabling us to deliver out-of-the-box Drupal development services to clients. Our expertise empowers us to bring varied industries, like Healthcare, Real Estate, eCommerce, Logistics, etc.,  in streamlining their business operations.
With an eye for detail and commitment to excellence, we work closely with the requirements of our clients to help them develop a unique web solution. Our customer-centric and agile web development approach can help you gain a competitive advantage in this burgeoning market.