A business with a strong web presence will most likely attract and retain visitors. When it comes to eCommerce websites, this potential is slightly more. This is because most shoppers prefer to buy from retailers with well-designed and user-friendly website. Hence, selecting the right platform to maintain your brand's identity is crucial for a business to gain exposure.
There are many different eCommerce development platforms available, such as Shopify, WooCommerce, PrestaShop, etc., each with its own strengths and weaknesses. But, among them, Magento is popular with more than 1,80,000 live websites.  It offers extensive customization and robust features to develop and maintain an eCommerce website. However, a notable question may arise is; "How much does a Magento website cost for a business?"
Various factors influence Magento development, from the project's complexity to partnering with a Magento website development company. 
Overview of Magento 
Magento is an open-source eCommerce development platform that powers businesses with all the required features and functionality to develop online stores. It was first released in 2008 by Varlen Inc., later acquired by eBay, and is now owned by Adobe Inc. 
This platform is known for its flexibility, scalability, and extensive customization options, making it suitable for small to enterprise-level businesses. 
It offers all the required features to develop and manage an online store for a business. 
Features of Magento
It is a notable eCommerce platform offering a plethora of features in terms of eCommerce development. 
1. Catalog Management
One thing that separates it from the rest is product catalog management. This process seems simple, but it is quite tough to implement in other CMS. But, with Magento, it becomes very authoritative. You can catalog and control it with ease. It allows you to efficiently organize and display your products, making it easier for customers to find what they need. With options like
Digital product downloads like videos, music, etc.,
Complete inventory management
RSS Feeds, and much more.
You can provide easy browsing, search filters, and product comparison to your website visitors. Also, you can easily add products to the catalog, make updates or modifications, and set options like shipping, order, and payments per customer preferences. 
2. Product Browsing
If users find it difficult to browse a particular product, they might lose interest in buying products. Magento provides ease in product browsing. Users can zoom in and zoom-out images of the products, multiple images of the product, wishlist addition, etc., which are helpful in providing an enhanced shopping experience. 
3. Flexible Content Management System
With Magento, you can fully control your eCommerce website's content. You can add banners, images, and videos, create and update pages, and it also enables you to personalize the shopping experience for your customers. 
4. SEO-friendly Architecture
Setting up an online store is a step towards making consistent sales. Various strategies play their part in bringing traffic, but the best and long-term strategy is SEO. Without search engine visibility, no one can find your products online. 
Magento is a search engine-friendly eCommerce platform. It provides features such as URL rewrites, meta tags, sitemaps, and SEO-friendly URLs, empowering you to optimize your store's visibility in search engine results.
How Much Will A Magento Website Cost?
Magento is a handy eCommerce platform. The above features demonstrate this point. This makes it essential to utilize the full potential of this platform. As a business, you want to know how much it costs to develop an eCommerce store on this platform. 
If you want to calculate the Magento website cost, you should consider these main aspects:
1. Magento Versions
The first question you will ask yourself is, "How much does a Magento-based website cost"? This is the most obvious and yet the hardest one to figure out.
Its pricing depends on the business models of Magento. These are:
It's a free plan that does not require license fees. However, you need to pay for your eCommerce store's hosting, domain, and security. You can further improve the site's functions by adding the required plugins. A website tailored to your business's requirements will add additional development costs.
Here's a summarized cost breakdown associated with the community edition of Magento. The table below is just an estimate, real prices may vary considerably. But this will provide more accurate estimates.
c. Estimated Pricing Breakdown
| | |
| --- | --- |
| Stages | Cost |
| Website developed by Magento Website Development Company | $5000 – $30,000 |
| Magento Themes | $0 – $300 |
| Magento Extensions | $50 – $500 |
| Domain | $20 – $500 |
| Hosting | From $45/ month |
| Maintenance | $85 – $150/hr |
| Support | $25000 – $50000/yr |
| Total Estimated Cost | $31,200 |
Note: The above cost is just an estimate; the actual cost might be more or less than that per business requirements. 
d. Adobe Commerce
It's a paid version of Magento (now known as Adobe). It's a professional plan that offers many extra features. However, the hosting in this version is the seller's sole responsibility.  Its pricing starts from $1,998/ month.
e. Adobe Commerce Cloud
This version includes the hosting and cloud services of the store for easy expansion. In order to offer this extra feature, Magento's cloud pricing was higher than the regular commerce version. This version states a pricing of $40,000/month.  
2. Website Type
The type of website you need for your business depends on your specific requirements. A basic website may be sufficient for a small business with simple needs. However, if you operate at an enterprise level or have complex requirements, you will need a more customized and enterprise-grade website. 
a. Basic Magento Website
Magento is one of the sorted eCommerce platforms that offers stability and flexibility to a business. 
Basically, SMBs can use a basic website equipped with all the essential features. Also, it can help them to live their website quickly. 
The cost of a basic website over this platform can start from $15000, and it can go up to $45000 as per the requirements. Remember, as it is a basic website, you'll be limited to the following:
Basic Functionality

Access to Magento Community 

No Integration with Back Office System
b. Custom Magento Website
If you are an established business, you can opt for custom web development service. You can create one from scratch or update/ migrate your existing website to this platform.
Remember that it requires skills and expertise from a Magento website development company, so its prices can go higher. It can range from $40,000 to $1,00,000 or more, depending on the requirements of your business. You get advanced features like:

c. Magento Enterprise Website
An enterprise website is especially for large-scale businesses with extensive traffic over their website. These include all the native features to manage the site properly. 
It provides ease, from handling large sales orders to customizing multiple Magento storefronts globally.  Magento Enterprise websites will cost you more than $1,00,000. The additional benefits of these websites are:
3. Theme
Selecting the right theme is crucial as it defines your online store's front end and user interface. Generally, there are two options to choose from:
a. Pre-built Theme
If you opt to go with the pre-built themes, you need to spend a range between $0 – $300 or more, depending on your requirements. These prices may vary on various factors, such as functionality, layout, and popularity. 
It is essential to consider your budget and specific requirements when selecting a theme. Also, you should evaluate the theme's compatibility and overall quality.
b. Custom Development
"You Get What You Pay For" is true with custom development. All you need is to have a clear idea of your project and partner with a Magento eCommerce development company.
Its cost depends on the required feature you want and the effort required to develop a fully functional Magento theme. Custom theme development can cost you somewhere between $100 – $2000 or more, depending on your requirements and also on the rates of expert professionals. 
4. Extensions
These are the standalone modules that are helpful in enhancing the Magento platforms' functionality. These can have a wide array of features:
Customer Support

Sales

Marketing 

Payment Gateways

Shipping 

Site optimization

Analytics
These extensions can be free or can go to $1000 or more. However, the prices can vary depending on the features a particular eCommerce store requires, so giving an accurate estimate is tough. 
Not only the pre-built extensions, you can also invest in customized extensions that resonate with your business requirements. But note that custom development can significantly increase the cost. 
5. Support and Maintenance
For smooth operations of your ongoing website, it is essential to maintain and fix your Magento eCommerce store regularly. This is most valuable when you take the necessary steps by considering your budget. 
In general, maintenance includes the necessary updates and fixation of security patches. Its cost depends on the size, scope, and expertise of hired Magento developers for this job. Usually, it costs around $100 – $1000 or more. 
How much does it cost to hire Magento developers?
The cost of hiring Magento developers can vary depending on their experience, location, expertise, and role in the project.  Don't get surprised if a Magento developer in the USA charges three times more than a professional with the same level of expertise in East Europe. 
In general, they charge between $50 and $250 per hour. In the United States, a Magento developer can expect to charge between $150 to $200 per hour, while a developer in Easter Europe may charge between $50 to $100 per hour.
Factors that Influence the Cost of Magento Website Development
Magento is a highly versatile and robust eCommerce platform offering a plethora of features and functionalities to businesses.
However, when it comes to developing an eCommerce store on Magento, the cost can vary depending on several factors.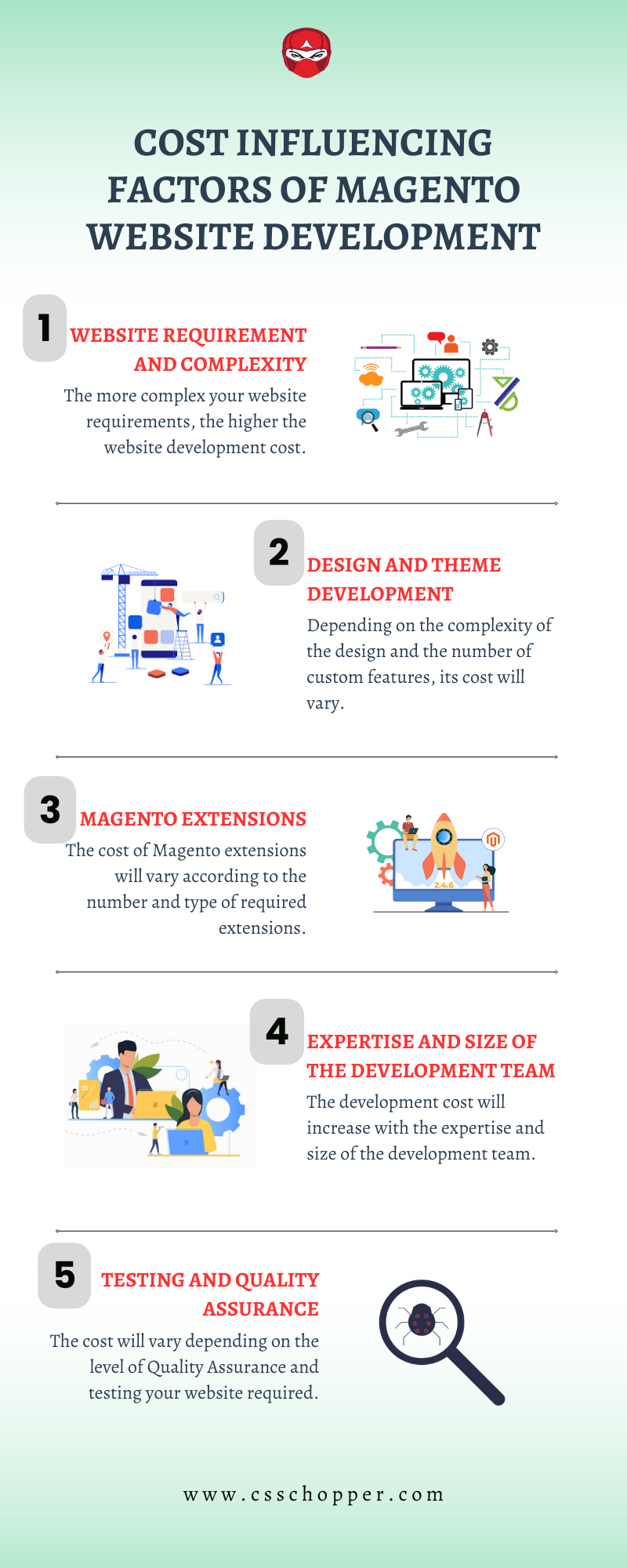 Understanding these factors is crucial for businesses seeking to maximize this platform's potential while managing their budget effectively. 
1. Website Requirement and Complexity
The complexity of your website plays a significant role in determining the cost of website development. Various factors, such as
Number of products you want to add

Product categories,

Unique features require contributing to the overall complexity, etc. 
The more extensive your project needs to be customized, the more time and resources it will require for development.
2. Design and Theme Development
Creating an aesthetically pleasing, user-friendly website appearance is a must to attract and engage visitors. Its cost majorly depends on whether you choose a pre-built theme or a customized design. 
Custom development generally requires significant time and expertise of Magento developers, impacting the overall development cost. 
3. Magento Extensions
With a vast expansion of extensions and plugins to amplify the functionality of an eCommerce store, Magento powers its users' bucket full of options. The cost of these can vary based on your requirements, as some are free and others are premium. 
However, custom extension development is helpful if you want to add specific functionality that matches your business identity properly. 
4. Expertise and Size of the Development Team
It is obvious that the size and expertise of the Magento development company can greatly impact the cost. Experienced professionals from reputable development agencies may incur higher hourly rates or project fees. 
However, a company with more experience can aptly deliver high-quality work and reduce the chances of errors or delay in the project. 
5. Testing and Quality Assurance
Thorough testing and quality assurance are required for the completion of a project successfully. The development team you hire for your project has some subsidiaries in themselves that can perform this step effectively.  It involves the websites' testing, performance, security, and compatibility across various browsers and devices. This will also significantly increase the cost. 
Verdict on Cost of Magento eCommerce Development
Ideally, the cost of Magento development depends on various factors, from choosing the Magento version to the support and maintenance required.
Working with a professional eCommerce development company is essential if you need a highly customized Magento website for your business requirements. The cost of custom development will vary depending on the complexity and scope of your project. 
Generally, it can be assumed that the price you have to pay can range from a few thousand dollars to tens of thousands. 
Get the Best Magento Website Development Services With CSSChopper
When it comes to Magento development, CSSChopper emerged as a company that can make an impactful difference in your eCommerce projects. With years of expertise and experience, our expert Magento developers bring quality to the table. 
Our talented team can help you develop an eCommerce store according to your specific business requirements. We are a competitive Magento development company with a track record of successfully completing over 9,000 projects with a ravishing 98% client satisfaction. Your decision to hire us for your project can make a remarkable transformation.