Do you aspire to build your own eCommerce website? The substantial growth of eCommerce businesses over the past years has gravitated many entrepreneurs. As a result, there have been huge investments in eCommerce development services.
However, the most critical question is how much does it cost to build eCommerce website? Certainly, you want an answer to this question before you invest in eCommerce development. However, you should know that there is no direct answer to this question because multiple factors influence the cost of eCommerce websites. So, if you want to ascertain the cost to make an eCommerce website, you can go through these factors for a likely estimation.
A basic eCommerce website cost maybe $10,000, which could go to $200,000 or more based on your requirements, technologies, features, and other things. Keep reading the blog to get a detailed insight into the cost of creating an eCommerce website.
Factors Affecting Ecommerce Website Development Cost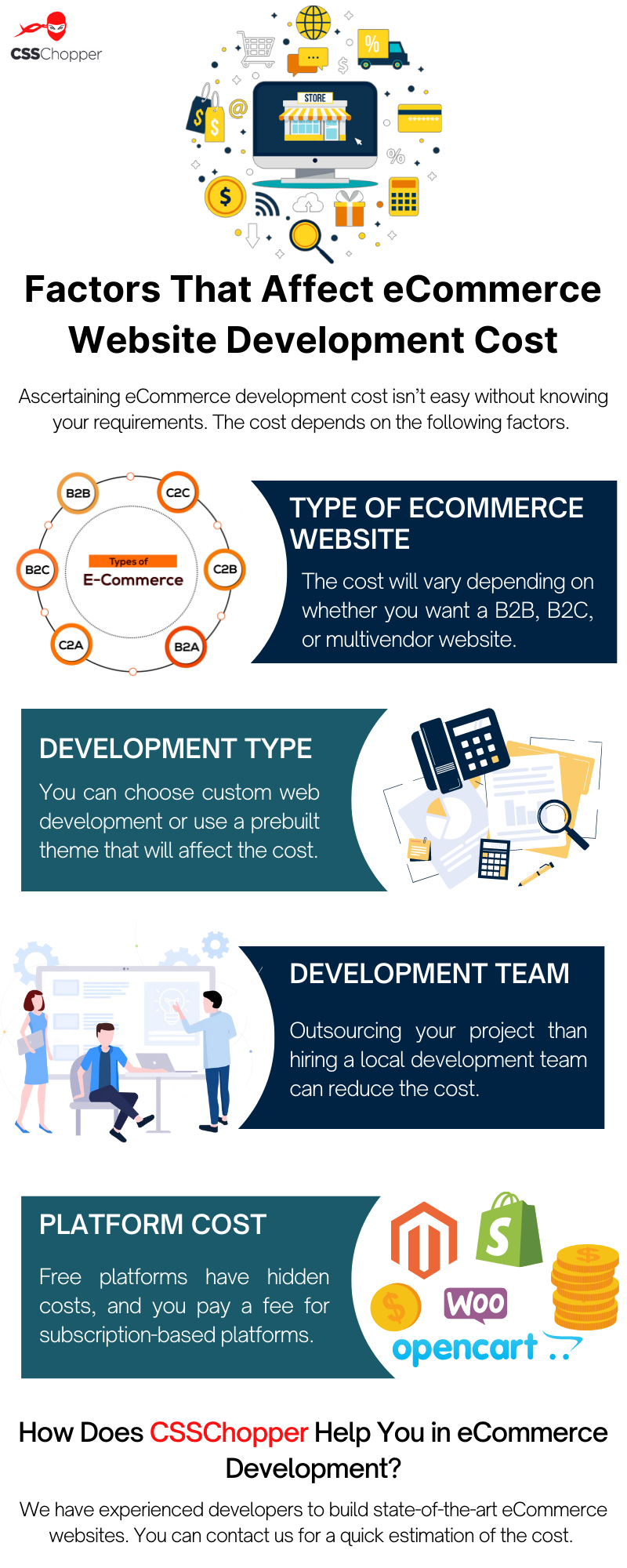 Type of eCommerce Website
Today, eCommerce websites are of different types like B2B (Business to Business), B2C (Business to Customers), multivendor, etc. Depending on what type of website you wish to build, your business website development cost will vary. So, first, you need to decide what type of eCommerce website you are going to develop.
Let's take a look at different types of eCommerce websites:
B2B (Business to Business)
A B2B or Business-to-Business website is one that allows businesses to cater to other businesses. The top examples of these websites include Alibaba and eBay. You can set up an eCommerce website to sell your products to other businesses from a single platform.
The basic features of a B2B website include buying in bulk, quote management, contract pricing and catalog, online payment options, etc. The cost to build an eCommerce website based on this business model depends on your requirements and customization.
B2C (Business to Customer)
This is a prominent type of business website as it allows businesses to cater to customers. Most eCommerce websites are built on this business model. Amazon can be considerd as an example of a B2C eCommerce website.
Key features of a B2C eCommerce website include a shopping cart, wishlist, search filters, multiple payment options, localization, product comparison, multilingual and multicurrency support, etc. The eCommerce website development cost for this type of website will increase with the custom functionalities you include on the site. The overall cost depends on your requirements.
Multivendor
This is a kind of website that serves as a single platform for multiple vendors to sell their products. Amazon is an ideal example of a multivendor eCommerce website. Here multiple sellers can sell their products by creating their seller accounts.
There are numerous advantages of multivendor eCommerce websites, like they offer customers a vast range of products, easy features, and a customer-friendly shopping experience. Some key features of such websites include multi-vendor control, automated tasking, reviews & ratings, secure payment methods, search filters, product information, etc. In this case, your requirements, third-party integration, and customization are the factors that impact eCommerce website cost.
Development Type
Your cost of an eCommerce website also depends on which type of development you choose. Typically, you can choose between two types of website development methods: custom development and pre-built templates. Let's take a view of each of these methods.
Pre-built Template
You can quickly create an eCommerce website using a prebuilt template. These website templates are readily available and fulfill requirements for different businesses. The key benefits of template-based websites are the shorter development cycle and low cost of development. You can purchase a pre-built website template at a certain rate and make your online store ready by simply adding it to the site.
However, this could be a good approach for small businesses with limited needs and low budgets.
Custom Web Development
If you want to create an eCommerce website from scratch, custom web development is for you. With this method, you can build an eCommerce website from the ground up based on your requirements. Developing a custom website costs much more than a pre-built template.
A custom-built website provides a unique identity with extended functionalities built as per your needs. Using a prebuilt template, you will end up creating a one-in-many kind of website, but custom web development lets you build a one-of-its-kind website.
Development Team
Another important factor in determining eCommerce website cost is the development team you choose to build it. You can hire an eCommerce development company locally or choose to outsource the project to remote developers.
Let's check how the location of the development team impacts the cost to build an eCommerce website.
Local Team vs Outsourcing Project
A local website development team is one that you can hire in your own country. In simple terms, you can find developers in your country and hire them to build your website. But there is a catch, hiring local development teams can be expensive because, in many countries, the web development charges are extremely high.
Therefore, you will want to outsource your project in that case. For instance, web development charges in the USA and Australia are very high. You can check the rates for various countries/continents in the below table.
| | |
| --- | --- |
| Region | Hourly Rates |
| USA | $70-$150 |
| Europe | $70-$100 |
| Australia | $80-$120 |
| India | $20-$50 |
Note: The above rates are just estimates; they might vary depending on your project and hiring method.
You can clearly see from the above table different countries/regions have different hourly rates for hiring developers. Hence, if the development rates are high locally, you can find developers elsewhere for the most economical options. The eCommerce website price will depend on what type of development team you choose for your project. You can get more advantages if you choose to outsource your eCommerce development project.
eCommerce Website Cost Based on Platform 
There are lots of eCommerce development platforms, each with various pros and cons. Top eCommerce development platforms include WordPress+WooCommerce, Magento, Shopify, and PrestaShop. If you want to ascertain the cost of creating an eCommerce website, you need to consider the cost incurred by using any of these platforms.
Let's have a breakdown of the cost based on different platforms.
WordPress + WooCommerce
You can use WordPress with a WooCommerce plugin to create robust eCommerce websites. Both WordPress and WooCommerce are open-source platforms and are available for free. However, there are more options with WooCommerce that carry fees. With the right WooCommerce development services, you can create a feature-rich website for your business.
| | |
| --- | --- |
| Platform | Costing |
| WordPress Open Source | Free, no license fees |
| WordPress.com | Starting $15/month |
| WordPress VIP | Starting $2000/month |
| WooCommerce | Free and Premium-based |
The cost of the eCommerce website will depend on which WordPress+WooCommerce edition you choose.
With free versions of them, there are hidden costs like hosting, domain, SSL, etc.
PrestaShop
It is a free platform without any license fees. However, you have to bear hidden costs as it is a self-hosted platform.
Shopify
It is a perfect platform for small and medium-sized businesses. But there is also a feature-rich Shopify plan to meet enterprise needs. You can rely on a Shopify development company to create a robust eCommerce website based on your needs.
| | |
| --- | --- |
| Platform | Costing |
| Basic Shopify | $29/month |
| Shopify | $79/month |
| Shopify Advanced | $299/month |
| Shopify Plus | Starting $2,000/month |
Magento
Magento offers multiple options for development of business website. Your eCommerce website cost can be significantly reduced if you choose Magento Open Source because it has a free license. The cost will vary depending on which version you choose. It has now become Adobe Commerce which provides a complete eCommerce solution with tools and features to build websites and cloud-based hosting. You can choose Magento development services to build advanced and complex eCommerce websites.
| | |
| --- | --- |
| Platform | Costing |
| Magento Community | Free, no license fees |
| Magento Enterprise | $22,000 or more |
| Adobe Commerce | Starting 40,000 |
Why Should You Invest in eCommerce Website Development?
The eCommerce industry has been rising at an exponential rate with no signs of slowing down. The projected growth of eCommerce by 2023 is estimated to reach $6.3 trillion. Thus, there are enormous opportunities in this industry with lucrative benefits. Besides a hefty revenue, there are many more advantages of eCommerce development. The following points highlight the key benefits of this business domain.
Digital Era
Needless to say, this is the era of digitalization, where everything is at your fingertips thanks to the internet. Many people spend time online, whether for buying, reading information, or entertaining themselves. You lose potential customers online if you don't have an eCommerce website.
Also, you could fall behind your competitors because they may already be using websites. Apart from this, not upgrading yourself with technological evolution can risk your existence.
Global Reach
Your brick-and-mortar store is only accessible to people living in its vicinity. But an eCommerce website can reach every nook and corner of the world. Consequently, you will have a much larger customer base with more potential buyers of your products. Your eCommerce website can reach different countries via the internet and be available in localized languages and currencies.
24/7 Availability
Can you keep your physical store open round the clock? Obviously, you cannot do that as you have to manage additional resources; even if you do so, people won't be visiting your store at night. Therefore, your physical store cannot be available throughout the day and night. But an eCommerce website is always live, no matter if it's day or night. So, buyers can shop anytime on your website, regardless of their time zones and locations.
Low Operational Costs
In comparison to a physical store, an eCommerce website has a low operational cost. If you create an eCommerce website, you can avoid expenses like staff salaries, rent, infrastructural costs, etc. All in all, you can save unnecessary expenses by spending more on ways to sell products than on resources for your business.
Verdict on eCommerce Website Cost
Providing an exact figure for the cost of business website isn't easy as it depends on several factors. The cost of creating an eCommerce website primarily depends on your requirements, the project's complexity, features, third-party integration, and more. There are dozens of factors that influence the cost of an eCommerce website, thus making it difficult to give an estimation.
You can ascertain the average cost to build an eCommerce website based on various factors. The following table shows the eCommerce website development cost breakdown for various businesses.
| | |
| --- | --- |
| Business Size | Costing |
| Small Business | Starting $5,000 |
| Mid-sized Businesses | $10,000-$50,000 or more |
| Enterprises | More than $50,000 |
These estimations could vary based on your requirements and other factors.
How Can CSSChopper Help You Meet Your Requirements?
We at CSSChopper, have a team of highly experienced and proficient eCommerce developers. With over a decade of experience in web development, we have worked for numerous businesses irrespective of their size and scale. Our developers have expertise in WordPress, Magento, Shopify, PHP, and several platforms and technologies. We can build a cutting-edge professional website for you based on your unique requirements.