Thinking about developing a website that resonates with the requirements of your business? Then, custom development is the way to go. But do you know it takes a hefty amount of money to create a custom website from scratch? Yes, you read it right. Creating a service-based website from the start will also demand more time and effort.
However, a content management system like WordPress can help you save time and money, providing better search engine visibility and seamless operations. It is one of the most popular CMS, powering more than 63.2% of all websites.
One of the benefits of using this CMS is that it provides end-to-end customization benefits. But, it requires a deep understanding of the technical know-how of this platform. Partnering with a WordPress development agency can greatly help you with this. They can develop a tailored website as per your specific business requirements.
On top of that, custom WordPress development offers various benefits, from high-end scalability to better security.
What Makes WordPress The Best CMS For Custom Development?
WordPress is not merely a blogging platform; it has emerged as a popular content management system, allowing intuitive website development. It is a versatile and highly customizable platform, making it a better choice for businesses of all sizes. However there are many pre-designed themes and templates available for WordPress, but on top of that, custom WordPress development offers numerous benefits, such as: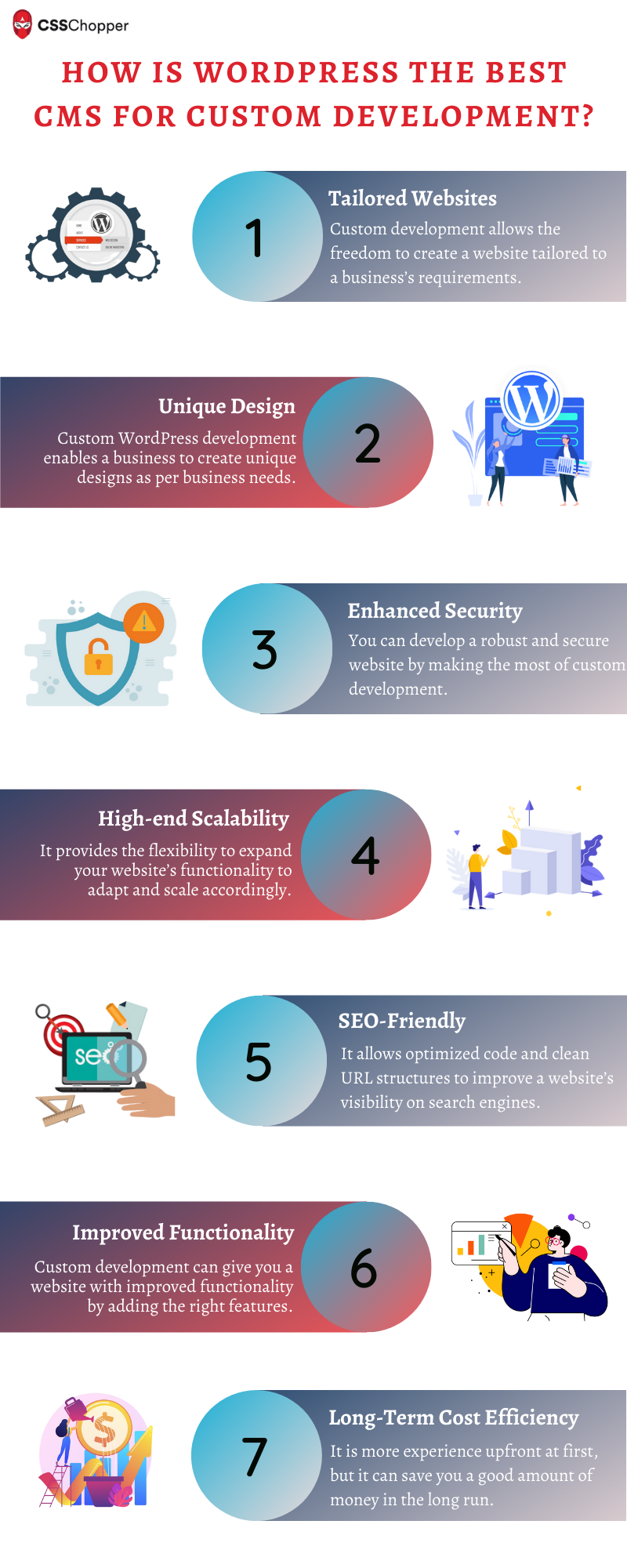 1. Tailored Websites
WordPress makes customization simpler. With custom WordPress development, you have the freedom to create a website tailored to the requirements of your business. But, this requires extensive technical skills to change the website's code. This is where opting for custom WordPress development services is helpful.
Whether the design or the backend, they manage everything effortlessly and develop a website that reflects your business aesthetics. Custom functionality can be added to ensure the website meets your needs and provides an intuitive user experience.
2. Unique Design
Custom WordPress development allows you to create a unique design for your website that sets your business apart from your competitors. For this, you can hire WordPress developers to design a website like your business requirements that aligns with your brand's identity and goal. This level of flexibility can help you establish a robust brand image and enhance user engagement.
3. Enhanced Security
Security is paramount when it comes to dealing online. Custom WordPress development enables a business to build a secure and robust website. Unlike a pre-built theme, custom-made websites allow for stringent security measures tailored to the specific requirements of a business. Regular updates and security patches protect your business's website against potential security vulnerabilities.
4. High-end Scalability
Your website needs to adapt and scale accordingly as your business grows. This highlights the importance of the right CMS platform. WordPress is one of the highly scalable platforms, you can add several pages and blogs to your website without hampering its performance.
On top of it, custom WordPress development provides the flexibility to expand your website's functionality and accommodate future requirements. Whether adding new features or optimizing performance, custom development ensures scalability without limitations.
5. SEO-friendly
A website ranking well in search engine results is vital for attracting organic traffic. Custom development allows optimized code, clean URL structures, and SEO-friendly plugins to improve your website's visibility. With the ability to implement custom SEO practices, you can target specific keywords and enhance the ranking of your website.
6. Improved Functionality
Custom development is very helpful in improving the functionality of your website. As a business, you can add features and functionalities that resonate with your business requirements. Working with a custom WP development service company is very helpful in developing custom-made plugins, widgets and integrating them into your website to improve its overall performance.
7. Long-term Cost Efficiency
While custom WordPress development requires higher upfront investment compared to pre-built themes, it offers long-term cost efficiency. A custom-built website gives you complete ownership and control over the codebase. This eliminates the need for recurring theme subscriptions and provides flexibility in modifications or updates. This results in cost saving step in the long run.
Case Studies of Businesses That Benefitted From Custom WordPress Development
There are various businesses that are benefitted from custom WordPress development. These examples will display the WordPress platform's flexibility and power in website development.
Business Websites
Airstream: It's a vehicle manufacturer website with a minimalistic design where most of the landing page is occupied by images of their product.
Tonal: A smart home gym equipment company that uses a minimalistic and sophisticated design to match the high-tech product.
aThemes: It's a WordPress theme development company that leverages the power of this content management system.
eCommerce Websites
Wakami: A traditional bracelet store built on WordPress with strong social and brand values. The homepage of a website uses sliding images to feature products and messages about women's empowerment.
Shop Catalog: An online business that sells a wide range of boutique products. It is developed on WordPress, using a simple design with minimum cluttering and easier navigation.
Art & Hue: An online pop art store that is developed on an extravagant design. This website uses a combination of various bright colors and typography that stands out on a plain white backdrop.
Blog Websites
WPBeginner: A blogging website that provides comprehensive resources for WordPress beginners in the form of popular articles and guides.
TechCrunch: A well-known technology news and media company, TechCrunch relies on WordPress for its blog platform. It publishes articles, analyses, and reviews covering the latest in the tech industry.
These examples showcase the versatility of WordPress as a robust platform for building various types of websites, including business websites, eCommerce websites, to blog websites. Also, custom development allows a business to tailor their websites as per the specific requirements, ensuring a unique and optimized online presence.
How Custom WordPress Development Company Can Help You?
We've elaborated on the benefits and some case studies of businesses that have benefited from WordPress in terms of custom development. As a business, you can choose custom WordPress development for improved website performance and unparalleled scalability. But how can you build a custom-made website for your business using this CMS?
It is obvious that to change a single line of code, you need to be affluent in technical know-how. Working with a custom WordPress development service company is a good option if you're not. They are a team of specialized professionals with in-depth knowledge and expertise in WordPress development. They can help you develop a world-class and professional-looking website. Here are some ways in which a custom WordPress development Agency can help you, such as:
1. Expertise in WordPress Development
One of the benefits that you get while working with a team of professionals is unparalleled expertise in working with the WordPress platform. They have an in-depth knowledge of the architecture of this platform, coding standards, and best practices.
With their years of expertise, they can build custom-based solutions, including themes or plugins tailored to your specific requirements. Not only that, but they are also well-versed in the latest updates and trends in WordPress development and ensure your website is built using the most advanced and secure technologies.
2. Time-Saving
Developing a website independently is time-consuming, particularly if you lack technical understanding. Working with a custom WordPress development company saves time and effort compared to building a complex website on your own. They can streamline the development process by showing their expertise in WordPress development, which allows them to deliver high-quality web solutions within a given timeframe.
3. Custom Design and User Experience
One of the key benefits of partnering with a WordPress development company is their ability to create unique and visually attractive websites. The companies have an experienced team of designers who can transform your brand identity into a visually stunning website.
The developers of the company pay close attention to the details, like typography, color schemes, layout, and imagery, to create a cohesive and engaging user experience. The custom design leaves a lasting impression on your visitors by ensuring your website stands out from the competition.
4. Plugin Development and Integration
WordPress plugins are essential for extending the functionality of your website. A WordPress development agency can help you develop custom plugins to add specific functionality to your website. Their expertise ensures that plugin integrations work smoothly and provide a seamless experience for your website visitors. It can help you to enhance your website's capability.
5. Enhanced Performance
By leveraging their expertise and experience, a WP development company can help you develop a high-performing website. They can optimize the code of your website to make it fast loading. They can also implement caching mechanisms, content delivery networks, and other optimization techniques.
Plus, they will conduct thorough testing to identify and address any issues related to the performance of a website.
6. Testing and Launch
Website testing is essential before launching it. This means checking for functionality issues, such as broken links or images, and ensuring the design is consistent across all pages. You should also test your website on a variety of devices and browsers to ensure that it looks good and works properly on all platforms.
Once you've completed testing, it's time to launch your website. This involves moving your website from a WordPress development environment to a live server. This process can be done manually, but a number of plugins can also help you automate the process.
7. Ongoing Support and Maintenance
Even after the development phase, your website will require ongoing care. This includes updating your WordPress core, plugins, and themes and regularly backing up your site. A custom WordPress development company can provide you with ongoing support and maintenance of your website. They ensure your website remains updated, secure, and optimized for performance.
Not only that, they can handle various tasks such as regular backups, security updates, plugin updates, and other issues that may arise. With their ongoing support, you can focus on running your business while having peace of mind knowing that your website is in capable hands.
How Much Does It Cost To Develop A Customized Website on WordPress?
Custom WordPress website development costs can vary depending on various factors and requirements. Here are some key points to consider when determining the approximate cost of a custom WordPress website:
1. Design Complexity
It is the most prominent factor that plays a vital role in cost estimation. A simple, clean design will require less effort and time to develop and will be less expensive. On the other hand, a complex and highly customized design will require more time and effort. This will significantly increase the cost.
2. Features and Functionality
When you're developing a custom-built website for your business, it is also true that you require features and functionalities that match the requirements. This will impact possibly impact the cost of developing a custom website. Custom functionalities like membership portals, booking systems, advanced forms, etc., may require additional work, which increases costs.
3. Custom Theme Development
When you have chosen custom development, it's obvious that you want a customized theme for your website that portrays your brand's identity. Custom themes can be developed from scratch to meet the specific requirements of your business. It can surely increase the cost of development.
4. Maintenance and ongoing costs
Ongoing maintenance from a professional WordPress development company is essential for the smooth running of your website without any bugs. It includes website updates, backups, checking on security measures, and also hosting fees. These can range from $10 to $100 per month or more, depending on the services you require.
These factors majorly influence the website development cost. However, keep in mind the hosting, domain, and other factors that also play a crucial role in impacting the cost.
Read Also: Top 7 Reasons Why Businesses Prefer PSD To WordPress Conversion
Make The Most of Custom WordPress Development With CSSChopper
When it comes to custom WordPress development, CSSChopper is an experienced company that can develop custom-made solutions. With a team of skilled professionals and an experience of over 10 years in the industry, we deliver excellence. We focus on providing web solutions tailored to the needs of our clients.
When you hire WordPress developers from our company, you can discover remarkable transformations in web development. Our company has successfully completed over 9,000 projects, and with a 97% client satisfaction ratio, we are the trusted technology partner.
Our team of experienced and talented web developers can build a functional and cable website for your business. We have worked with a plethora of industry verticals and ensured seamless development.