Do you want to create a website? Creating your own website might seem a daunting task, especially if you are not a developer. And you are not the only one who's facing this challenge. However, WordPress is the true ray of hope for everyone; it makes the process easier and more accessible. With WordPress, virtually anyone can build a perfect and unique website for their blog, portfolio, or business.
But how can you do this?
This comprehensive WordPress development guide will cover the step-by-step website creation process. We have created this guide to help users of all ages and skill levels to build their own sites. However, if you feel that hiring an expert is good, you can look for WordPress development services from a reliable technology partner.
If you want to do it yourself, then continue following our step-by-step WordPress guide.     
Let's begin with a prevalent question that most people get exposed to when they decide on website development on WordPress – What's the difference between WordPress.com and WordPress.org?
Let's understand the difference between WordPress.com and WordPress.org.
| | | |
| --- | --- | --- |
| Points of Difference | WordPress.com | WordPress.org |
| Hosting | Hosting is built-in. This eliminates the need for an external hosting provider. | With WordPress.org, you have to host your website on your own using any third-party hosting provider. |
| Server  | The server management is taken care of by WordPress.com.  | Whereas you are responsible for managing your own server and its related tasks on WordPress.org |
| Functionality | WordPress.com offers limited customization options and plugins.  | Provides complete control and customization options, including access to all the plugins.  |
| Cost | Various pricing plans are available, including a free option. | It's a self-hosted platform, its cost majorly depends on the selected hosting provider and additional required services. |
Are you wondering which is the best fit for your business? 
You may be confused about whether WordPress.org or WordPress.com best fits your business or blog? Let's take a closer look at what you can gain with each one.
WordPress.org is the right choice for complete control over your website and full customization power. It is free to use and gives complete control over what you want to create. You can choose a WordPress web development partner to create a well-customized website. However, you need to take care of hosting, domain, server management, customization, and other things on your own, except if you choose a tech partner.
WordPress.com is ideal when you need an all-in-one solution with most things done for you. But you get it with few possibilities for customization. It's a premium-based solution where you don't need to do anything. Ease of use and a multitude of choices are key reasons why most businesses prefer WordPress development to create websites.
The Role of a WordPress Development Company
Being a popular web development platform, WordPress is a premier choice for many entrepreneurs and developers to create websites. It is an easy platform with simple features and tools to build quality websites. However, when it comes to creating a world-class and professional-looking website, you have to rely on a WordPress development agency if you lack the required skills and knowledge. Fortunately, they can help you develop a perfect website that serves your desired purpose in the best way possible. Here we have highlighted some advantages of WordPress development firms.
Professional Solutions
If you want to grow continuously and get an edge over competitors, you need a professional website with all the relevant features to outshine your business. With their expertise in the WordPress platform, the developers have the expertise to help you develop a top-of-the-line website with a professional appearance and features.
Quality Service
One thing that you can be assured of choosing a reliable tech partner is the high quality of service. Further, tech companies have skillful and talented people who are well-trained and experienced. So, they can help you to develop a perfectly matching solution as per your needs and requirements. And, they can deliver you the best quality service as they are already working in this field. Also, their professionals work with a proper WordPress developer guide and follow all standards to create quality solutions.
Unique and Creative Websites
Competition is high in the online space, and you need to be different from others to make a mark there. Therefore, having a unique and creative website is essential to stand apart from others and outpace your competitors. Your technology partner can help you in this feat by creating a one-of-its-kind website with distinct features and functionalities.
User-Friendly Websites
No one would like to visit a website that is not user-friendly at all. Hiring a WP development company will help you create a user-friendly website with simple and attractive functionalities. Also, they optimize the website and integrate quality features while building the site with end-users in mind.
Steps for WordPress Website Development 
The following is the important part of this website development guide that must be waiting for: the steps to create a site.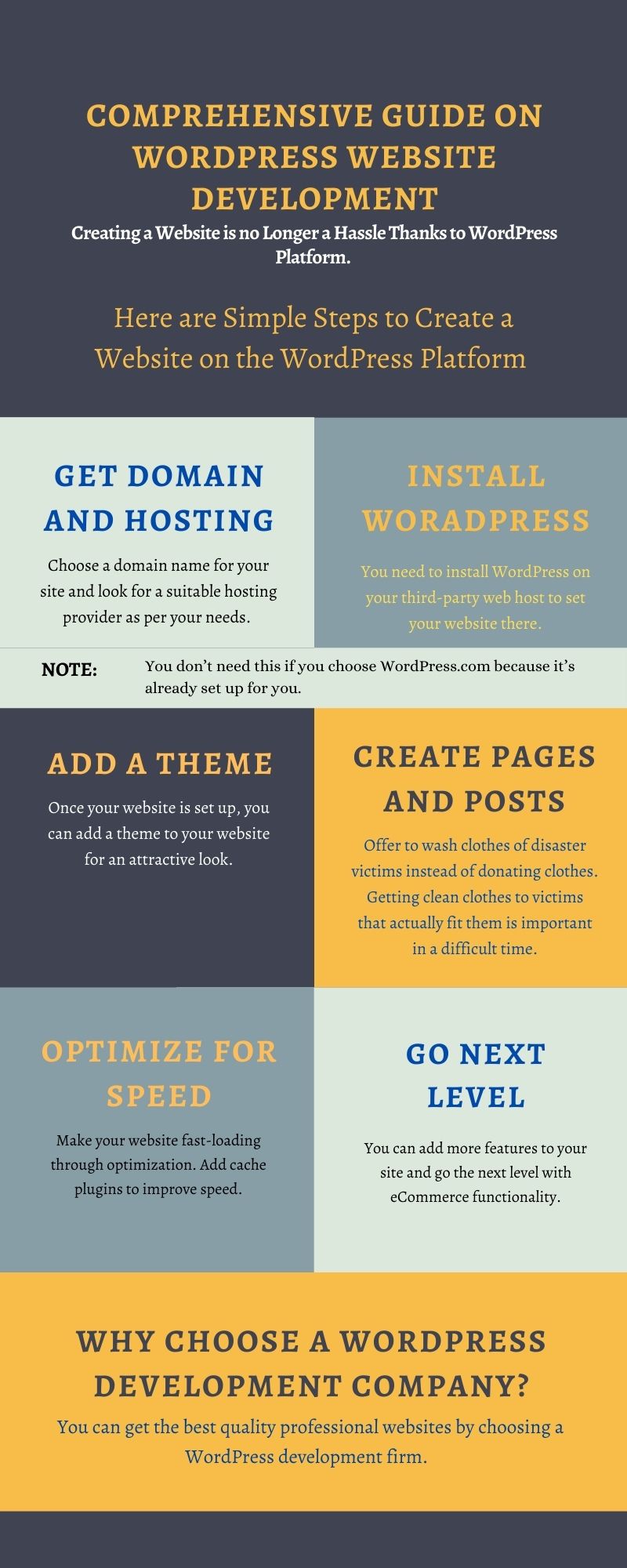 1. Set up the domain name and hosting
The first step to get started with WordPress development is to choose a domain name for your site. If you are using WordPress.com, you just need to select a plan and skip all server-related steps. 
The domain name is important because it defines your brand and makes your business identifiable on the web. After choosing the desired domain name, you now have to select a web host. Choose the right web host for your website or seek an expert's help. Also, you should buy SSL certificates and security solutions.
2. How to choose the right domain name?
A domain name is the address of your website that users can enter in a web browser to visit your site like csschopper.com, google.com, twitter.com, etc. It should be unique and relevant to your business. It is a crucial step in the WordPress website development process. It will also enable users to refer to your site. You should choose a domain name that is short and memorable as well as give an impression of your business. 
3. Install the WordPress platform
In the case of third-party web hosts, you need to install the WordPress platform to set up your site on the host. There are three web host options: 
It is a budgeted hosting option because the cost is split among website owners. 
A VPS or Virtual Private Server has similarities with a shared server as it runs multiple websites on a single piece of hardware, but the number of websites is limited. 
Managed WordPress hosting
Under this method, all the resources or hardware are put for the use of a single website to work as efficiently as possible. It's costly. 
4. Add a theme for an attractive appearance
You can customize your site's appearance using themes available on the WordPress repository and third-party marketplaces. These themes offer a multitude of layouts, colors, formatting styles, fonts, and other visual options to get an attractive website appearance. However, you can partner with a custom WordPress development services company to create a custom theme with your unique requirements.
5. Create pages and posts on site
The content you add to your site is displayed in web pages and blog posts. You can easily create as many web pages or blog posts as you want from the WordPress admin panel. Create pages like homepage, about us, contact us, etc. 
6. Customize website with plugins
Plugins help you to extend the functionalities of your site. You can perform more customization on your site by adding the required plugins to get the desired functionality. 
7. Optimize website for fast speed
Website speed is critical for a better user experience. Visitors will move to other websites if your site pages take too long to load. You speed up your website by enabling browser caching and other optimization work. A reliable WordPress development agency can help you to optimize your site.
8. Go next level with more features
You can go to the next level by creating an eCommerce website on WordPress simply by adding a WooCommerce plugin. Also, you can create a custom eCommerce site with the help of a tech partner. 
There are many other things to consider for creating a successful WordPress website for your site. You must take a look at these considerations to make the best solution.  
What is the Cost of WordPress Website Development?
The answer to this question depends on several factors:
Website Type: Different types of websites, such as blogging, business, or eCommerce, have varying levels of complexities and features, which can affect the overall cost.
Functionality: Integration of advanced features is more costly in comparison to basic ones.
Complexity: The more complex and customized the website requirements are, the higher the costs may be.
These are some of the factors that can influence the cost. However, it's vital to note that costs can vary as per your requirements.
Final note
WordPress offers a powerful solution for creating a prominent online presence. By leveraging its user-friendly nature, you can build a website. Throughout this comprehensive guide, we have covered all the essential steps in WordPress website development.
However, partnering with an expert WordPress development company is highly recommended to ensure an exceptional website. Their expertise and skills can help you develop a robust web presence that stands out from the competition. Whether you are starting a website from scratch or revamping the existing one, their professional services can help you.