Creating a website seems a cumbersome job today; why? Because there are so many alternatives! Although a CMS is a real boon for non-tech users, selecting a perfect content management system poses a significant challenge. A CMS is beneficial for developing professional and customized websites. It comes with excellent features to create best-in-class solutions.
There are plenty of choices for developing a site – custom CMS development or premade templates. But which is the best option for you? Here we will take a deep dive into CMS development and our approach to creating websites using CMS technology.
CMS Types You Need To Know
A content management system or CMS is a software suite that comprises simple features to create, organize, and maintain digital content. They offer ample benefits and features for building websites, publishing digital content, and more without any technical knowledge.
These CMSs generally support more than one user and offer an out-of-the-box way for content creation and website development. Moreover, CMS has types, so there is a variety of them. The following are the types of content management systems.
CCMS
CCMS, an acronym for Component Content Management Systems, differs from the standard CMS because its organization of content is more subtle. Unlike page-by-page content management, this type of CMSs takes paragraphs, words, phrases, or photos that are otherwise known as components to save them in a central repository.
Benefits of CCMS
Traceability
Reusability
Enhanced Team Collaboration
Single Sourcing
ECMS
The ECMS or Enterprise Content Management System is a type of CMS used to collect, organize, and deliver an organization's documentation and make sure that critical information is delivered to the right audience, i.e., customers, employees, and business stakeholders.
The ECMS provides easy access to the content to different members of an organization. Any unnecessary content is deleted after a certain period.
Benefits of ECMS
Reduced storage costs
Increases efficiency
Flexible
WCMS
A WCMS or Web Content Management System allows users to manage a website's digital components without a prior understanding of coding or markup languages. It comes loaded with authoring, administration, and collaboration tools that help manage digital content on a website.
In a simple sense, it is a kind of CMS that one can use to create websites without coding skills and publishing web content. While other CMSs manage content meant for both web and print, WCMS is exclusively available for web content.
Benefits of ECMS
Automation
Scalable
Personalization
DMS
A DMS or Document Management System is a content management system that offers a paperless solution to manage, store, and track documents in the cloud. The DMS provides an automated solution for processing, sharing, and uploading documents.
Benefits of DMS
Security
Eco-friendly
Access documents on a mobile remotely
DAM
A DAM or Digital Asset Management system allows users to organize, store easily, and share digital content. It provides a centralized and simple repository that enables clients, employees, and other stakeholders access to digital assets.
Benefits of DAM
Effective brand management
Centralized repository
Digital publishing
CMS Web Development Process at CSSChopper
A web CMS is a one-stop shop for all your needs for developing a complete website. It offers features to create websites as well as manage them without any hassle. There are dozens of CMSs for creating blogs, eCommerce stores, business websites, and more.
CSSChopper has longstanding experience in providing CMS web development services. Our developers pay attention to details to craft top-of-the-line solutions by making the best use of CMS technology.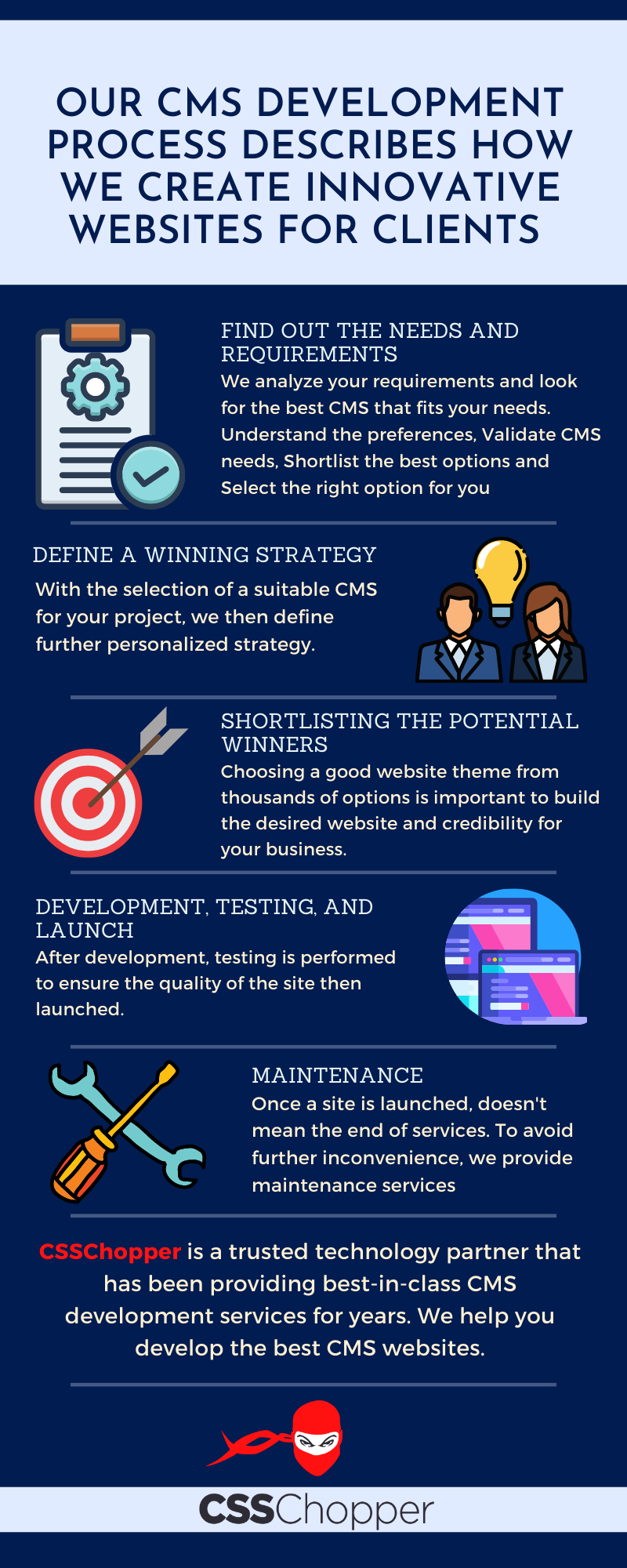 Here is our proven approach to CMS web development:
Finding out your needs is the first step
Every business is different from others, so they need different websites to stand out from the rest. Therefore, the development process needs to start with an in-depth analysis of the needs and requirements of the clients.
We, at CSSChopper, start with determining the goal or the purpose of the website. By discovering and researching, we find out the subsequent steps and try to figure out the target audience you want to attract and the main goals you want to meet.
Understanding The Preferences
Choosing the best CMS for website development is essential to create a perfect website for a business. As there is a multitude of choices for CMS, finding the most suitable one can be bewildering. You need to find out which CMS platform to choose for your web development project to create a robust solution.
The following are the top content management systems that you should be aware of. These CMSs come with the best features and benefits.
The following image shows the position of different CMS in the market: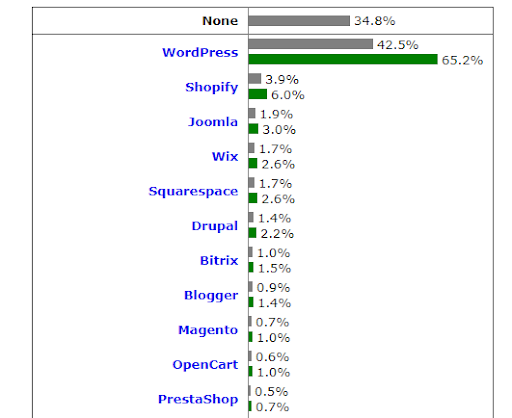 So, without further ado, let's take a look at the top CMSs today.
WordPress
WordPress is a topmost content management system that is very popular for website development. It is considered the best CMS for website development today and powers 35% of websites on the web. It is free and open-source with a 60% share in the CMS market. WordPress is a user-friendly CMS that tech-savvy and non-technical people can use alike.
Drupal
It is one of the famous CMSs, which is a fully customizable and powerful taxonomy system. Drupal offers a great way to outshine competitors and make an impact in the market. It provides ready-to-use tools for website development. It's free and open-source that supports content management, file uploads/downloads, collaborating authoring, peer-to-peer networking, and more.
Joomla
After WordPress, the next popular content management system is Joomla that powers 3% of the websites live on the web. It comes with multilingual support and flexibility making it a suitable choice for creating websites. It has excellent features and benefits for website development. It is also open-source and free.
Magento
Magento is considered to be an ideal platform for creating customized eCommerce websites. It is indeed the topmost platform for eCommerce CMS development. It offers powerful features like catalog management tools, search engine optimization, and marketing tools.
Shopify
Shopify is one of the top-notch eCommerce development platforms. With the integration of cloud-based hosting, Shopify is an excellent CMS for creating robust online stores. It comes with top-notch features for creating and managing online stores. Shopify is an all-in-one solution for eCommerce stores.
So, these are the CMS platforms that are popular for creating websites. What do we do for you?
CSSChopper has been providing out-of-the-box services to clients for a long time by using these CMSs to create the desired solutions for clients.
However, if you wonder which platform you should choose between them, the following comparison table is helpful for you. It gives a glimpse of the differences between these CMSs.
A Quick Comparison Of The Top CMSs
Basis
WordPress
Joomla
Drupal
Magento
Shopify
Type
Open-source (Free)
Open-source (Free)
Open-source (Free)
Open-source (Free) & Paid
Paid
CMS market share
About 65%
About 3%
About 2.2%
About 1%
About 6%
Installation
One-click installation

Manually installation in 5 minutes

One-click installation

Manually installation in 10 minutes

Single-click installation

Manually installation in 10 minutes

One-click installation

Manually installation in 10 minutes

Launch and start an online store in a few minutes
Ease of use
Beginner-friendly (5/5)
Beginner-friendly (4/5)
Requires Coding Skills (3.5/5)
Requires Coding Skills (3/5)
Beginner-friendly (5/5)
Plugins/extensions
FREE

Official Plugins: 56,884+

Official Extensions: 8,000+ (both FREE and Paid)
Drupal Module: 45,861+
Official Extensions: 3,145+
2400 apps on Shopify
Themes/templates
FREE Official Themes: 8,700+

Premium Templates available at marketplaces like ThemeForest, TemplateMonster, Elegant Themes, etc.

No official template

Premium Templates available at marketplaces like ThemeForest, TemplateMonster, Elegant Themes, etc.

Official themes: 2,900+

Premium Templates available at marketplaces like ThemeForest, TemplateMonster, Elegant Themes, etc.

Official themes: 10 +

Premium Templates available at marketplaces like ThemeForest, TemplateMonster, Elegant Themes, etc.

Official 100 free and paid themes.

Premium Templates available at marketplaces like ThemeForest, TemplateMonster, Elegant Themes, etc.

Which websites are using the platform?
The New York Times, BBC America
Harvard University, The Hill
NASA, White House
Nike, SIGMA
Heinz, Red Bull
Analyzing the Rules for Selecting the Right Content Management System
Selecting the suitable CMS is so vital for your project that a wrong decision will have a lifelong impact on your business. Switching to any new CMS is a significant investment that affects your organization, so you need to make the right decision to bring it to fruition.
At CSSChopper, we understand the significance of content management systems and help clients pick the best option for website development projects. Your CMS development strategy is on the success path when the selection fulfills your business requirements.
The following are the effective rules for selecting the suitable CMS:
Validate the CMS need
The hunt for a suitable CMS starts by understanding your needs. Many questions have to be answered, like should updating rather than replacing the existing technology do the work? Migrating or implementing a new technology takes time and can disrupt the current systems.
Also, user adoption and training are challenging for new technologies. So, it is vital to make sure if new tech is needed. CSSChopper provides you with proper consulting and guidance to help you find your tech needs and choose the perfect solution.
Shortlisting the potential winners
It is a challenging part because, in most cases, you will want to choose a CMS that is easy to use and fulfill your needs. But it takes time to evaluate every CMS for usability and functionality. So, you may ponder upon the following:
Budget: There are many free CMS and paid CMS like WordPress.com, Magento Enterprise edition, Shopify offers various premium plans. Based on your budget, you can choose that fits your needs.
Relevant technologies: You should filter options based on the technologies you support. You will want to embrace the option that fits well with your technology infrastructure. And if you don't have any existing tech infrastructure, you can also go for SaaS-based platforms like Shopify.
Business functionality: It is not a feature-by-feature level distinction; it is more about the problem domain level. For example, your organization may want to have a centrally hosted platform, allowing different people to manage websites completely. Many CMSs come with "local roles" features that would enable defining roles for other sites users.
Having years of experience working for different businesses, CSSChopper helps you find the best CMS for website development.
The right match for the usage scenarios
Digging deep into your requirements is essential to determine which CMS is the best fit for your organization. But you shouldn't only rely on facts and figures because they can't help you to understand how a CMS can work with your specific users and content that you want to manage. Usage scenarios are an essential factor here. We evaluate your usage scenarios and find out the befitting system to meet your needs.
Make use of the features matrix
The requirements matrix is a kind of document that shows the relationship between features and other things. It lists capabilities or requirements that the desired product must have to fulfill your needs. It is a beneficial tool for finding a matching solution for your needs.
Focus on your requirements
Today, things like personalization, headless CMS capabilities, and omnichannel experiences are trending. However, you should be realistic and find out where these features fit into your website roadmap.
Defining a winning strategy
If you want to have a website that is attractive, engaging, user-friendly, and optimized for search engines, then a proper website development strategy is necessary. The strategy is a well-defined plan for how to develop the website of your dream.
When you choose as CSSChopper, your technology partner, you become free from the ache and hassle of planning and developing your site. We help you define your strategy to reach your goals. We follow all the rules for selecting a content management system to help you create a perfectly matching solution.
Templates Are Just One Part of It
Developing a website today is way easier than at any time in the past. You can use DIY (Do-It-Yourself) website builders to create a website in a matter of seconds. Indeed, all top CMSs like WordPress, Drupal, Magento, etc., offer multifarious website templates/themes that you can use to create attractive websites. Further, there are also many simpler DIY platforms like Weebly, GoDaddy, Wix, etc., that allow you to create full-fledged websites.
But the problem with DIY websites is that they are unprofessional. If you are walking through this blog, then you care about your business and would like to have a professional solution that is unique and high-quality. However, DIY websites are suitable for small companies that can't afford a professional one and those who don't value a professionally built site. You would be happy to invest your money in custom web development to give you the best solution per your needs.
So, what is wrong with DIY websites?
There are a lot of disadvantages of DIY websites that use off-the-shelf templates.
Here are the downsides of DIY sites:
CMSs like WordPress and Joomla are prone to security intrusions because they are open-source, making the code readily available to the general public. You need robust security measures to protect your site that you can do through customization.
You get what you pay for; free websites may come with intrusive ads.
Most DIY builders come with fixed and limited features.
Limited or no support.
No uniqueness because many people will be using similar templates.
Limited customization or restrictions on adding more functionalities.
Developing, testing, and releasing the solution
The next step after choosing the right CMS is to develop a website fulfilling all your aspirations. This phase includes the process of development, testing, and launching of the website. With CMS development, your website will take the form. It will have features that anyone can use to interact with the site. However, before making it available to end-users, testing is vital to ensure that everything works flawlessly.
Have you ever heard of the front-end and the backend? If you are wondering what they are, you should know that a website is formed with both front-end and backend.
So, what's the front-end?
Front-end is everything on site that has nothing to do with coding. It is the public-facing side of the site. So, the front-end is the side of the website that users can see and interact with. It is the website theme, functionalities of the site, and everything that users can see.
CSSChopper handles your front-end development needs by creating custom themes and features. We offer design to code services to create unique and interactive website themes.
What is the Backend?
It is the side of a site that is never visible to the end-users. As an admin of the site, you have to make changes or perform maintenance work that cannot be done from the front-end side.
Every CMS comes with an admin dashboard from where you can control and manage the site, and it is the backend of CMS sites. We help you to customize the admin interface to make it more user-friendly and easy for you. We can also help in backend development for better ways to manage the site.
Testing before Launch To Ensure Quality
Every website needs to be tested before it is launched. Testing is essential to ensure that the website we have created is error-free and meets all the standards. It can help avoid mistakes that can cost a fortune later and get the most out of the CMS web development efforts. Testing and quality assurance is crucial to ensure superior quality to the product. We take this process seriously and perform stringent tests to ensure the quality of every website we build.
CMS Website Development Services at CSSChopper
Our longstanding experience in CMS consulting and development enables us to deliver unmatched CMS development services. Here are our CMS service offerings:
Design to CMS Conversion
Accepting the design file (PNG, JPEG, AI, Sketch, Figma, PDF, etc.).
Analyzing the files.
Design to CMS (WordPress, Magento, Drupal, etc.) conversion.
Testing and quality assurance.
CMS Website Development
Assessinga the CMS needs.
CMS migration.
End-to-end CMS development and deployment.
Quality assurance and testing.
Post-development support.
Launching and user adoption training.
eCommerce CMS Development
Analysis of target audience and business goals.
Multi-vendor eCommerce development.
Integration of the latest techs like AR/VR, chatbots, social commerce, etc.
B2B & B2C websites.
CSSChopper becomes your reliable tech partner and takes care of all your requirements by providing you with a befitting CMS development solution. We have the best CMS developers with years of experience in the field.