Do you aspire to start a multi-vendor eCommerce marketplace like Amazon and eBay? The success stories of these eCommerce marketplaces have gravitated many entrepreneurs and inspired them to explore this lucrative business model. Indeed, as eCommerce is continuously rising at a rapid pace, this is the right time to invest in multivendor eCommerce development.
If you are an entrepreneur who is considering the opportunity of developing a multi-vendor eCommerce marketplace, you might have several questions in your head. Undoubtedly, these questions could be about what a multi-vendor eCommerce platform is, how much it costs to develop such a website, how to create a multi-vendor marketplace, and so on.
You need not worry anymore. Here we will discuss all the dimensions of multi-vendor eCommerce development while answering your questions. Keep reading to answer your questions with this sorted definitive guide on multivendor marketplace development.
A Short Description Of A Multi-Vendor Marketplace
Though you might have some idea about a multi-vendor marketplace, you may be intrigued to know more about it. A simple definition would be – that it is an eCommerce platform where multiple vendors can sell their products and services. It is an eCommerce website with a vast product catalog and multiple sellers.
Indeed, it is a kind of mall where multiple shops can be set up to sell a myriad of products and services. Under this business model, the marketplace becomes a bridge between third-party sellers and customers for sales and purchases for a certain commission. This is how multi vendor marketplace development benefits businesses.
The multi-vendor eCommerce marketplace provides excellent exposure to third-party vendors' products and services, allowing them to reach more customers. Moreover, the marketplace operator focuses on enhancing the customer experience and managing the website while different vendors concentrate on selling.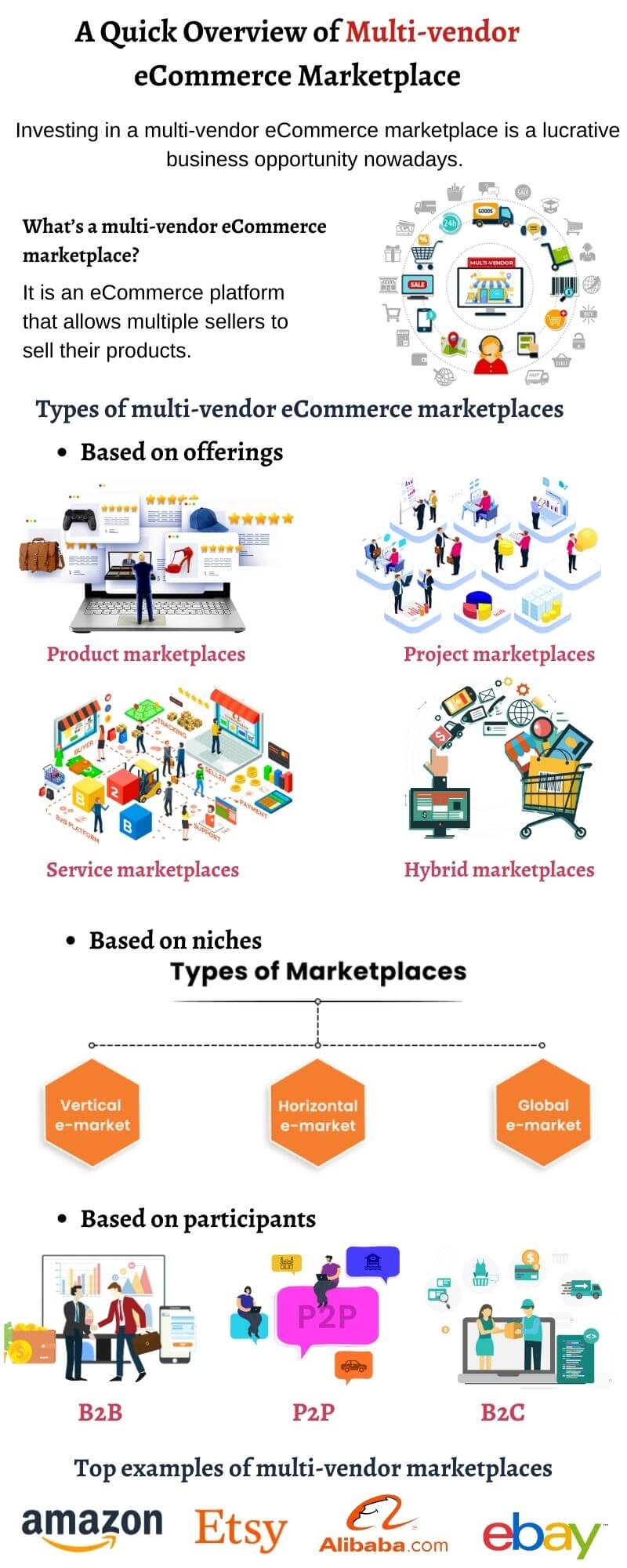 Key features of a multi-vendor marketplace
From a buyer's side
User sign up
Easy checkout
Order tracking
Multiple payment options
Multilingual and multi-currency
Easy navigation
From a seller's side
Intuitive vendor dashboard
Import/export
Shipping info
Multi-Store functionality
Analytics & reporting
From the admin's side
Customization & scalability
Review management
Product catalog
Automated task process
After the above discussion, you must have a clearer vision of a multi-vendor eCommerce website. Now let's explore the different types of multi-vendor eCommerce marketplaces.
Different Types of Multi-vendor eCommerce Marketplaces
Do you wonder what the different types of multi-vendor eCommerce marketplaces are? If you are willing to create a multi-vendor website of your own, then knowing about the varieties you get here can help you build the right one. The following are some types of multi-vendor eCommerce websites.
Types of multi-vendor websites based on offerings
Product marketplaces: This is an online multi-vendor eCommerce marketplace where only physical products are sold, like Etsy, eBay, and Amazon.
Service marketplaces: These marketplaces offer services like transportation, repair, car rental, etc, like Airbnb, Trivago, and many beauty and medical service marketplaces.
Project marketplaces: These marketplaces are for fundraising for startups. Kickstarter, Fundable, and Indiegogo are some examples of it.
Hybrid marketplaces: This type of marketplace offers both products and services like Craigslist and Oodle.
Types of multi-vendor marketplaces based on niches
Based on the category of what the marketplace sells and what the target niches are, multi-vendor eCommerce websites can be divided into three as follows:
Vertical marketplace
These types of online marketplaces are focused on specific products or services. So, certain types of products or services can be bought on these marketplaces, like there may be marketplaces for selling shoes of different brands and styles.
Horizontal marketplace
Horizontal marketplaces are those that offer products or services from various categories. These marketplaces cater to more than one market or industry. We can call such marketplaces a one-stop-shop for all sorts of products or services.
Global Marketplace
These marketplaces aren't restricted to any geographical location, and they cater to everyone's needs by selling everything. Hence, these marketplaces are an amalgamation of vertical and horizontal marketplaces and even offer beyond their scope combined.
Types of multi-vendor marketplaces based on participants
The category of multi-vendor eCommerce marketplaces is defined on the basis of who sellers and buyers are.
B2B (Business-to-Business)
You can opt for B2B eCommerce website development services to develop a Business-to-Business multi-vendor eCommerce marketplace. In these marketplaces, businesses are buyers and sellers.
Examples: Cocomize, Grainger
P2P (Peer-to-Peer)
P2P multi-vendor marketplaces mediate between those who own products and those who want them. This type of marketplace allows people to sell products to others. Moreover, such a platform will enable users to share products and services with others.
Examples: eBay, Uber
B2C (Business-to-Customer)
This type of multi-vendor eCommerce marketplace allows businesses to sell products to customers. These platforms facilitate ease of selling between businesses and customers.
How does a multi-vendor marketplace work?
A multi-vendor marketplace functions based on a certain product search by a customer. The marketplace fetches many results from multiple vendors, and from these results, customers can select a product and place an order for it. This is how a multi-vendor marketplace works.
The order that a customer placed is transferred to the seller of the products. After this, the seller fulfills the order requirement and processes shipping. Further, the customer and vendor can track the shipment and be aware of their product delivery. By opting for multi-vendor marketplace development, you can bridge the gap between the buyers and sellers.
Types of multi-vendor eCommerce marketplace business models
Your decision to invest in eCommerce marketplace development is vast. Therefore, you need to make the right decision to make a fruitful investment. Before opting for eCommerce web development for building a multi-vendor marketplace, you also need to understand the different business models on which these marketplaces work.
Retailer model
In this model, a marketplace operator provides a full-fledged multi-vendor marketplace that third-party sellers can join and sell their products. Amazon works on this same model as it offers a platform where sellers can join and sell products.
Franchisee model
Under this model, franchisee eCommerce stores can be from a specific industry vertical or region or all together. The franchisee uses associated brands, business trademarks, etc, to sell products.
Dropshipping model
In this model, without managing order fulfillment or keeping any inventory, it allows sellers to accept customer stores. Under this method, one party is a seller, and another party, such as the manufacturer, delivers the products to customers.
Top examples of multi-vendor eCommerce marketplaces
Here are a few examples of successful multi-vendor marketplaces. You can be inspired by these marketplaces for your multi-vendor eCommerce development project.
Alibaba
It has a unique business model and mainly provides services to individuals and small businesses. Alibaba offers various product choices for customers, making it a one-stop destination for multiple needs. It is integrated with logistics, trading services, banks, and manufacturing companies.
eBay
It is an excellent example of a Customer-to-Customer Multi-vendor marketplace. It is widely used by various customers worldwide to sell numerous items like furniture, mobile phone, camera, etc. Also, its target niche is those who are looking for affordable used products.
Amazon
Though Amazon needs no introduction, it's a prominent multi-vendor eCommerce marketplace with a rich platform for buying and selling products. Amazon takes a cut in return for selling on their platform with massive traffic. Creating a marketplace like Amazon requires a lot of investment, and you can do it with the help of a reliable eCommerce website development company.
Etsy
It is another example of a great multi-vendor eCommerce marketplace. Etsy has become a bridge between sellers and the suppliers of vintage or handmade items and crafts. It lists limited product segments; for instance, products here should be 20 years old.
Now let's see the pointers for creating your multi-vendor marketplace.
How to Create a multi-vendor eCommerce Marketplace?
After having an in-depth idea of multi-vendor eCommerce marketplaces, now is the time to discuss the process of creating a multi-vendor website. A multi-vendor marketplace needs to ensure a seamless end-to-end process for its smooth functioning. Indeed, there are many moving parts in a multi-vendor website you must take care of to create a multi-vendor website as per your needs.
List down your requirements
As investments in multi-vendor eCommerce development are huge, you must work with the best approach to build the right solution. You can start out by determining your needs and requirements. Hence, documenting your requirements can help you move in the correct direction. Also, the document can help the eCommerce web development company you choose for your project to understand your needs precisely. The following are some core features of a multi-vendor eCommerce marketplace.
Safe and secure
Order management system
Search and filter
Customizable and unique
Responsive
Accounting and taxes
Inventory management
Vendor dashboard
Reporting and analytics
End-to-end transactions
Delivery & shipping management
Also read: 5 Key Features In A Multi Vendor eCommerce Website Development
Choose a technology stack
The selection of a promising technology stack is crucial for successful multi-vendor eCommerce development. The tech stack can be a key factor in the website's speed, functionalities, stability, and overall performance. Hence, you need to focus on selecting the right tech stack to develop a top-notch multi-vendor eCommerce solution.
Technologies for multi-vendor eCommerce marketplace can be divided into two categories:
Front-end
Front-end is the part that faces users. And, front-end technologies comprise HTML, CSS, JavaScript, AngularJS, ReactJS, Vue.js, and more.
Backend
It is part of a website that works behind the scene. It includes server and database systems. Backend technologies include PHP, Ruby on Rails, MySQL, PostgreSQL, Python, and more.
eCommerce platforms
Instead of developing everything from scratch, you can also utilize a CMS or another eCommerce development platform to build a full-fledged multi-vendor marketplace. These platforms include WooCommerce, Shopify, Magento, PrestaShop, and more.
Also read: Magento vs Shopify: Which One is the Absolute Best Choice?
What Technologies Are Available For Multivendor eCommerce Marketplace Development?
Undoubtedly, eCommerce is a highly competitive domain, as many websites offer easy online shopping. So, questions like "How your eCommerce marketplace will be different from others? How to maximize your revenue?" are obvious to arise in your mind. It is crucial to build a robust multivendor marketplace with up-to-date functionalities to get an edge over your competitors.
No matter which website you want to develop, selecting the right technology plays a crucial role in its success or failure. Therefore, choosing the best-suited technology to build your website is important. Moreover, you might wonder what technologies are available for multi-vendor marketplace development.
There are many eCommerce development platforms and technologies used to build a feature-rich multivendor marketplace. Here are the top technologies; take a look at them.
Shopify
WordPress + WooCommerce
Magento
PrestaShop
PHP
PHP Frameworks
Let's briefly discuss every technology and its significance in eCommerce website development.
Shopify
Shopify is one of the top-tier eCommerce development platforms that offer an easy way to set up your online store. It is flexible, easy to get started, and can grow with your business, which means it is scalable. Moreover, Shopify is a subscription-based hosted eCommerce platform that has built-in hosting and other features. As a result, it's a no-fuss platform because you don't need anything separately to build and host your eCommerce website.
Shopify offers numerous features for multivendor marketplace development, such as product bulk editing with CSV, adding sellers from the admin panel, multilingual support, and more. It offers various plans like Basic Shopify, Shopify Advanced, and Shopify Plus.
WordPress + WooCommerce
WooCommerce is an eCommerce plugin for WordPress. It's a free and open-source platform that comes with extensive features easing your eCommerce operations. It lets you build a full0-fledged eCommerce store with all kinds of functionalities to manage and maintain your website. There are thousands of unique website themes and various plugins to customize your website according to your needs. You can choose to hire a WooCommerce development company to build a unique eCommerce website with advanced functionalities.
WordPress+WooCommerce can be used to create different eCommerce websites, be it B2B, B2C, or multivendor websites. There are features like multilingual functionality, multicurrency support, payment gateways, a simple admin interface, etc, to build a multivendor eCommerce website.
Magento
Magento offers maximum customization and is an open-source platform with several editions. There is a Magento Enterprise edition besides Magento Open Source. Moreover, it has now become Adobe Commerce and is a premium cloud-based platform with extensive functionalities. Magento 2 is preferred for developing advanced eCommerce websites with complex functionalities.
It provides numerous features that other eCommerce platforms don't provide you. Especially the level of flexibility it offers is great for creating top-notch eCommerce platforms. You can use Magento to build a well-customized multivendor eCommerce website that suits your specific business needs.
PrestaShop
The list of top eCommerce development platforms is incomplete without PrestaShop. It has excellent features for developing eCommerce websites. PrestaShop is also an open-source platform, meaning there are no license fees, and you can use it free of cost. You can set up an eCommerce store in the cloud or self-hosting. It's free but has a broad range of add-ons that help you build feature-rich eCommerce websites. Customizing an eCommerce store is easy with PrestaShop.
You can choose PrestaShop for multivendor eCommerce website development with self-hosted or cloud-hosted options. It offers secure payment options with various options to extend the website's features.
PHP
PHP is one of the most used technologies in web development that offers numerous benefits. It's an open-source technology, so there is no license cost. It's a server-side language used to develop dynamic and static websites and web apps. PHP is also used for creating feature-rich eCommerce websites.
PHP Frameworks
Apart from core PHP, you can also use PHP frameworks like Laravel, CakePHP, CodeIgniter, Zend (Laminas), etc. These frameworks support various development architectures like MVC (Model, View, Controller) and MVVM (Model, View, ViewModel). You can utilize these frameworks to build advanced, secure, and high-performance eCommerce websites. These frameworks offer excellent features that several technologies don't offer.
Hire an eCommerce development company
Creating an eCommerce website, especially a multi-vendor solution, is very complex. Hence, it is not a layman's job; you need professionals with the required expertise to accomplish it.
Since there is massive competition in the eCommerce domain, you need to create a unique website for your business to stay abreast of rivals. This is the reason why you should rely on an eCommerce website development company for your multi-vendor marketplace development project. The company can implement its expertise and knowledge to develop a robust multi-vendor marketplace for you.
The first impression that users have on their minds when landing on your site is what makes them leave or stay on your site. A website that is easy to navigate and doesn't challenge users when browsing it is a user-friendly one. An eCommerce website development firm can develop a highly user-friendly website integrating seamless functionalities.
Benefits of outsourcing your project to an eCommerce website development company
Build high-grade multi-vendor marketplaces
Integrate third-party services and APIs
Create a custom marketplace with tailored features
Build a multi-vendor marketplace as per your needs
Follow the industry standards and quality guidelines.
Cost of developing a multi-vendor eCommerce marketplace
Honestly, there is no easy way to estimate the cost upfront! The reasons why it's difficult to give an estimate are many and depend on numerous circumstances. Further, fixing a price that applies to all sorts of multi-vendor eCommerce websites isn't possible. It is especially difficult because every business has different requirements and needs. Also, websites differ in functionalities, appearance, technology, and other aspects.
While an exact estimation before knowing project needs can be difficult, a rough estimate can be given. The average cost could start from $10,000 and go as high as $80,000 or more. However, the cost may vary depending on project complexity, functionalities, number of web pages, third-party integrations, and more.
Let's wrap up!
The eCommerce market is rising at a never-ending pace, and this is the right time you leverage it for earning huge profits. You can invest in a feature-rich multi-vendor eCommerce marketplace to get huge returns. Moreover, to create a successful multi-vendor eCommerce marketplace, you can select CSSChopper, which has accomplished many projects.