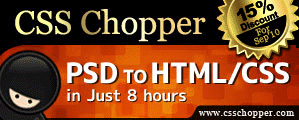 CSSCHOPPER is giving away a flat discount of  15% exclusively on all its projects including PSD to HTML/ XHTML/ CSS conversion and  implementation into skins, themes, CMS, shopping carts  services. The discounted price is available on all packages open for everyone and is limited to September 2010. As per this discount on all projects, one has to pay 15% less amount reduced from total cost of project.
How to avail this discount?
The entire process of availing discounted rate is very simple. In order to start the development work on project, a person need to pay 10% upfront amount of the total cost of development through order page and then, rest of the discounted amount will be paid after completion of project directly.
i.g. If  normal project cost is $ 100, after 15% discount you have pay $ 85 for the project task.
To order your project you have to pay 10% means $ 10 of normal project cost (i.e $ 100) through order page and  rest of the amount $85-$10 = $ 75 will be paid directly after completion of project.
You can get live support or contact us  on [email protected] if you have any doubt to order project.
CSSCHOPPER a PSD to HTML/XHML/CSS and CMS integration service provider comes with 100% customer satisfaction guarantee and *money back policy. On top of that, the most trusted web development company is ready to sign Non Disclosure Agreement (NDA). Furthermore, CSSCHOPPER comes with full customer and technical support.
you can visit https://www.csschopper.com/ to get more related article and blog stuffs.
Posted By: CSSChopper Team