Healthcare websites have proven to be game-changers for doctors and patients. From enhancing patient care to streamlining administrative tasks, these have shown major improvements. Projections indicate that the healthcare sector is set to grow at a CAGR of 14% from 2021 to 2029. This presents significant opportunities for healthcare providers to enter this burgeoning market.
When it comes to developing a healthcare website, there is a lot to consider, ranging from choosing the right platform to its design. The cost of developing it may vary significantly, as it hinges on various factors, such as the project's complexity, features, and the decision to hire a WordPress development company. However, to give you a more comprehensive understanding, it can generally cost a few hundred to several thousand dollars.
Why is it Essential for a Healthcare Center to Have a Website?
A telehealth website's value has increased over recent years. Research has shown that 6 out of 10 users expect medical centers like hospitals, clinics, pathology labs, radiology labs, ERs, etc., to have an online presence.
A healthcare website acts as an online storefront, providing valuable information to patients about services, medical practitioners, and contact details.
1. Round-the-clock Availability
Having a website for your hospital means patients can find you anytime and anywhere. Round-the-clock availability means your patients can get all the required information even after business hours. However, a traditional medical business has boundaries based on opening and closing hours. Your website will help provide quality services and will be available anytime. This convenience lets patients know about services and necessary insights, promoting a seamless and user-friendly experience.
2. Builds Credibility
Eventually, developing a WordPress website for your healthcare business results in growing your target audience. It is especially beneficial to reach patients beyond the current location from where you operate. A healthcare website can allow patients from other locations to find and access your services.
3. Increases Sales
Eventually, developing a WordPress website for your healthcare business results in growing your target audience. It is especially beneficial to reach patients beyond the current location from where you operate. A healthcare website can allow patients from other locations to find and access your services.
4. Enhanced Customer Experience
Earlier, patients had to stand in a long queue to fix their doctor appointments. This process used to be exhausting and time-taking, as even after getting the slot, they had to wait for their number for check-ups. But, the advent of websites has made it far more convenient to access your services than personally visiting a hospital. Hiring a WordPress development company can help you develop a website that provides a convenient and user-friendly experience for your patients.
5. Get Useful Patients Insights
A website can provide useful information about your business and patients. It lets you have a keen eye on patients' details, preferences, ailments, and more. You will also be able to explore the treatment type users are searching for. This helps you add that treatments users are searching for.
How is WordPress Helpful in Developing Telehealth Websites?
Majorly, medical practitioners think that simply developing a website and publishing it online is enough to guarantee success, solid online visibility, and a steady stream of high traffic. If only it were that simple.
Search engine optimization plays an impactful role in attaining this. The good news is that content management systems such as WordPress help optimize your content for search. Not only that, it provides the majority of built-in features like end-to-end customization, security, etc., to help you adhere to the rankings of search engines.
How Much Will a Healthcare Website on WordPress Cost?
Getting a clear picture of the cost involved in developing it is of utmost importance. The cost might vary based on your expectations and requirements.
However, WordPress is one of the most used Content Management Systems (CMS) that can be used to develop a high-quality website that meets your needs. The platform offers various features that make it essential to utilize its potential fully.
Here, we have enlisted the basic cost related to website development, which includes the domain, hosting, and also its structure.
1. Cost based on the Website's Structure
Before actually developing a healthcare website, it is essential to understand its structure. A clear idea of what sections or pages your site should require can help you use the right approach. However, its cost can vary based on the design, complexity, and time taken to develop. Here are some of the key sections that should be included in a healthcare website:
This is the page where healthcare practitioners can log in and see the patient bookings. They can also manage their profiles and settings from this page. The cost of developing a dashboard will vary depending on the features you include. However, it can expect you to pay anywhere from $1,000 – $2,000.
It is the first impression of your website with the users. So, it is important to make this count. This is obvious that a healthcare website must have many pages that include offered treatments, ailments, tips related to diet, and much more. It's good to include a brief overview of your practice, as well as links to all the major pages on the homepage.
The cost of developing a homepage will vary depending on the design's complexity and the features included. You can expect to pay anywhere from $500 to $3000.
This page should contain all the related information about your practice, including your history, mission, vision, and team. It's always better to include relevant images and videos to make this page more visually appealing and engaging.
The cost of developing an About Us page may vary depending on the amount of content to be included. Ideally, it can cost $500 -$800.
This is the most vital page you should add to your website. Majorly, patients come to your website with health issues and will directly jump onto your this page. This is where you should list all your services, specialists, dispensaries, etc., and provide detailed information about each.
The cost of developing service pages will vary on the number of services listed and the features you include. However, it can expect you to pay anywhere from $1000- $3000.
Right after visiting your services, the patients would like to contact you. Therefore, mentioning your phone number, email address, and geographical location can help them contact you. Also, you can add a contact form. On WordPress, you can add a contact form with ease. But, to give it requires expertise in giving a more personalized touch. This is where you should partner with the WordPress development service provider to add a contact page that resonates with your business.
Its cost of development will vary depending on the design's complexity and the included features. However, you can expect to pay anywhere from $500 to $2,000 for a basic page.
2. Theme
Selecting the right theme is crucial, as it defines your website's front-end and user interface. You can choose between:
Generally, pre-built themes range from $0 to $500 or more, as per the requirements of your healthcare website. Its prices may change on various factors, such as functionality, layout, appearance, and popularity.
Custom development can give flex to your healthcare website. This is because you got what you pay for.
Drag and drop is a great option for websites that don't need a lot of customization. Many drag-and-drop freemium plugins, such as Elementor, Divi, etc., are available for WordPress.
Divi and Elementor's regular pricing starts from $89 and $49/ year. These builders allow you to create a website quickly and easily. However, they can be limiting if you need a lot of customization.
It is the most powerful way to develop a website based on your requirements, but this requires technical expertise. If you are compatible with coding, you can develop a tailored site without any limitations. However, it can be difficult and time-consuming. This is where you can partner with a custom WordPress development company to attain this.
The cost to develop a custom telemedicine website can vary because of the type of feature you require in your site, the effort, and the time it takes to create a fully functional theme. It can cost you $300 – $2000 per the complexity, requirements, and the company's experience.
3. Support and Maintenance
For smooth operations of your website, it is essential to maintain and fix your healthcare website timely. This is of utmost value when you take the necessary step by considering your budget.
Generally, maintenance includes the necessary fixation and updates on your website related to security patches and the version of your CMS. This ensures seamless operations of your website. The cost to develop it majorly depends on the project's size, scope, and complexity. Usually, it ranges from $300 to $2000 or more.
Estimated Pricing Breakdown
| | |
| --- | --- |
| Stages | Average Costings |
| Website developed by WordPress development company | $5000 – $35000 or more |
| Domain | $20 – $50/ month |
| Web Hosting | $40/Month |
| Healthcare Website Structure | $2500 – $15000 |
| Themes | $0 – $2000 |
| Maintenance | $80 – $160/ hour |
| Support and  | $3000 – $28000 |
| Total | $80,250   |
Note: The table denoting the breakdown of prices is just an estimate of the cost. The actual cost might be more or less than this.
How Much Does it Cost to Hire a WordPress Development Company?
Without any doubt, it is obvious that to create a successful telehealth website, you require professional expertise. This is because healthcare website development is a complex and ever-changing field that requires deep understanding. The cost of hiring a professional WP development agency with expertise in healthcare development can differ.
It can vary based on the company's experience, expertise, location, and role in the project. Don't be surprised if the WordPress development agency in USA charges three times more than the company in the same region.
In general, a WordPress developer in USA charges between $50 -$70/ hour, depending on your project. However, a development company located in Asia charges less than that.
Factors Affecting the Cost of WordPress Healthcare Website Cost
WordPress is the finest content management system in website development. From superior customization to scalability, this platform offers numerous benefits. As a medical business, you should want to know how much does it cost to develop a healthcare website using WordPress?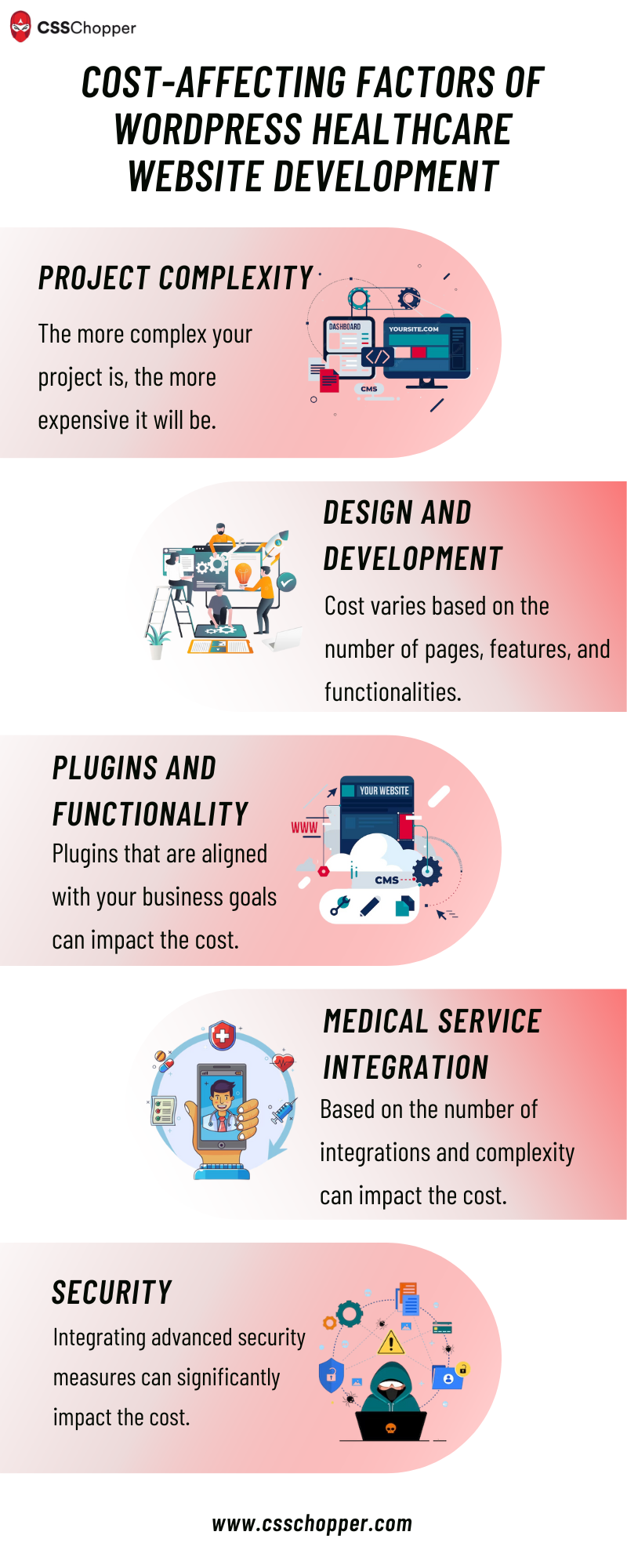 The cost of developing a WordPress healthcare website can vary significantly based on several factors. Here are the key considerations:
1. Project Complexity
The first and most significant factor affecting the cost is the project's complexity and its scope. Remember that a project's complexity depends on several things, such as;
The number of tasks involved,
Number of additional features required,
The level of technical expertise required, and so on.
A more complex project with a larger scope will naturally be more expensive than a simpler project with a smaller scope.
2. Hosting and Domain
You'll need a domain name (website address) and web hosting service to make your WordPress site accessible online. The expenses for domain registration and hosting will be recurring, usually annually.
3. Design and Development
The next factor is the website' design and development. It is important to have a visually appealing and user-friendly website. It should be easy to navigate and provide visitors with the information they are looking for easily and quickly.
Your website should be responsive to multiple devices. Also, your website should have adequate security measures to protect visitors' personal information.
To attain all these, working with a WP development company is imperative. The complexity of the design, the number of pages, and the integration of specific healthcare features will influence the overall cost.
4. Plugins and Functionality
Various ready-to-use plugins can enhance your website's functionality, ranging from free to premium plugins. These can add special features such as appointment booking systems, patient portals, and telemedicine capabilities, which can increase development costs.
However, you can also create custom plugins for your healthcare website. For this, you can partner with a custom WordPress development company. Depending on your specific business requirements, they will build a custom plugin that can enhance the functionality how you want it to.
5. Medical Services Integration
It combines multiple healthcare systems into one cohesive system. This can also be a significant factor that can affect the cost of healthcare WordPress website development.
Integrating third-party services like Electronic Health Records (EHR) systems, IoMT devices, or payment gateways may incur additional costs. Many factors can affect the cost of medical services integration, including the number of systems being integrated, the complexity of the integration, and the experience of the WP development company in terms of the level of customization required.
6. Security
Healthcare websites must prioritize security and compliance with regulations. Implementing robust security features is of utmost value to provide safe browsing. These features should adhere to data protection regulations. Integrating these security measures into your website may impact the development costs.
Verdict on the Cost
Finding out the exact cost of a healthcare website depends on various factors, from the project's complexity to the support and maintenance required.
Developing a website requires professional assistance, and partnering with a WordPress development agency is essential to develop a website resonating your purpose.
The cost of website development can range from $3000 to $15,000 or more depending on the requirements.
Create a Healthcare Website that Converts with CSSChopper
Developing a website requires proper understanding of the industry's requirements, careful planning, and an appropriate development approach. With the right team, you can create an effective web solution that helps to enhance patient engagement and boosts healthcare services.
This is where CSSChopper can help you. As a potential WordPress development service provider, we have helped numerous businesses shine. Our team of skilled developers understands the intricacies of healthcare website development, ensuring that your web solution meets the highest quality standards of functionality, security, and compliance.
We have successfully completed more than 8,000 projects with a 98% client satisfaction ratio, demonstrating our skill in web development. Your decision to work with us can make a significant difference.