Websites have become indispensable for every type of business, be it in finance, retail, travel, education, or any other industry. Healthcare is not an exception; businesses operating in this domain also require websites to leverage the benefits of digitalization. 
The importance of a website for a healthcare organization cannot be undermined. For instance, a hospital website can allow people to book appointments easily, and patients can access their medical information securely. 
When creating a healthcare website, you must look for a reliable web development company to build the website as per your aspirations and requirements. Keep reading for the importance of healthcare websites, the development process, the cost of building the website, and lots of other information. 
What's a Healthcare Website?
It is a website that is specifically built to meet the requirements of healthcare service providers like hospitals, clinics, and health practitioners. Typically a healthcare website provides information about the business and its services. It can also provide features like appointment scheduling, access to medical records, and other material. This kind of website can help businesses establish their credibility and communicate with patients. It has the resources and information to help patients and other users. 
Features of a Healthcare Website
To ensure that your medical website reaps the true benefits, you need to integrate the right features. There are many benefits that such a website comes with, and you can implement them with a good healthcare web development service provider. 
We suggest you incorporate the following features in your website for healthcare business:
Services & Price List- This is the first thing that patients would want to know: your service offerings and their cost.
Doctors' Information- The patients must be curious to know the specialists who are going to treat them. So, it becomes important to give the doctor details like experience, qualifications, etc.
Appointment Scheduling with a doctor via online mode.
Online Chat option- Patients will communicate with the hospitals and ask queries about their health issues.
Emergency Calling-  This feature comes in handy when patients have to call the doctor on an urgent basis.
Blog- Create a blog section on your healthcare website to raise the interest of the patients. You can post content related to medical tips, diagnosis methods, etc.
Map- With an interactive map, patients can find the location of the hospital quickly and with no hassle.
Feedback Form- Always add a feedback channel to your website where patients can submit their experiences.
Advanced Search- It is helpful in finding relevant information about the hospital faster.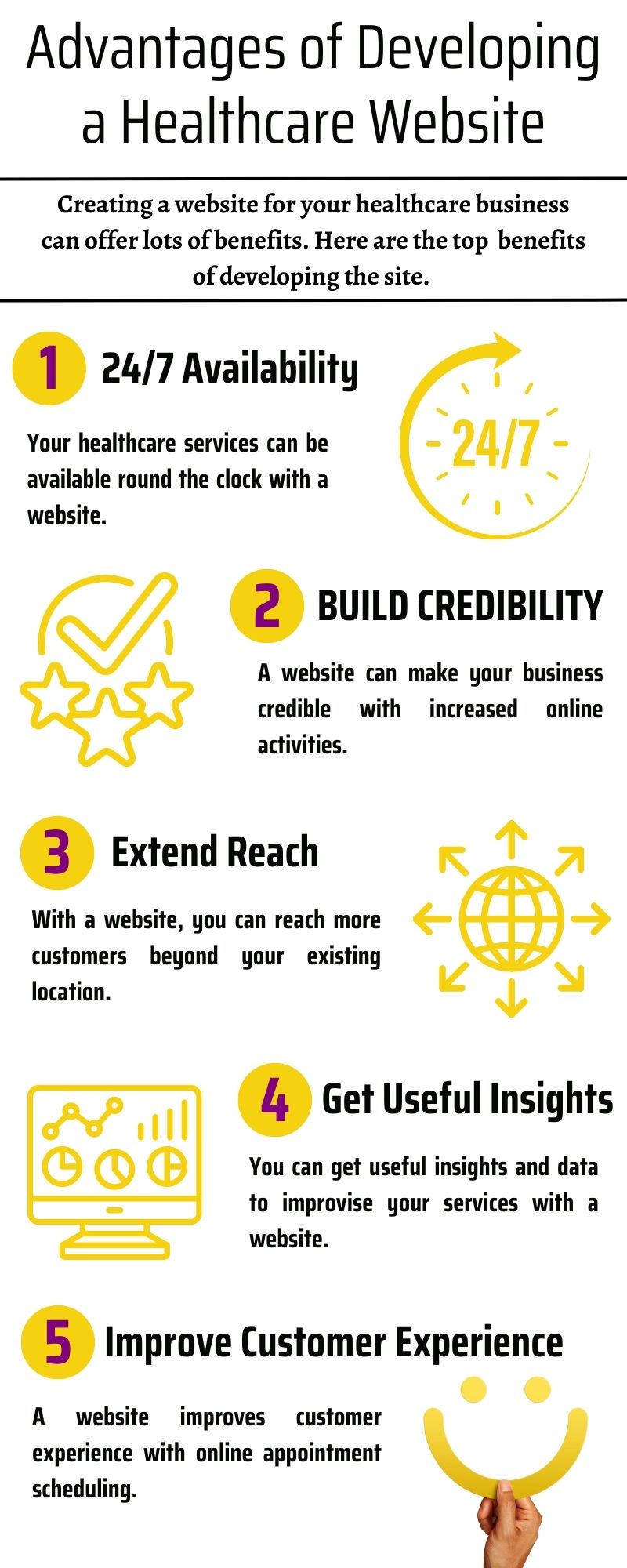 Benefits of Healthcare Website Development
A website is undoubtedly one of the most powerful tools to promote your healthcare business and offer many convenient services. The following points highlight the key benefits of choosing healthcare web development to develop a cutting-edge hospital website:
Ensure 24/7 Availability
With a website, patients can access your services irrespective of business hours. However, a physical medical business has boundation based on the opening and closing hours. A website is available at any point in time also any place. Thus, a website for hospitals allows patients to get information and access your healthcare services whenever they want. Your website will be useful in providing quality services and will be available anytime. It provides convenience as they can gain necessary insights in the comfort of their place.
Build Credibility
In today's digital era, patients expect reputed hospitals to have an effective online presence. They want to get information about their health-related problems in a convenient way. Patients looking for health-related information can use websites to fetch such details. It provides ease of obtaining the required information and services. Fast and easy services will build your business's credibility and reputation. Hence, you can leverage a website to offer the best quality services to your customers and earn their trust. 
Extend Your Reach
The best thing about a healthcare website is its ability to expand your business outreach. It is beneficial to reach patients beyond the current location where you operate. A website for a healthcare business can allow patients from other locations to access your services even in other parts of the world. This is a solid reason why you should choose a website for your healthcare business. You can have a broader and more diverse customer base with a full-fledged website. 
Enhanced Customer Experience
Earlier, when the websites were unavailable, people had to wait long hours to book their appointment by queuing with others. Once they booked their slot, they had to wait for their number to turn up for the check-up. The entire process was quite exhausting and time taking. But, with a healthcare website, the burden is reduced, and patients can access your services conveniently. A website is a far more convenient way to access your services than visiting a hospital physically. Hence, investing in medical web development can benefit your business with enhanced customer experience. 
Get Useful Insights 
A website can provide useful insights about your business and patients. The website allows you to visualize patient details, preferences, ailments, and other things. You will also be able to explore the type of treatments people are searching for online. This will aid you in adding that treatment to your service offerings. Moreover, with all the insights you will get from the website, you can build a feasible strategy for the growth of your healthcare organization. 
How to Build a Healthcare Website?
Creating a medical website can be easy if you know the required steps. The following are the steps you need to create a website for healthcare services.
Define your Needs
Firstly, you need to define the kind of solution you envision. You need to find out which type of web development solution you wish to create. You might want to create a web application, a corporate website, or an eCommerce store for your business. 
Based on this, you can choose healthcare web app development or build a custom website entailing the necessary features for your business. You can develop the right website after knowing your requirements, like functionalities. 
Your needs and requirements also impact the cost of developing a website. 
Tech Stack for Healthcare Web Development
Now that you have understood the significance of a website, you would like to know which technologies can be used for healthcare website development. There are many platforms and technologies used for developing a website for healthcare services. The following is the list of top website development platforms you can pick for creating your site. 
WordPress 
Drupal
PHP
Python
Shopify
Magento
PrestaShop
You can use any of these platforms to create any type of website based on your requirements. Many of these platforms are free and open, and some are paid. Depending on which one fits your needs, you can choose any to build a robust website. You can hire web healthcare web developers to develop the site.  
Ensure HIPAA Compliance
HIPAA compliance is important for healthcare websites as it defines the requirements for storing, managing, and transmitting information. It offers rules for website security, privacy, and breach notification. 
You can rely on a good healthcare website development agency to create your website according to various rules and compliances. The development partner can help create a website with HIPAA compliance by creating a secure and reliable hospital website. 
Choose the Right Development Team
Your development team is crucial to develop a robust website. You can outsource your project or hire a remote development team to create your healthcare website. Hiring a remote team or outsourcing your project can help you save a lot of time. 
Here are a few points you should consider to choose the right development team:
Create a list of healthcare website developers that meet your needs and compare them. 
Check their expertise and knowledge in creating healthcare websites. 
Go through reviews to verify their work and quality of services. 
Discuss project requirements, timeline, and budget to find the best match. 
How Much Does Healthcare Website Development Cost?
The cost of developing a healthcare website or web application can be between $5,000 – $10,000 or more, depending on your requirements and project complexity. There are numerous factors that influence the cost to build a medical website. 
You can refer to the complete guide on how much it costs to develop a website for a clear picture of the cost with a complete breakdown. The cost mainly depends on the type and scale of the site. For example, a basic corporate website will cost lower than a complex one. Similarly, the cost differs in the case of small, medium, and large businesses. 
Do You Want to Develop a Healthcare Website?
Choosing the right technology partner is crucial for web application development or building a feature-rich website. You need to focus on several things when choosing a development partner, such as cost and requirements. However, the cost of a healthcare website depends on the functionality, technical requirements, terms, and goals. 
You can rely on CSSChopper to develop your medical website. We are a well-established web development company with experienced and talented developers. Our expertise is in web, eCommerce, back-end, and front-end development. 
Our developers have experience in developing websites for a wide range of clients and industries. You can contact us to discuss your project and get an estimation of the cost. 
Final Thoughts
Digitalization is becoming an important part of every industry, and the healthcare sector is also adopting this transition rapidly. If you are operating in this domain, creating a website is crucial to your existence and growth. You can compete with others and provide services more effectively with a website. 
If you don't have an online presence, you are as good as nonexistent. Create your website to extend the reach of your organization, increase customers, offer an easy way to access your services, and more. There are many advantages that you can get with a website and take a step towards modernization.