Today, startups and enterprises are going through digital transformations by adopting varied technical solutions for their businesses. It means they are embracing the concept of online visibility to provide greater customer experience and catch up on all benefits of the revolution in digital technology. The increasing need for more sophisticated and advanced solutions is also raising the bar for web developers and experts.
With companies getting more specialized, having a team of in-house web developers isn't always feasible or practical. Therefore, many companies look elsewhere to complete major web development projects. Indeed, 59% of businesses find a dedicated development team as a cost-efficient solution for creating websites. Here are some key benefits that businesses derive by hiring remote development teams.
Get Expertise and Experience
One key reason for choosing a web development company overseas is the distinct opportunities it offers. By choosing such a company, you get access to a great level of experience and expertise. According to the requirements of your project, you can find out a custom website development company that has the right expertise, specializing in your industry, as well as have experience in developing products similar to yours. You can view its past performance based on customer reviews, previous solutions that are created, and the kind of skills it acquires, before signing a project deal. Also, you can start with a small project to figure out how effectively they manage the process.
Easy Recruitment and Delegation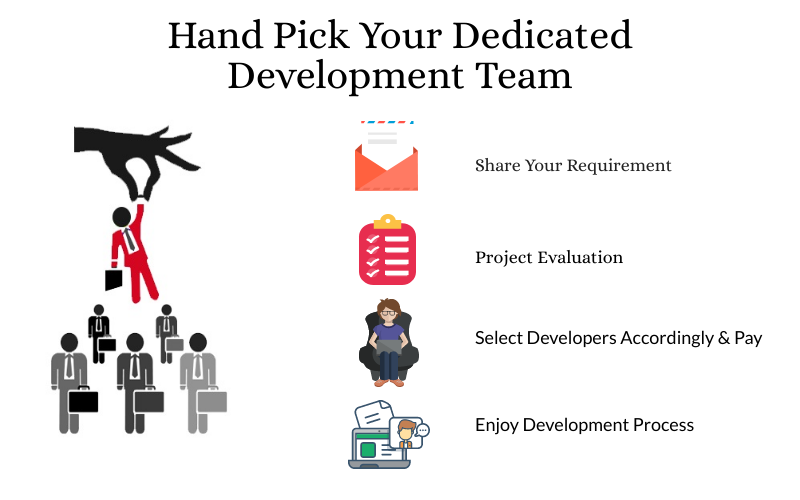 An excellent benefit that you avail of hiring any offshore developer is the ability of easy recruitment and delegation of work. Also, as opposed to an internal team, your pool of offshore resources isn't limited to the standard working hours. With the ever-expanding global market, you can find a remote website development team that meets all your criteria. You can hire WordPress developers,  PHP developers, front-end developers, and experts with any other skill set as required by your project.
One of the most significant advantages of extending your in-house team or hiring a custom website development team comes in terms of reduced costs. It helps you save costs that otherwise would be spent on salaries and infrastructural facilities. An offshore web development company has a team along with excellent infrastructure and hardware already in place. You make further savings by not giving any training or making anyone acquainted with your company and processes.
One more cost-saving benefit of an offshore development team is the location-based costing. Hiring a mid-size developer outside the USA will cost only a fraction of the price of hiring the team in the domestic market while giving the same level of experience.
Also read Why is Hiring a Web Developer The Best Choice For Businesses?
As technologies are getting more advanced and new concepts and methodologies in website development are being introduced for better and efficient processes, offshore companies are also adapting their processes to catch up with the fast-paced technological changes. They are setting themselves to be agile and quick while ensuring the quality of their services at its best. They are striving to evolve accordingly to meet their customers' exact goals and needs in stipulated time frames. You can hire web developer on remote to quickly scale up or down your team based on the project requirements and launch date.
Sharing of Risk and Responsibility
Risk management is critical for any project undertaking. And, the benefit of hiring web developers remotely is that you share the responsibility and risk with a third-party. Unlike the traditional clients/seller pattern, in this relationship, the project's success is not solely on your shoulders. All the offshore web development companies working around are always aiming to make your project successful that is reflected in their work. Clear and proper communication from the beginning between both parties is key to the success of a project.
Focus on Business Instead of Details
These days, you don't need to be a full-fledged custom website development firm to get a customized website. You can get anything, be it a custom WordPress website or an eCommerce solution with the help of hiring web developers from an offshore company. As a result, you spend a little time on technical aspects that you may not be aware of and simply focus on your core business objectives.
Build your Dedicated Team Now!
Contact Us
Scale your Team Accordingly
Your company may not always need the same amount of resources, it all depends on the project requirement. Thus, considering the project need, hiring a complete in-house website development team may not be sensible. For instance, if your company has 10 or 11 employees, but you need to redesign a website completely, so you don't have enough time, resources, and man-power to handle that scale of projects. Another case might be when you have a large number of employees say 500 but need some assistance in accomplishing a small project which is beyond your company's expertise. A perfect solution for both these scenarios would be to hire web developer. Irrespective of your project scale or team size, staff augmentation, your offshore development partner gives you just the right opportunities.
Also Read: Reasons To Hire Reputed Web Development Company For Business Site
Access to the Easy Support
Many companies hesitate to pick any offshore web developers because they are often skeptical about communication with a team in a different time zone. Companies providing offshore teams for custom web development are adopting SLA (service level agreements) to ensure clients' satisfaction and work on 24/7 support plans. These companies can be accessed to get quick support at any point in time from any part of the world due to 24/7 support services.
Wrapping Up
Hiring a dedicated development team is becoming very popular and making it possible for clients to easily hire talented and experienced web professionals for a myriad of projects. Now businesses have started recognizing the benefits of hiring offshore developers and have begun partnering with varied companies to scale up their in-house strength.
CSSChopper also understands the value of a true relationship and we offer our highly experienced and astute developers for hire to help you out in your projects. We have successfully catered to varied customers around the world and our professional developers have helped lots of businesses in their growth.