Starting and growing an e-commerce business is a challenging feat. It can be difficult, especially when reaching new customers and increasing sales.
The day-to-day operations can quickly become overwhelming, from managing product inventory to handling shipping and payment processes. But what if we told you there's a solution to take care of these obstacles and take your business to new heights?
That solution is Magento. Well, you've heard it right!
It is a leading eCommerce platform that provides businesses the powerful features to help them achieve their goals. With this, a business can streamline its operations, reach new customers, and increase sales.
And the best part?
Magento can be tailored to meet the specific needs of your business. This makes it an ideal solution for businesses of all sizes.
To fully harness Magento's potential, you need a professional's assistance. A Magento development company has the knowledge and experience to turn your vision into a reality. Whether you're building a new online store or optimizing your existing one, it can help you achieve your goals and take your business to new heights.
Stay tuned to the blog; we'll explore why Magento is the best choice for eCommerce development. Also, on the fact that how it can help you scale your business. But before that, let's look at the essential features of a successful eCommerce website.
Features of a Successful eCommerce Website
Generally speaking, customers want a seamless user experience when they are hovering over an eCommerce website. A minor bug/ fault can increase your website's bounce rate. So, you've to take care of some of the essential features which also work as a reason behind the success of an eCommerce website. These are:
1. Easy Signup Process
Users need to be registered for a smooth shopping experience and access advanced features on the eCommerce website. A successful online store offers an easy signup process. It can be done via email, mobile number, or social media logins.
2. Easy-to-Use Navigation
A successful business always pays attention to a user-friendly navigation system. Easy-to-use menus on the website's navigation are also helpful in retaining a customer. It includes
A simple, straightforward, and high-quality homepage.
It contains a search bar.
Listed category pages on the website.
3. Products Catalogues
Your website has information but without products. Doesn't it sound awkward? A website that offers an information-rich product catalog is driving conversions. It includes description, price, available quantity, images, etc. These are used to influence customer behavior.
4. Easy Checkout Process
Businesses that look forward to captivating growth in this industry understand the concept of cart abandonment. They use their best practices to optimize their checkout process and retain customers.
5. Secured Payment Options
A credible eCommerce store always pays attention to using secured payment methods such as PayPal, Stripe, etc. With various payment gateways, store owners enable worldwide customers to make purchases. It enhances the user experience and the conversion rate of an eCommerce website.
6. Advanced Search Option
Not just a regular search, where all the matter related to a keyword comes when requested. Users can search according to their preferences by adding required filters. This process saves their time and lets them access the products they have searched for. Companies like Amazon, Flipkart, etc., effectively use this feature in their eCommerce website to refine their user's search.
7. Live Chat
A business can answer the queries of customers in real time, which in turn helps increase sales. This feature allows users to interact with the support team. It replaces the traditional time-taking methods of registering complaints.
How is Magento Helpful in Elevating Your Business's Growth?
Head-to-Head, we've covered the must-have features of an eCommerce website. But, without a platform, how is it possible for you to captivate this growth? Among various platforms, Magento comes in handy here. You can embrace the power of Magento and watch your business grow!
Let's understand how?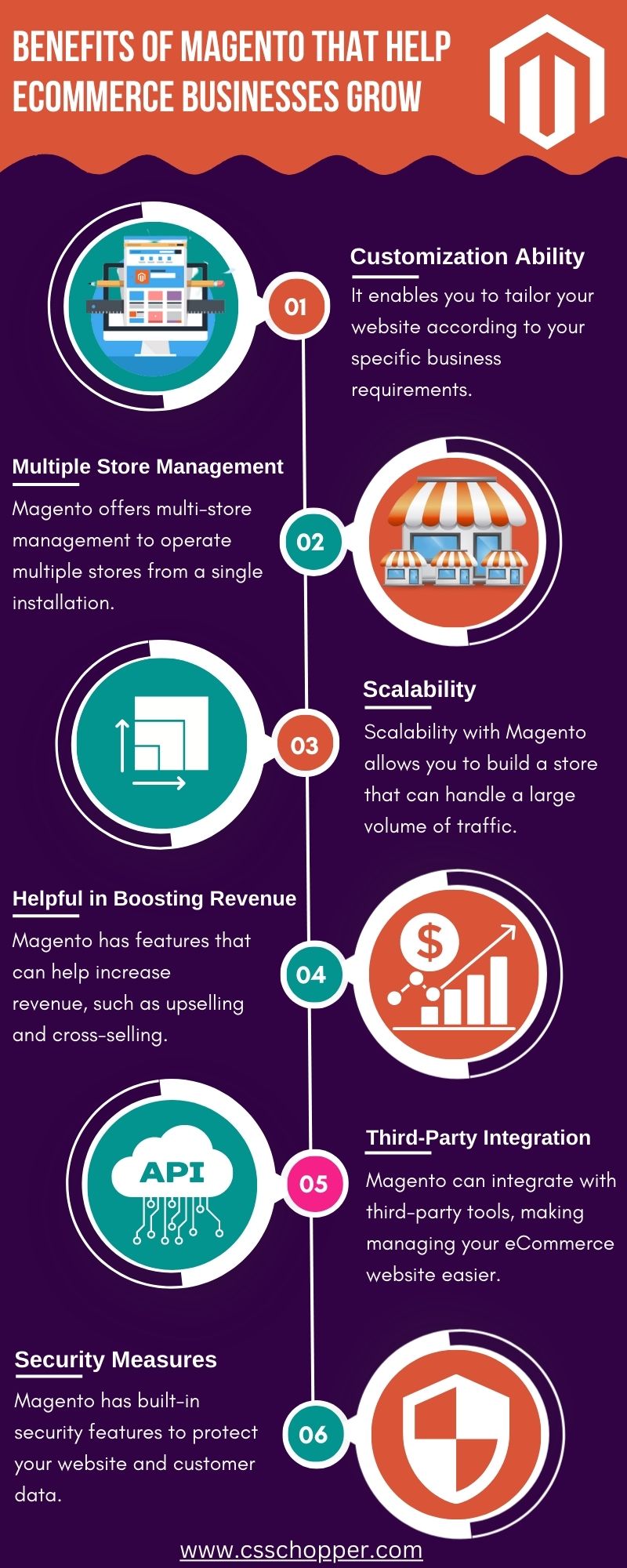 1. Customization Ability
Isn't it frustrating to work on a platform that puts your brands into a pigeonhole? This can only decrease your business's potential to reach newer heights.
Being an entrepreneur, you should understand that the one-size fits all concept doesn't work well in businesses. The urge for an eCommerce platform comes in, which can be customized to meet your business's goals. This is where Magento is helpful.
It offers a high customization ability, enabling businesses to tailor their website to their specific requirements. Also, with the help of the Magento Website development company, you can change the look and feel of your online store.
2. Multiple store management
With Magento, businesses can manage multiple online stores from a single backend. It can be helpful for them to sell products across different countries or regions. This saves time and effort, as they can manage all their stores from one central location. It dilutes the pressure log-in and operates each store separately.
3. Can Handle Extensive Traffic
Being a robust content management system, Magento can handle extensive website traffic without slowing down its performance. The reason behind this is its architecture to manage a large amount of load.
This makes it ideal for businesses that experience seasonal spikes or expect to grow rapidly. It uses caching techniques, load balancing, and other performance optimization strategies to ensure that the site stays fast and responsive, even when handling thousands of products and orders.
4. Helpful in Boosting Revenue
With a wide array of tools, it also includes tools such as upsell and cross-sell that can be used to drive sales and increase revenue.
Magento provides businesses with tools and features that make it easy to put in place upsells and cross-sells on their online store. For example, they can use product recommendations, related products, and "customers who bought this also bought" sections to suggest complementary items to customers. They can also use product bundles, which allow customers to buy many products at a discounted price, to encourage upsells.
5. Seamless Integration
Till now, we've cleared the robust features of this platform. But what about adding functionality to your website and making it more appealing?
Being a feature-rich eCommerce platform, Magento allows seamless third-party integrations. From payments to shipping options, it provides a gamut of available integrations.
For example, with various payment options, users will likely buy through their preferred option. This will reduce the bounce rate in your store.
Also, keeping up with the latest Magento trends can help enhance a website's functionality.
6. Secured Platform
You are not missing out on users when you are providing safe and secure surfing to them. Magento is one of the highly secured eCommerce platforms. This has in-built security tools and methods that make it one of the secure platforms.
Further, you can enhance its security by deploying advanced security measures. These measures are handy, and with the help of Magento Development Agency, you can secure a user's sensitive information. These are:
Two-Factor Authentication (2FA)
Magento offers Two-Factor Authentication to add an extra layer of security to the login process.
Magento requires users to choose strong passwords and provides an option for password resetting and recovery.
Magento regularly releases security patches to fix the platform's vulnerabilities. It is vital to keep your Magento installation up-to-date with these patches.
Magento provides options for securing the database, such as limiting access to specific IP addresses and using strong passwords.
It is essential to keep these security methods updated and implemented to maintain the security of your website over Magento.
The power of online stores in business success
Okay! So, we've understood the features of Magento. Now let's know how they are helpful in the success of your business.
Magento eCommerce development allows businesses to create a unique and personalized shopping experience. It can help increase brand recognition, customer loyalty, and conversion rates.
Also, it can handle a business's growth and maintain the online store's stability during peak periods.
Additionally, it allows managing many online stores from a single back end. It helps streamline operations and reduce administrative costs.
Moreover, the platform's seamless integration and advanced security measures ensure a smooth and secure shopping experience.
Let's Wrap Up This
A Magento website can be valuable for any eCommerce business looking to grow.
Magento offers comprehensive solutions from customizability to seamless integrations with advanced security measures.
A robust eCommerce presence is crucial for success in today's competitive online marketplace. You can make a Magento website that can be the foundation for your business to achieve this goal.
If you want to take your eCommerce business to the next level, consider working with a Magento web development company. The company will build a website that meets your needs and helps you achieve your business goals.