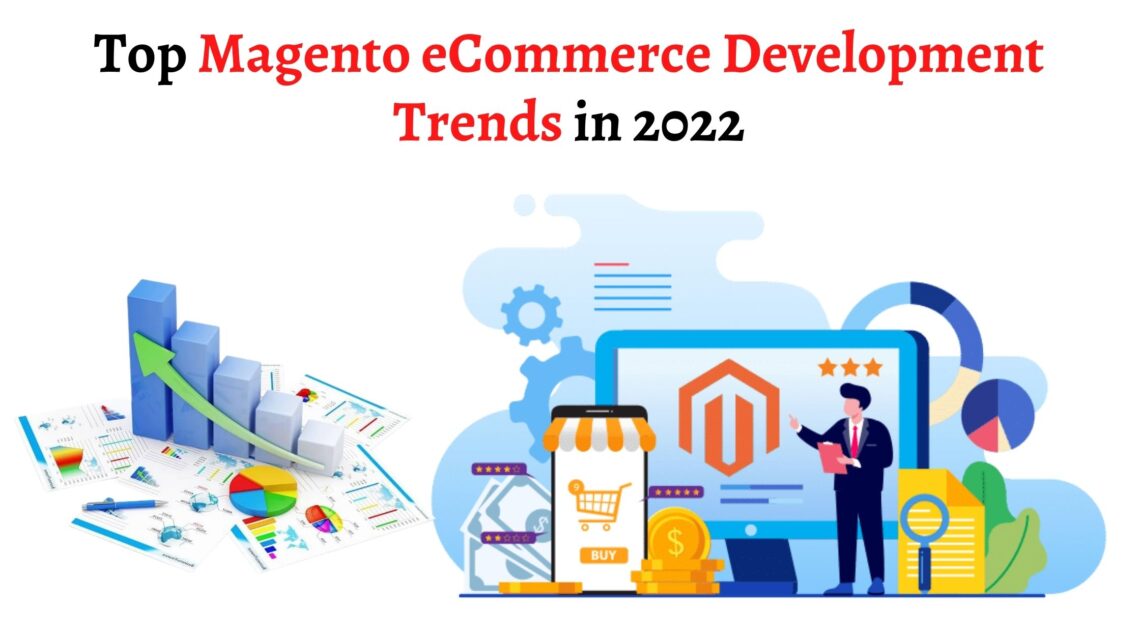 5
mins read
Over the years, eCommerce development has been on the rise due to its immense benefits. Indeed, a record number of retailers have switched to eCommerce stores in the past few years. Moreover, if you want to develop an eCommerce website, then Magento is a good choice to build your online store. Magento is an eminent eCommerce platform that helps create highly interactive and feature-rich eCommerce websites. 
Many developers and entrepreneurs prefer Magento web development to create their enterprise eCommerce websites. Rising trends in eCommerce development show us the importance of online businesses as they adapt to new changes to make their services more attractive and user-friendly. You can implement the top Magento eCommerce development trends 2022 to create a robust online store with excellent functionalities to meet modern-day customer needs.  
You can also explore: Why should every eCommerce business choose Magento?
Here are the Top Magento Development Trends 2022: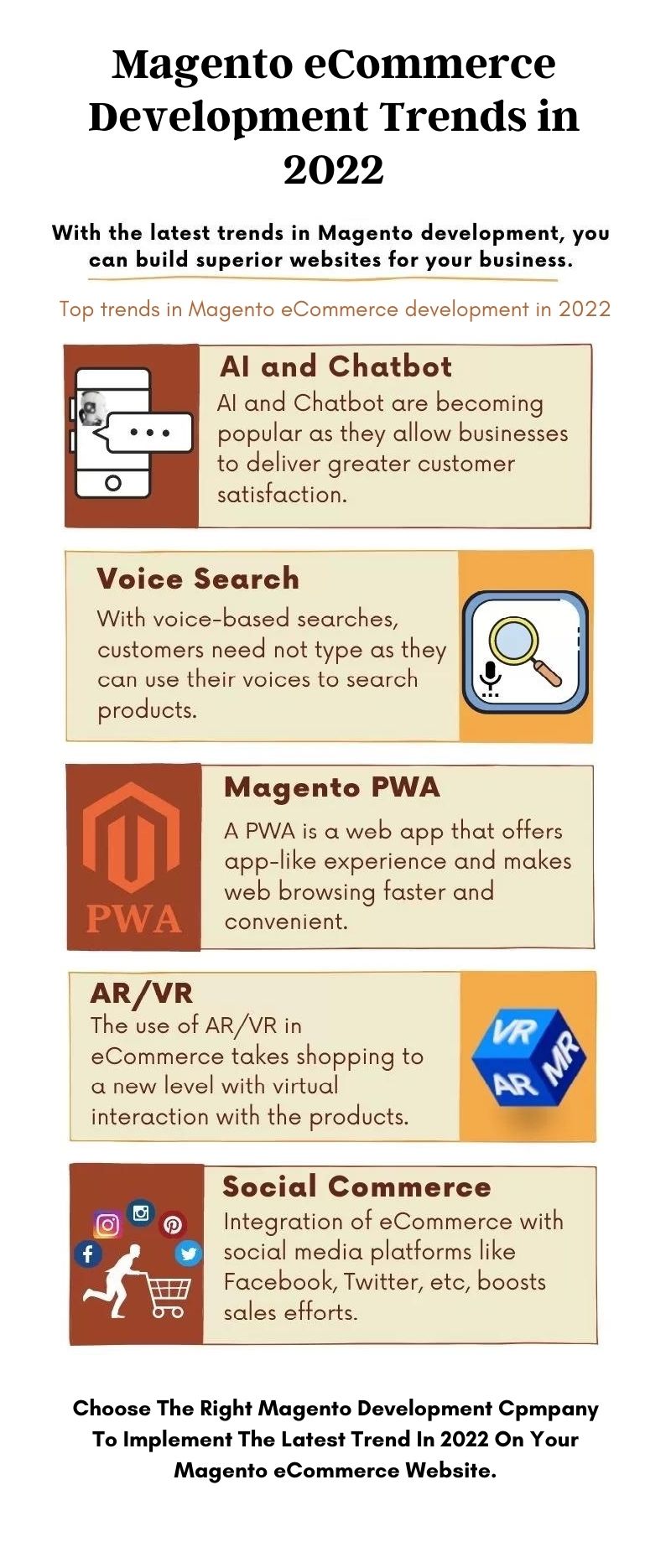 Voice Search Optimization
With the rising craze of voice assistants like Alexa, Siri, and Google Assistant, voice-based searches have become a trend among online users. Indeed, these voice-based devices have become useful for pretty much everything from getting weather information to shopping. Voice search features allow users to provide queries through voice commands, and then the voice-enabled devices offer relevant results by processing the commands. It is estimated that almost 50% of online shopping will be done through voice search by 2022. 
Voice search is becoming popular because it is quick, convenient, and accessible. There is a huge opportunity ahead with voice search, and businesses will get numerous benefits from it. By 2022, voice search will be a significant trend in eCommerce development. You can utilize voice search optimization for your online store to derive immense benefits now and beyond.
AR/VR 
The use of AR (Augmented Reality) and VR (Virtual Reality) has spread across multiple fields. AR/VR has also become significant in eCommerce and changed the way people shop online. AR/VR helps online buyers to test different products virtually or take a virtual tour to check their placements, positions, or fixations. For instance, buyers can take a virtual tour of a table to see how it will appear in different locations. The buyers can pick the right table based on their viewing of different tables at a certain location or position. 
AR/VR are revolutionary technologies in web development, and if you use them in your Magento eCommerce store, you can provide a greater customer experience. Your online store will have the ability to offer a virtual tour of the products or visualize the products virtually. Especially for clothing stores, this is a beneficial technology because buyers can check shirts or other clothing virtually before making a purchase. 
AI & Chatbots
The use of chatbots is another great eCommerce trend that is here to stay long in the future. It has attracted many around the world due to the fact how it makes life easier for them. For online businesses, chatbots are the best alternative to traditional time-taking customer service mechanisms. For the eCommerce industry, this trend is not new, but with the integration of AI (Artificial Intelligence), chatbots are now being used more proficiently to assist and support customers or buyers whenever technical issues arise or need to resolve their queries.  
This is one of the top Magento eCommerce development trends that will go beyond 2022. AI-enabled chatbots can replace human customer support representatives because of their abilities to handle customers like humans. They utilize AI to recognize customer queries and learn their behavior to provide appropriate and relevant information. 
Social Selling
Social networking platforms like Facebook, Twitter, LinkedIn, etc have emerged as the most popular platforms for marketing. Hence, social selling is now a massive trend in the field of eCommerce that businesses are utilizing to enhance sales and increase profits. There is a large number of people who own social media accounts, and they can spread the word about your products or services through social media that make it a potential tool for sales. It helps in quick sales, and you can utilize social media on your site to benefit from this trend. 
You can create campaigns for promoting your business through social media. Also, you can add social media buttons to your website to allow buyers to share products or services with others from your site. The integration of social media platforms with your website can help to boost sales and bring more customers to your website. Social media integration is one of the key considerations for Magento web development when creating an eCommerce website. 
Push Notifications
Push notifications are another popular Magento eCommerce development trend that online businesses use to send notifications regarding their services, offers, and deals. With push notifications, online businesses enhance engagement with customers and create awareness. You can hire Magento developer to implement the push notification functionality and harness it for engaging your customers with regular messages. You can also use pop-ups on your site for the same purpose. The exit-intent pop-up is a good way for customer engagement. Push notifications and pop-ups are great methods to increase the customer base. 
Push notifications provide you a way to inform about special offers and send other messages to engage your audience. These notifications not only help in informing customers about discounts, offers, deals, and new products, but they also help in building a solid relationship with them.   
Magento PWA
The Progressive Web App or PWA is an evolving concept that is expected to bring a radical shift in website development. PWAs make websites more interactive and user-friendly with an app-like interface. Indeed, the concept of PWA enables developers to transform websites into web applications that load on every device and allow users to access a website more conveniently. A PWA looks and feels like a native mobile or desktop app because it comes with common functionalities found in every mobile or desktop app. So, a PWA can be installed, launched, and interacted with just like their native counterparts. 
Progressive Web Apps take website experiences to a new level. You can rely on the Magento web development service to build a robust PWA for your business. PWA development is an emerging trend, and it will be a top Magento development trend in 2022 as well. PWA development offers Magento eCommerce store owners a faster, easier, lightweight, and highly accessible alternative to their eCommerce websites.     
Final Thought!
Magento is an excellent eCommerce platform with lots of features and benefits. If you are willing to create an eCommerce website, then Magento is a perfect choice for developing your website according to your needs and requirements. Indeed, you can build an out-of-the-box website for your business by using this platform. Magento is a flexible and feature-rich platform to build a website. 
Having the latest functionalities and features is an advantage for any eCommerce website today. If you are considering developing an eCommerce store, then adopting the latest functionalities is a bonus. You need to check the top Magento eCommerce development trends 2022. Choose the right Magento web development company to create a perfect website for your business.