Online retail space is very competitive as it has flourished out of bounds. And it will be more pervasive by 2023 due to a sharp increase in the eCommerce business. As per Statista, retail eCommerce sales worldwide are projected to reach 31.7 trillion U.S. dollars by 2025. Entrepreneurs are investing wholeheartedly around the world in eCommerce development as it yields higher returns on investment.
Moreover, developing an eCommerce website is the real challenge, as an entrepreneur has to choose from various platforms to create the desired website. Choosing the right eCommerce platform is vital to building the best quality eCommerce websites. But, the availability of a plethora of these platforms makes this task considerably difficult.
So, here we have come up with a few things that you should look for in an eCommerce platform to choose the right one for your eCommerce web development project.
Tips on to Choose the Right eCommerce Platform for Your Project
Although there are many eCommerce platforms to choose from, only a few of them can be considered the best for developing online stores. Nevertheless, there is no hard-and-fast rule to decide which platform is best and which one is not.
We are providing some tips here to help you find a suitable eCommerce platform that you can choose for your eCommerce development project.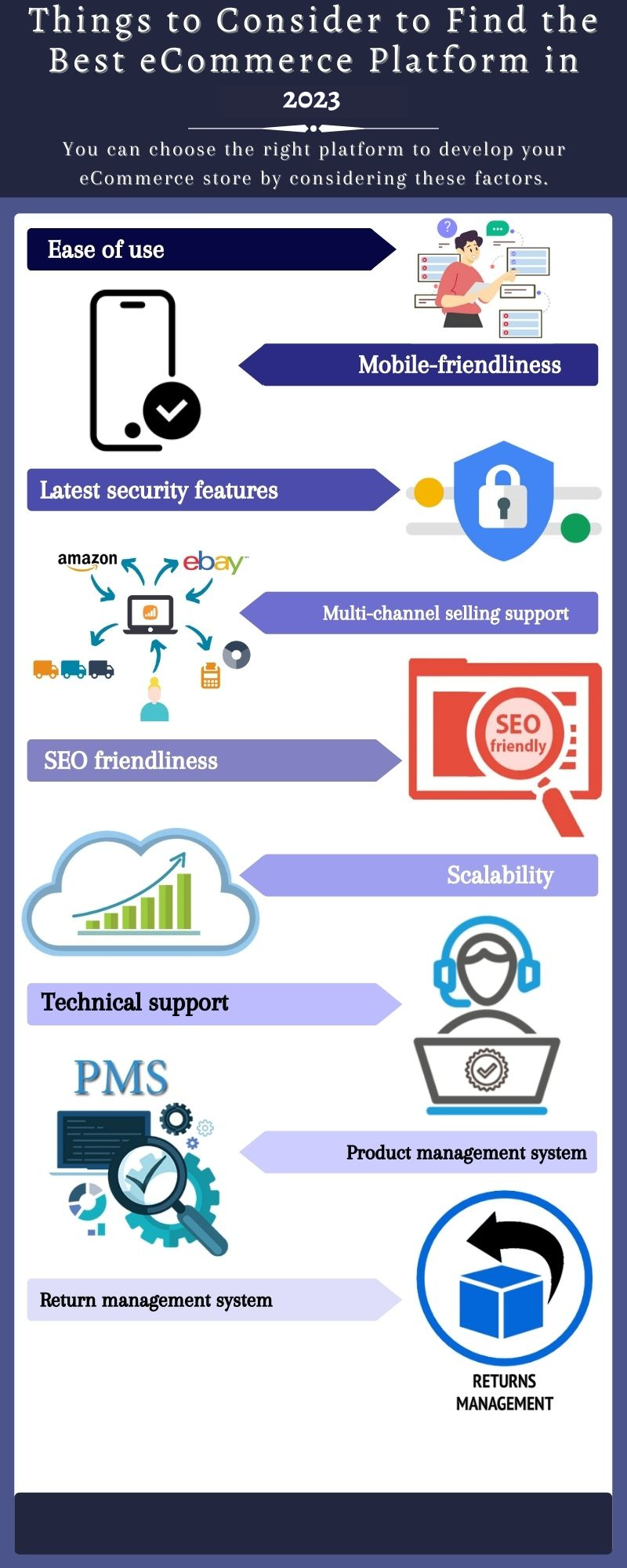 1. Easy Store Setup
Start your search for the perfect eCommerce platform by looking at the ease of setting up an online store. You might be a person with or without technical knowledge. If you lack technical knowledge, you would like to choose an eCommerce development platform that does not require a complex and highly technical installation process.
Even if you dabble in web development, having an easy eCommerce platform would always be your first choice because it saves time and effort. Thus, you can start by looking for an easy-to-use eCommerce platform.
2. Suitable for Multi-Channel Sellers
There are possibilities that you may find your audience on various platforms, such as social media channels. Thus, to capture that market and increase your business sales, you need an eCommerce platform that allows you to sell via multiple channels.
Selling on multiple channels, such as online marketplaces like Amazon, eBay, as well as your own store and social media channels, is an excellent way to maximize sales volume. Having an eCommerce platform that supports multi-channel selling lets you collect all those different sales channels in one spot.
3. Upgraded Security Features
Online stores are a big target for hackers who often steal sensitive information like credit/debit card details, user ids, passwords, etc. Thus, website security is a significant concern that you should consider when choosing an eCommerce platform.
Many eCommerce platforms offer in-built security features, while others come with top-of-the-line safety features that enable you to develop highly secure eCommerce websites. Look for an eCommerce platform that supports HTTPS and other advanced security features and complies with PCI-DSS to build impregnable websites.
4. Product Management System
A product management system is designed to allow the admin of an eCommerce website to upload products and manage product listings. You may need more than that, and you will require some advancements for this. You need an efficient and better product management system to ensure smooth updating and management of your products.
Here are some features that an eCommerce platform should offer with a product management system
Upload products in bulk through Excel files and CSV
Upload high-quality products images in bulk
Dynamic catalog filters such as color, location, size, sorting, price range, specifications, etc
Create different categories and categorize products accordingly
Multiple shipping options for distinct products
Advanced lists like a wish list, recently viewed, product comparison
Mobile-Friendly Platform
As per a report, approximately half of the web traffic worldwide comes from mobile devices, which tells how important mobile devices are in the world today. Indeed, mobile devices have overtaken desktops in terms of usage as more and more people use mobiles for online searches. You cannot ignore this fact, so you must create a mobile responsive website to offer an optimal user experience on different devices.
It has become essential to have a responsive eCommerce website these days. By choosing a mobile-friendly eCommerce platform, you can ensure that your website is responsive. You can hire web developers to develop a mobile-responsive website.
5. SEO Friendliness
If shoppers are looking for something that your online store is offering, they should be able to find your store to buy from you. Shoppers can find your online store if it is visible on search engine results pages, primarily on the first page. This is where you count on search engine optimization or SEO for short. You will always want to have a high-ranking eCommerce website to get the most web traffic on your site.
Choosing an SEO-friendly eCommerce platform is the best way to achieve this objective as these platforms allow you to build well-optimized websites that will have a good ranking on search engine results pages. Thus, it would be best if you look for an SEO-friendly platform for eCommerce development.
Look for a platform that offers basic SEO features like:
Updating meta descriptions and meta tags
Adding descriptions and captions in images
Adding a custom domain name
Adding canonical tags wherever required
Adding pagination in product search results
Updating the XML sitemap
Access to the robot.txt file
Conversion into SEO friendly URL structure
Google analytics integration
6. Scalable Platform
Scalability is an essential factor when it comes to choosing an eCommerce platform. In the future, you may plan to expand your business, and if the platform you have chosen for your eCommerce development project does not support scalability, you might have a hard time scaling up your site. Thus, you must look for an eCommerce platform that can allow you to scale up your website, considering your business needs in the future.
7. Tech Support
This might seem a trivial thing to many entrepreneurs, but tech support can come out to be an essential thing in the long run. Websites are subject to regular maintenance and overhauling due to technological progress, business changes, new trends, etc. All in all, technical glitches may occur on your website that only an expert can resolve. Hence, it would help if you look for an eCommerce platform that offers reliable tech support readily available when you need it.
Besides this, many eCommerce platforms also have huge community support that serves as a robust means of resolving issues and finding solutions when you're stuck somewhere in the platform's functionality. This kind of platform will make your eCommerce web development project go smoothly and stress-free.
8. Return Management System
Managing product returns is another crucial feature that allows you to take care of the return policy of your online store. You shouldn't ignore this aspect if you want happy customers who believe in your eCommerce website.
Typical return management features include:
Place a return request
Print return address slips
Auto-process the approved product exchanges
Print return invoice
Auto-refund approved returns
Create the return type like product exchange, product return, partial refund, etc
Set return rules like return charges, products eligible for returns, return date, etc
9. Do a Research on Popular Platforms
There are many top eCommerce platforms today, like Magento, Shopify, PrestaShop, and WooCommerce. To choose the right platform, you need to list the various merits and demerits of these top platforms to determine which might best fit your needs.
By doing proper research on different platforms that you have on your list of possible choices, you can figure out which one best meets your requirements. Your research can be helpful in determining which eCommerce platform is the right option for your online store.
Prior to your research, it is crucial to understand those parameters that go into your considerations before selecting an eCommerce platform. These parameters include cost, flexibility, ease of use, time to set up and launch a site, and so on.
10. Take a Free Trial
Like you test-drive a car before deciding to buy it, you can also take a trial of an eCommerce platform prior to making a final choice. Indeed, free trials can help you determine the feasibility of an eCommerce platform for your business.
While in the case of a free platform, you don't need such a step, it is relevant if you are considering investing in a premium platform to build your eCommerce store. A free trial gives you the opportunity to test various features and functionalities of an eCommerce store before committing to a subscription.
Taking a quick experience with the platform will help you determine if it fits your requirements by figuring out if it is suitable for a specific product and your workflow. You can also compare different platforms by taking advantage of free trials. All in all, it is helpful to make an informed decision about which eCommerce platform to choose for your project.
Top eCommerce Platforms in 2023
Let's check the top eCommerce platforms in 2023 that you can pick for creating any eCommerce website. Also, the detailed overview of the best technologies for eCommerce web development can help you select the most suitable option for your eCommerce project.
Magento
Magento, which has now become Adobe Commerce, is one of the top eCommerce platforms with amazing features. It is widely used for developing advanced eCommerce websites because it offers customizable themes, modules and extensions, and more that help in creating complex eCommerce websites. It lets you build flexible, scalable, and multilingual eCommerce websites.
Pros of Magento for eCommerce
Magento is highly scalable that accommodates the needs of small and large businesses. It can handle a large volume of customers, orders, and products.
It offers a wide array of customization possibilities, whether using extensions for functionality or creating a custom theme from scratch for appearance.
With Magento's multistore functionality, you can run multiple stores from a single installation of Magento.
It has a strong community that helps in Magento's growth and provides valuable resources that you can use when in need of help.
Cons of Magento for eCommerce
Magento is relatively complex, and setting up and managing eCommerce stores can be difficult if you are not tech-savvy.
Setting up and maintaining Magento can be costly due to high customization costs, and more suitable for businesses with higher resources.
Magento can be resource-intensive, resulting in lower performance than expected due to slow load time.
While there is a huge community, finding the right support when in need is not always possible.
Regular updates and patches are needed to protect against hacking attempts and vulnerabilities.
Shopify
Another feature-rich eCommerce platform is Shopify which is user-friendly and best to start an eCommerce store within a few clicks. Indeed, Shopify is an all-in-one eCommerce platform, so you don't require anything separately to start a basic eCommerce store. Also, creating a website is a straightforward process without any coding or configurations.
Pros of Shopify for eCommerce
Ease of use is the key advantage of Shopify because it's quite easy to set up and maintain an eCommerce website without any technical experience.
Shopify offers various pricing plans that are affordable for small and medium businesses, with everything available out of the box.
It provides many options for customization, including a variety of website templates and the ability to add custom code.
Shopify offers built-in SEO features that allow you to optimize your website for search engines.
Besides many built-in payment gateways, Shopify also supports the integration of third-party payment gateways.
Shopify has a myriad of eCommerce features, including order management, inventory management, product management, and customer management.
Shopify has its own app store where you can find different apps or plugins that can be integrated into your website to extend its functionality.
There is a dedicated team that provides support for resolving your issues.
Cons of Shopify for eCommerce
Creating a truly customized and unique website is tricky with Shopify because there are limitations on the layout and design side.
Your eCommerce cost can rise with additional charges that Shopify imposes on using some payment gateways.
Shopify can be an unwarranted choice for businesses with a high volume of sales and large product catalogs because it can handle a limited number of products and orders.
Businesses don't have full control of their data because hosting takes place on Shopify's servers.
Since Shopify is a proprietary eCommerce platform, businesses don't have full access to the source code of this platform.
Shopify may not provide as much flexibility as you need to build a specific eCommerce store based on your unique requirements.
There is an app store for Shopify, but there are limited apps that can leave you in the lurch when requiring specific functionality.
PrestaShop
It is an open-source eCommerce platform that allows different businesses to build and manage eCommerce stores. The platform offers a plethora of user-centric functionalities that enable any business to set up a robust eCommerce store. This platform is easy to use and suitable for well-customized eCommerce websites.
PrestaShop offers a wide range of features and functionalities, including order management, inventory management, customer management, and product management. This platform has a great suite of tools and features to build and manage a myriad of eCommerce sites.
Pros of PrestaShop for eCommerce
As a highly scalable eCommerce platform, PrestaShop is a platform that can accommodate the needs of all kinds of businesses, whether small or big.
PrestaShop offers various customization options, whether in terms of functionality or appearance.
PrestaShop offers built-in SEO features that can help in optimizing your website for search engines.
There is a multistore capability with PrestaShop that allows you to operate multiple stores from a single installation.
A host of different extensions and modules help in developing robust eCommerce websites with functionalities that aren't available with the basic PrestaShop platform.
There is a strong community that contributes to tha platform's growth and offers help for various
problems related to the PrestaShop platform.
As an open-source and free eCommerce platform, PrestaShop is cost-effective.
Cons of PrestaShop for eCommerce
PrestaShop is a bit complex, making it difficult for businesses with nominal technical skills to set up and manage eCommerce websites.
PrestaShop has limited options for website templates making it difficult to create a visually appealing and unique website.
There is a significant community of PrestaShop developers but finding the right support isn't always easy to find.
It can be resource-intensive and cannot perform well on shared hosting platforms.
PrestaShop may not provide a fully optimized eCommerce store and require additional customization and development to make it mobile-friendly.
It offers various extensions to extend website functionality, but it cannot have the same range of integration options as other eCommerce platforms.
WooCommerce
It is an eCommerce plugin for WordPress, which is open source and hence available for free. This plugin allows you to transform your WordPress website into a full-fledged eCommerce platform conveniently. It lets you create a website with diverse functionalities and features.
WooCommerce is user-friendly and easy to set up, as you just have to install a plugin on your WordPress website. It lets you easily manage inventory, products, orders, and customers from a single dashboard.
Pros of WooCommerce for eCommerce
WooCommerce is easy to use that allows store owners to manage inventory, products, customers, and orders from the WordPress admin dashboard.
There is a wide range of plugins, themes, and other features that can be used to customize websites.
It offers built-in SEO features that help in optimizing a website for search engines.
There are lots of features WooCommerce provides for easy eCommerce.
WooCommerce supports various payment gateways and allows third-party integration that helps in extending website functionalities.
There is a strong community backing the growth of WooCommerce and providing helpful content to resolve issues.
Cons of WooCommerce for eCommerce
While WooCommerce is very user-friendly, it can be a bit complex to handle for those who are not tech-savvy.
WooCommerce is scalable but can handle a limited number of products and orders.
It offers limited options for website templates, and more customization is needed to create unique websites.
It requires regular security updates and patches against hacking and vulnerabilities.
Wrapping Up!
We didn't discuss generic eCommerce features but tried to determine the essential functionalities you should expect in an eCommerce platform. You can find a combination of mentioned features that most platforms may offer, and you can test out different e-commerce platforms to judge them more accurately.
You should review different platforms more sensibly to understand which one fulfills your needs more precisely. Businesses differ in their needs and requirements; thus, you can consider a platform that best fits your website. You can also leave this task to a professional eCommerce website development company.
CSSChopper is a leading eCommerce development company that you can trust for this job. We can help you choose the right platform for your eCommerce website and create a modern, feature-rich, user-friendly online store for you.