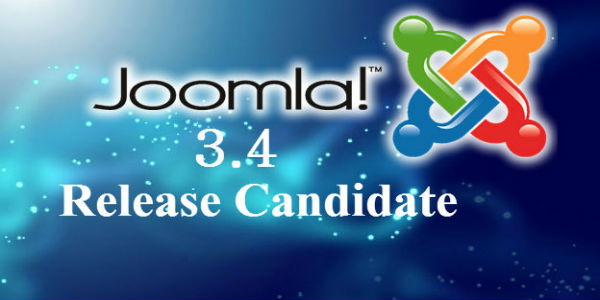 The major release of Joomla! , "Joomla 3.4 Release Candidate" has been announced. Joomla 3 is a strong release of Joomla! CMS, the 5th standard-term support release with 3.4 series. Only single click will be required to go from 3.3 to 3.4, but it is definitely not the migration. But for now, people are asked not to upgrade their production websites as it is meant for the testing purpose only.
To whom this release is intended?
The Joomla release candidate is intended to be used on the test websites. Extension developers are being motivated to work on this Joomla release to create the extensions for its stable release.
What types of bugs were fixed in Joomla 3.4?
Following bugs have been fixed in Joomla 3.4
Error when copying beez or hathor template
Corrected typo in pt-BR.
Library adapter never sets itself to update
Find complete list of fixed bugs on GitHub.
What new Joomla 3.4 Release Candidate carries?
Front-end Module Editing
Modules editing will be easier & faster in Joomla CMS 3.4. This editing will help you edit modules on the page directly without the requirement to use admin dashboard. It will simplify websites' administration as they can be edited easily.
Decoupling com_weblinks
The Production Leadership Team of Joomla is about to create lighter core. First step in this regard was taken to remove com_weblinks from core distribution. A new category for extensions will be marked as the core support before stable 3.4 Joomla release comes in picture. The websites that use weblinks those will keep functioning as normal. It means to say that weblinks are not being removed from the Joomla installation in order to maintain backwards compatibility. The installation of weblinks will be done as a normal extension.
Composer Integration
In 3.4 release, composer will be integrated into the CMS in order to manage external dependencies including, PHPMailer and Joomla Framework.
No CAPTCHA reCAPTCHA
In dec 2014, Google came with a no CAPTCHA CAPTCHA API. Joomla team updated reCAPTCHA plugin for the sake of protecting user's registration forms and login against spams. People using the old reCAPTCHA 1.0, can also use this for new version 2.0 named reCAPTCHA . Now a number of users will not have to solve CAPTCHA and with just one click, they can prove that they are not robots.
Core en-GB standardisation
Joomla's official language is en-GB and the aim is to standardise entire en-GB language string in core of the Joomla. It will maintain consistency all over Joomla. This will come with simple guidelines and framework for translation teams to make their own style guide to follow consistency in the entire project.
When will stable release come?
The expected date for 3.4 Release is 24-Feb-2015.
Thus, these are the expected reforms that can be availed once the stable release of Joomla 3.4 appears.