This is the time of digital gadgets like smartphones, tablets, and computers. People can use their computers or mobile devices to buy any product from their favorite eCommerce websites. Thanks to eCommerce websites, people in any part of the world can shop for the desired products or services conveniently.
Like many other small-scale businesses, you will also be considering investing in eCommerce website development. And why won't you? In many surveys, worldwide eCommerce sales are predicted to rise to $8.5 trillion in 2025 from $3.2 trillion in 2020. So the decision of investing in an eCommerce website brings an excellent opportunity for more income and growth for you.
Although there are dozens of eCommerce development platforms, PrestaShop is a great choice for small and medium-sized businesses. PrestaShop is an excellent eCommerce platform that provides best-in-class features for developing eCommerce websites. Here are some compelling reasons why PrestaShop development is the best option for SME's.
What is PrestaShop?
PrestaShop is an open-source eCommerce platform that was introduced in 2007. Since then it is being widely utilized to develop full-fledged online stores with top-of-the-line features. This platform was written in PHP and supports the MySQL database management system. When you choose PrestaShop development, you can either choose to set up your online store through cloud hosting or pick self-hosting.
The platform is available in 60 different international languages that offer a great scope of localization of your online store. It is rich with a wide range of add-on features and functions. You can easily find and Hire PrestaShop developer to get specialized solutions for your business.
No Cost Platform
PrestaShop is an open-source and free eCommerce platform that anyone can use for online stores without paying a single penny. Open-source means the source code can be modified, used, and adjusted according to users' needs. So, you can download this platform for free and install it on your webserver to build and run your online store. All functionalities and features that come with this eCommerce platform can be used for free and utilize for eCommerce website development. These features also help to run the website without any hassle.
Mobile-friendly Websites
The number of mobile users has surpassed desktop users worldwide, which means more people are likely to use mobile devices for browsing the internet and online shopping. Thus you need a mobile-friendly eCommerce website to get higher revenue. By choosing PrestaShop development, you get a responsive eCommerce website because it is a mobile-friendly eCommerce platform.
If you already own a website or are working in the internet space for some time, then you understand the importance of mobile optimization. Often people shop on the go which is only possible through mobile devices. PrestaShop lets you create responsive online stores that automatically adjust as per different screen sizes.
Let's Start a New Project Together!
Contact Us
A Plethora of Website Templates
How your website looks visually is another important factor in the success of an eCommerce website. Your online store not only has to be attractive but it should also be equally user-friendly to get a higher conversion rate. Hence you need to build an eCommerce website that is both attractive and easy to use to churn out maximum profits for your business.
PrestaShop allows you to change the appearance of your eCommerce website easily by using pre-built website templates. There are lots of templates to choose from that you can use to build attractive online stores. You can hire a PrestaShop developer to create a tailored eCommerce store that meets your business requirements. Hence by choosing eCommerce website development with PrestaShop, you can build appealing and robust eCommerce stores.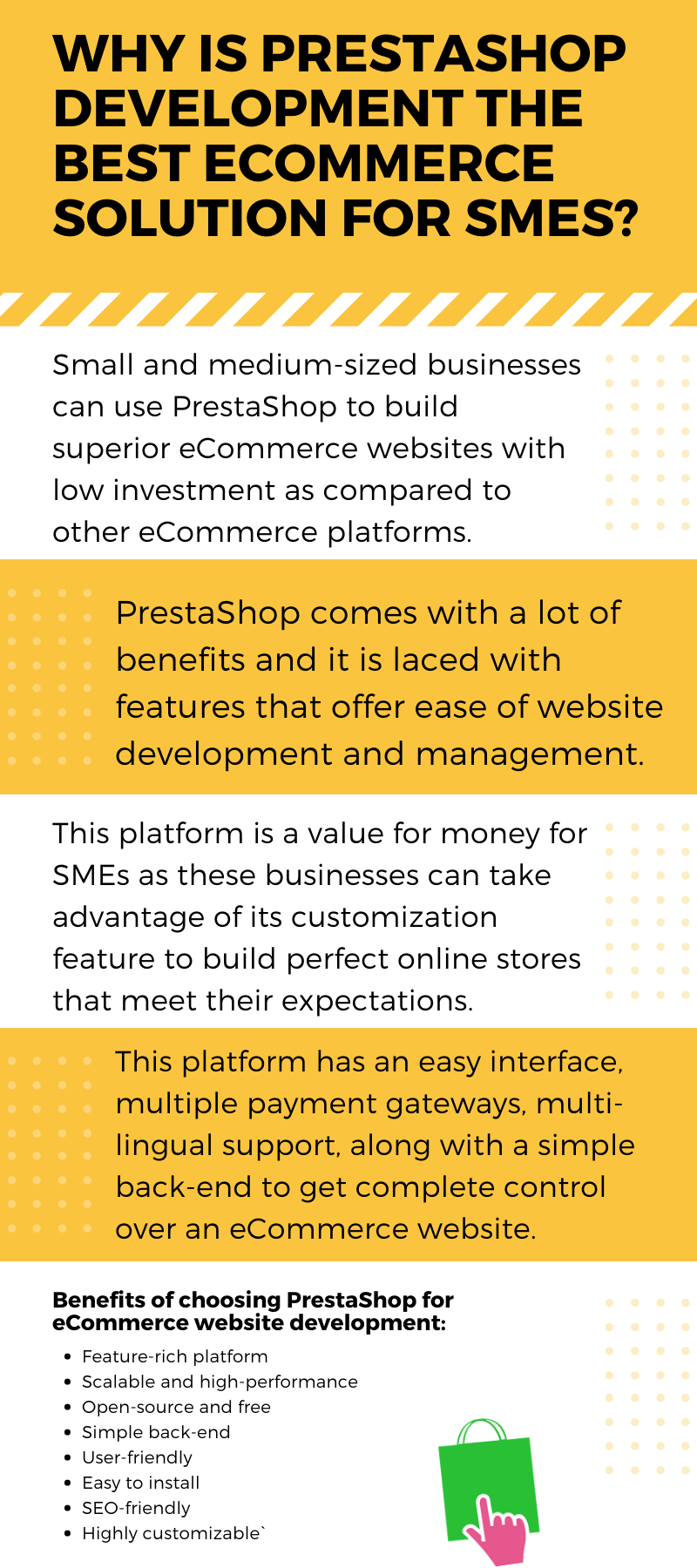 Once you have an eCommerce website, you will also have to look after website maintenance and sort out glitches by yourself. If you could get reliable support then website maintenance would become easy and hassle-free. There is huge and reliable community support for PrestaShop that enables users to get reliable support and assistance to fix issues with their eCommerce websites.
You can also hire web developer to fix issues with your online store and append additional functionalities to your store. So whenever you get into trouble with your website, you can search online for some help available from the community.
Also read Why is Hiring a Web Developer The Best Choice For Businesses?
Usability
Usability and ease of use are some of the most important factors in the success of a website. No one would like to land on a site that is hard to get through. With PrestaShop development, you can build a website that is highly user-friendly with easy functionalities. It is a user-friendly platform that enables users to easily manage and run websites. Many entrepreneurs and SME's don't have a technical background so they find anything technical to be tricky to surmount.
PrestaShop is a simple eCommerce website development platform that has easy features to build online stores. After creating an eCommerce website on PrestaShop, you can easily manage your website and perform varied functions as provided by this eCommerce platform. It is designed to be used by everyone no matter what tech skills he/she has.
Easy Customization
No technical brilliance is needed to create a customized eCommerce store with PrestaShop, you can utilize varied pre-built templates to create a tailored website easily. An advantage of choosing PrestaShop for eCommerce website development is to build customized online stores.
Being an open-source platform, PrestaShop offers a complete potential for customization, so you can build tailored eCommerce websites using this platform. You can hire PrestaShop developer and employ his/her expertise to build a highly professional and fully-customized eCommerce website that would fulfill your business objectives.
Superior Back-end
PrestaShop comes loaded with a lot of tools and features that enable users to easily run and manage their websites. It offers an excellent feature set in its back-end that simplifies website management. The dashboard at the back-end of PrestaShop is arranged to meet greater efficiency and provide ease of use to users. Several useful features are added to the back-end to provide a smooth and hassle-free way of managing websites to users.
The dashboard is quite helpful for SME's as they can manage varied aspects of their websites as well as keep a track of website activities. They don't need to hire any paid PrestaShop development service provider to manage websites they can do it by themselves.
Security
Security is a major concern for any business entity. Especially for small and medium-sized businesses that have a limited budget, choosing a secure eCommerce platform is important. Although there is no shortage of secure eCommerce platforms, PrestaShop is considered a very reliable platform in terms of security.
You can build secure websites with PrestaShop as it has many built-in security features. You can also utilize other security measures like using add-ons or plugins to further protect your website from cyber threats.
Secure Payment
For any business whether small or big, secure payment transactions on eCommerce websites are an essential need. PrestaShop is a reliable eCommerce platform for SME's when it comes to secure payments.
One of the key attractions of PrestaShop eCommerce website development is convenient and reliable payment gateways. These gateways support many popular payment options such as PayPal, Google Checkout, etc.
Being secure payment options, users of PrestaShop online stores can rest assured of the safety of their online transactions. Further, this platform supports a one-page checkout process that improves product purchases. All transactions are processed through secure SSL and HTTPS protocol.
SEO-friendly Platform
As more and more websites are getting online, competition is reaching a higher level. Hence you need a better search ranking to stay on top of your competitors. SEO is the only way to get a good ranking in search engine results pages. You can hire web developer and build an SEO-friendly website as this platform offers many in-built SEO features. Your developer can help you optimize your website for search engines that will boost the ranking of your site in the search engine results pages. Hence from the SEO point of view, PrestaShop development is the right choice for small and medium-scale businesses.
Final Note
The eCommerce industry has changed the way trade and commerce are conducted around the world and removed the barriers of cross-border business. This is the reason that eCommerce is alluring to many businesses. SME's are also investing in eCommerce website development. Moreover, choosing the right eCommerce platform is a vital decision for any small or medium-sized business. PrestaShop is a promising platform for SME's to create top-of-the-line eCommerce websites. These businesses can take advantage of this free and open-source platform to build robust online stores. A small or medium-sized business can hire PrestaShop developer to build a custom eCommerce website that fulfills all its requirements. Being a fully customizable eCommerce platform, PrestaShop gives control over how you want your website to be.