The eCommerce industry is flourishing more than ever before. As per the Statista report, in 2021, retail eCommerce was reported as 4.9 trillion U.S. dollars worldwide. It is forecasted to rise by 50 percent in the next four years, reaching about 7.4 trillion dollars by 2025.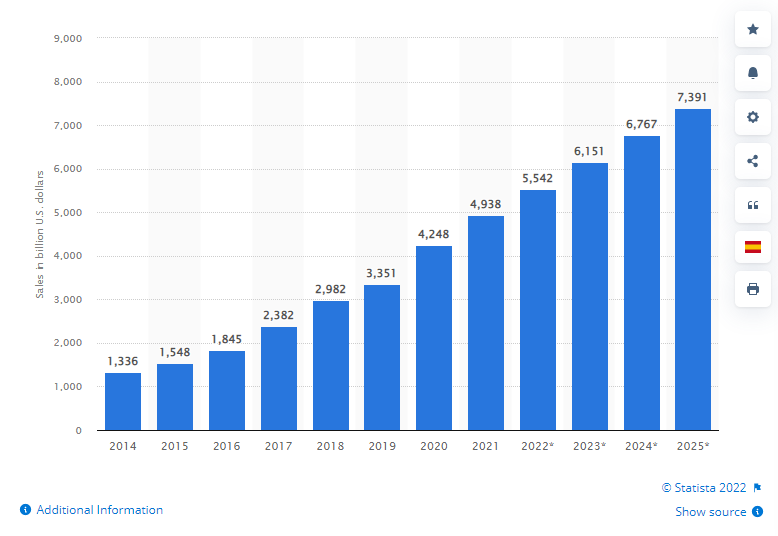 Consequently, entrepreneurs are moving toward eCommerce website development to earn huge profits. Various eCommerce platforms are available to develop the market-ready retail website. PrestaShop and Shopify are two widely used platforms in the market to build robust eCommerce stores.
Before checking their detailed comparison, let's first get a brief overview of both eCommerce platforms: PrestaShop and Shopify.
About PrestaShop
PrestaShop is an open-source, efficient, and innovative eCommerce platform. It has appeared among the top eCommerce development platforms with all the features you need to build an online store and increase your business. This fantastic platform powers over 300,000 online stores worldwide.
Main Features of PrestaShop
It is a Symfony-based eCommerce platform that provides numerous eCommerce storefront enhancements. It offers access to already built-in 600+ features and over 5000 themes and modules. Using its plugins and themes, you can boost your online store's front-end, providing them with a better user experience. It offers a wide range of plugins, including search engine optimization, premium responsive templates, secure transactions, advanced modules, ordering, etc.
With PrestaShop web development, your eCommerce store can run efficiently worldwide without worrying about language. It offers 75 languages; therefore, you can quickly sell your products irrespective of your customers' country or currency.
PrestaShop development community provides various add-on features and functionalities to make your eCommerce store more appealing and user-friendly. It offers 5,000+ modules, themes, and services using which you can make your website more compelling and market-ready.
About Shopify
Shopify is a subscription-based eCommerce platform that allows you to start, grow and manage your business. It enables you to set up an online store and sell your products quickly. Shopify allows its store owners to sell products in physical locations using Shopify POS (Point Of Sale).
Main Features of Shopify
Shopify is a hosted online eCommerce platform, therefore you don't need to use third-party hosting services. Because of the ready-to-use infrastructure based on the cloud, Shopify comes with robust security and regular updates.
Multiple payment gateways
Shopify offers you the option to choose from the 100+ payment gateways. Additionally, it also has its payment gateway Shopify Payments. It eradicates the hassle of setting up a third-party provider hence saving your transaction fees.
Built-in Access To Sales Channels
With Shopify website development, you get the advantage as it enables access to sales channels at no extra cost. Merchants can sell on Messenger, Instagram, Facebook, and other popular online marketplaces by connecting each channel to the eCommerce store.
Let's understand the comparison between PrestaShop vs. Shopify.

PrestaShop vs. Shopify: Usability
The development of a user-friendly website is essential for business success. Customization with PrestaShop is not easy. To customize it according to the business requirement, you need technical expertise and experience. With the help of PrestaShop development services, you can conveniently build a rich-quality eCommerce website.
On the other hand, Shopify offers a straightforward dashboard with simple features. Customization and selection of Shopify themes are more intuitive. Additionally, the listing of products is also very convenient with Shopify website development. Therefore, with Shopify, creating a customized eCommerce website is more convenient.
Verdict: If you want a user-friendly platform, Shopify is the way to go.
PrestaShop vs. Shopify: Loading Speed
The loading time of the site is directly associated with the user experience. It is about how quickly the product pages load and determines possible performance bottlenecks.
PrestaShop doesn't provide its hosting; therefore, businesses depend on third-party services. It implies you do not have control over your website loading speed. Hence, your website loading speed relies on the hosting server's performance and other external factors.
As Shopify is a self-hosted platform, it offers you a website that loads faster and provides your site better ranking on search engines. Hence, with the help of Shopify development services, you can build a fast-loading website and offer your customers a pleasant experience.
Verdict: Clearly, you should go for Shopify website development to build a fast-loading eCommerce website.
PrestaShop vs. Shopify: Managing Inventory
To fulfill your customer demand, you must know your inventory stocks. It is necessary to ensure that your stock is up-to-date according to customers' demands. You can manage your inventory in PrestaShop through its advanced product and inventory add-on. It allows businesses to automate their inventory across all channels and better handle suppliers. Additionally, when you choose PrestaShop, you can sell more via bundles & kits and acquire product performance insights.
In Shopify, you have in-built inventory management tools. It allows you to hide products on your eCommerce website when inventory is out of stock. Additionally, you can immediately reorder supplies when they're low, etc.
Verdict: Both platforms are equally robust in terms of managing inventory stocks.
PrestaShop vs. Shopify: Customization
PrestaShop development allows you to customize your eCommerce website as per your business requirements. It is an open-source platform that means you can completely edit, modify and transform your website.
On the other hand, Shopify offers you various plans with different functionalities. You can select the plan as per the features and functionalities you want to integrate into your website. As a proprietary eCommerce platform, Shopify has restricted access to its code. Therefore, it cannot be modified like PrestaShop.
Verdict: PrestaShop is the apt option if you want a highly customizable eCommerce website.
PrestaShop vs. Shopify: Security
As PrestaShop is a self-hosted platform, you must rely on additional third-party security tools and features. eCommerce platforms are under constant scrutiny for being targeted by malicious attacks looking to steal credit card information and other personal data. So, to develop a secure eCommerce website, you need SSL certificates and other features separately. Moreover, you can take help from PrestaShop development company to build a highly secure eCommerce website.
Shopify is a cloud-based platform which means it has a team to manage its security aspects and release regular updates. Shopify also offers a free SSL certificate that assists in protecting customer data from hackers. Additionally, it provides built-in fraud protection that informs businesses about suspicious orders. Hence, if you choose to develop a website using Shopify, then you will have a more secure website out of the box.
Verdict: If you want a secure website, then Shopify is the option you should go for.
PrestaShop vs. Shopify: Development Cycle
In this advanced technological world, competition is proliferating; therefore, you should start as early as possible to have a robust online presence. PrestaShop doesn't have direct control over website hosting, which implies store owners must do their due diligence to discover a reliable service.
Shopify's reliable uptime and hosting can handle high traffic volume, uptime, and more. Millions of merchants trust Shopify to keep their online stores running during significant product launches.
Verdict: Merchants should select Shopify to timely launch their product with minimum hassle.
PrestaShop vs. Shopify: Management Of Multiple Stores
With PrestaShop, you get the option to manage multi-store, pre-installed in your back office that allows businesses to manage multi stores from the same interface.
Shopify doesn't allow you to set up multiple stores in one account. At the same time, it permits and supports owning various accounts as required to operate multiple stores. Businesses need to set up accounts for every new store separately, handling inventory for each through their own Shopify accounts.
Verdict: Clearly, PrestaShop is the winner in the case of multi-store management.
When you opt for PrestaShop website development, you will have access to a robust community to support you. Its community ensures that platforms remain competitive by updating them from time to time. Merchants can post their queries on forums or read their informative blogs to get the solution.
Shopify has a community as well as a team. Its team releases security patches, the latest versions, and much more to make it the best eCommerce website development platform. With the help of its community, merchants can resolve their queries and get solutions.
Verdict: Both the platforms have a robust community to make them market-ready and competitive.
Wrapping It Up!!
Both eCommerce platforms PrestaShop and Shopify are excellent that enable entrepreneurs to sell products and services online. However, both platforms differ in terms of functionality.
As a self-hosted platform, PrestaShop offers more flexibility and freedom to scale and customize an eCommerce store. Regardless, its learning curve is steeper. Moreover, the security and performance of your eCommerce store are dependent on the hosting services.
On the other hand, Shopify being a fully-hosted platform provides built-in functionalities and features that change as per the selection of its plan. With Shopify development, you can create a website with user-friendly interface and customization options.
Therefore, both the platforms are robust in terms of one or other aspects. The final decision depends upon your business goal and project requirements. You can seek assistance from a reliable PrestaShop development company or Shopify development services to build a competitive store for business.