Are you running a brick-and-mortar store and now want an eCommerce website for your business? If yes, then you have landed on the right page. We are going to tell you how you can pick a just-the-right eCommerce website development company to develop your exclusive eCommerce store. There are 1.8 billion people worldwide that are actively shopping online. Look at the chances of success!
In order to get the largest possible slice of the pie, you must create a top-notch eCommerce website with excellent features.
The expansion of the eCommerce industry has gravitated to many businesses, not only big enterprises but also small entrepreneurs. Therefore there is a hunt for the best eCommerce web development firm worldwide. Today, eCommerce websites are crucial to getting a lot of customers and sales.
What is the benefit of hiring a company to develop your eCommerce website?
With the rising competition among eCommerce businesses, making your own place is not a cakewalk. A professional service provider can meet your expectations and build a top-notch online store. The following are some key benefits of choosing an eCommerce development partner for your project.
Timely delivery
A company has professional eCommerce developers who can work on any challenging project and accomplish it in a given timeframe. Indeed, timely delivery is one of the key benefits of hiring a professional eCommerce website development partner. They believe in creating long-term relationships with their clients. So they focus on delivering quality solutions within the promised time.
Technical expertise
Undoubtedly, you can depend on an eCommerce website developer to get the requisite expertise for creating a top-notch eCommerce store. If you select a reliable company to develop your eCommerce store, you can leverage their technical expertise and domain knowledge to craft unmatched solutions for your business. They know what is better for you and how to make the best-suited solution for your business.
Deliver great results
You can be sure that you get excellent results when you hire an eCommerce development firm because they know the rules, standards, and methods to work efficiently on a project to deliver the best quality solutions. There are many best companies to work with, and they can provide excellent results.
Highly secure websites
Website security is crucial for any online business to keep its data secure and win customers' trust. Undoubtedly, when you choose a technology partner to create your eCommerce store, they will deliver a highly secure website. They know the latest trends and features to provide you with a cutting-edge eCommerce store with excellent security. They can build a high-performance and secure online store with PCI DSS and other compliance.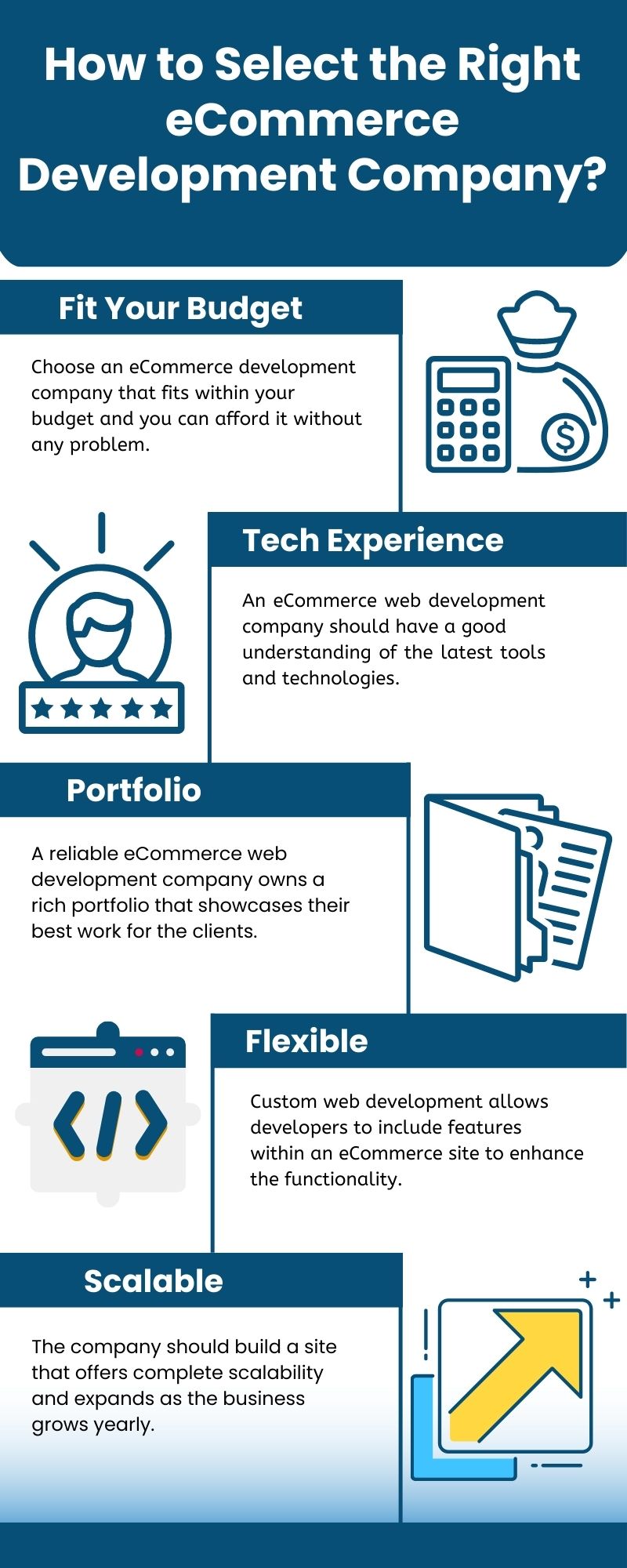 What Are The Considerations For Selecting The Right eCommerce Development Company?
Fit for your Budget
If you opt for eCommerce website development services, there involve expenses. Indeed, your costs depend on your idea, possible project investment, and several other factors. But it is crucial to keep a keen eye on the overall structure of the costs. A website would represent your identity in the market, so you need to build the best one. Hence, choosing an eCommerce website that fulfills every requirement of your business and meets your budget goals as well is of primary concern for you. Therefore what's the most important for you is the cost.
The basic plan of your potential company that you wish to hire for developing an eCommerce store should be cost-efficient. You should see if your budget and requirements coincide with the services provided by the development company. This is a vital aspect for aspiring entrepreneurs to create a perfect website for their businesses.
You should ask for the details of the cost it would take to make an eCommerce website and discuss your requirements. Also, you should be clear about the objectives behind the project. Ask your company about what solution would be provided to you and whether there are any licensing requirements or not. You should inquire whether there would be any additional cost when you get the solution. Also, one can always ask if there are any discounts or referrals to avail.
Customization
Usually, eCommerce development companies offer to develop a website with pre-built themes and plugins or with a custom development approach. Custom development is highly recommended for developing a top-notch eCommerce website. When creating a customized eCommerce website, you can add custom features as per your business requirements. You should look for an eCommerce development partner that can fulfill your specific business needs. Indeed, the company should have the professionals to meet your custom website development needs. You can ask your potential service provider if the eCommerce website would be flexible and if you'd be able to control it. If an eCommerce website is live for a global audience, ask if it'll have a multilingual and multicurrency feature.
Scalable Website
An eCommerce website like a multi-vendor platform consists of a huge amount of data that affects its performance. As you can understand by the guide on multi-vendor eCommerce marketplace development, you need heavy resources. If you want to build a multi-vendor eCommerce marketplace, the product list can expand to more than 10,000 products on your website. Ensure that at the time of eCommerce site development, there would not be any limitations to the number you can add to your website. Also, your business should not suffer because of more loading time or errors as it would adversely affect your image.
We all know how important it is that your website pages load quickly. Your customers are likely to shift to your competitor's website if it takes too long to load a page of your website. An eCommerce website should be scalable to be able to handle maximum order, high traffic influx, and fleeting page visits. You should ensure that the developer you choose can create a scalable website to offer these benefits.
Tech Experience
One of the most vital features that business owners would want to know is the experience of an eCommerce development agency. Their specialization would help you determine whether that company can meet your requirements as per your needs.
Uncovering their technical expertise would help you understand the platforms and modules they use to provide their eCommerce development services. You can ask them technical questions to check their expertise in technologies like PHP, MySQL, Python, and their ability to build cross-platform compatible websites.
You can ask for recommendations in consideration of your eCommerce project. If they provide an in-depth description of the advantages and disadvantages of the technologies they will exercise on your project, you can consider them for your project for further evaluation.
Also read: What are some top technologies for eCommerce Web Development?
Portfolio
Every proficient eCommerce web development company must have a portfolio of their previous work. Before finalizing any reputed company to deliver eCommerce development solutions, you should ask for their portfolio if it is not already mentioned on their website. With this work, you can evaluate the usability and functionality of solutions they have delivered to their clients.
You can examine the skills of eCommerce developers and other professionals that worked on those projects. You can ask separately to show some examples of work that belong to your industry. With this, it could be seen to examine the quality of work in a particular area and if they can meet your expectations.
Development Process
Another crucial factor for choosing the right company for creating your eCommerce website is how the development process goes on. If you are concerned about how to hire eCommerce developers, you must check their ability to deliver your project on the estimated time. They should provide regular updates on completed tasks related to your project and other accomplishments. They should know about the implementation of the phases within the time period.
It is vital that the development process is completed within the time frame promised to the customer. This will ensure a smooth run to the other process and functionality of the website to make it available for their audience. Also, check if they include the latest technology and trends in their development phase.
Wrap Up
If you have gone through the above pointers, it can be easy for you to select the right company to develop your eCommerce website. It is a crucial decision, and you should not leave any stone unturned while evaluating the potential options. To help out with the search, CSSChopper is here to help you. We can offer you our extensive eCommerce development solutions. All you need to do is call us and get a free consultation today!