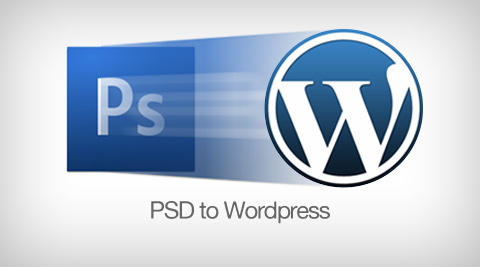 These days' people are using open source Content Management System (CMS) platform and shopping cart to make things as functional as possible with great ease. When it comes to WordPress powered website, PSD to WordPress conversion is the most essential step for converting PSD to WordPress theme/ template to creating powerful feature-rich web portals. Originally developed as a blogging platform, WordPress has gained immense popularity among users within just few short span of time.
Around 14% of all websites are today powered by WordPress and by this WordPress possibly becomes one of the most popular open source CMS in the large bunch. Due to its convenience and functionality, WordPress has been taken into consideration as a powerful Content Management System to get started with enhancement work of robust WordPress powered website.
In case you are building your site on WordPress, then converting the PSD format based designs into WordPress theme/ template is the first and foremost thing you need to do for making commanding figure-rich web portals. The reason is simple PSD format abbreviated as Photoshop document format is an image file designed by using Adobe Photoshop software which is not accessible and compatible with web browsers like Firefox, Internet Explorer, Chrome, Safari etc. So, we need to Convert PSD to HTML to make them compatible over internet browsers.
When hundreds of WordPress websites are designed up every other day, there is a necessity to create a unique and successful websites with essential characteristics. Due to the fact the market is certainly becoming more competitive day-by-day, it is important that your website is capable enough to stand out from the cluster and attract your potential users. Hiring WordPress developer from professional web development company like CSSChopper is the best solution for getting PSD to WordPress conversion service.
The dual process of converting PSD to WordPress theme/ template to build a WordPress site is critical one which demands advance coding knowledge and stupendous programming skills. A well-skilled WordPress developer with professional knowledge of advanced WordPress codes is the only person whom you can trust for flawless PSD to WordPress conversion services. A professional WordPress programmer convert PSD format image file into WordPress powered template or theme in an efficient manner.
There many are various advantages of hiring professional services of WordPress developer for converting PSD file to WordPress in effective and efficient way. You get hand coded mark-ups which helps in creating error less coding structure which automated software can never give. Undoubtedly, a well-committed WordPress developer with sufficient experience and solid knowledge will code your website PSD with high-quality and clean codes to create a really interactive web portal which will enthrall the customers.
Quality assurance is the second major benefit you get from hiring virtual assistance of professional WordPress programmer. It is the utmost important factor which you cannot afford to ignore when it comes to WordPress website development. Besides that, advantages like Non-Disclosure Agreement (NDA), 100% satisfaction guarantee or *money back policy, availability at the time of emergency, flexible hiring plans, great customer and technical support are some more things you get at the time of hiring WordPress developer from professional PSD to WordPress conversion service provider.
CSSChopper is a reliable PSD to WordPress service provider offering virtual assistance of its skilled and experienced WordPress developers on full-time, part-time and hourly basis at affordable hiring rates. Contact us in case you have any query or you want to Request for Quote.
Posted By: CSSChopper Team