The latest yet prolific twists in the mobile app development realm have come up with the launch of Sencha Space 1.2 version, including Android and Desktop features. Enriched with various matchless features, it is the best platform to make the development and debugging of mobile applications easy on the different in-demand Operating Systems (iOS and Android). With the mind-blowing feature named Space Client application, it enables the developers to do remote debugging without hassle and takes your headaches out of debugging HTML5 apps across multifarious platforms.

It consists of following two key parts:
Present on-premise or in the cloud, an admin console application is used by the admins to manage the access of their users into the data & application.
With this one of the secure apps management platforms, one can secure, deploy and audit the applications on the users' most devices such as smartphones, tablets & desktops, without any sort of obstacle related to the compatibility.
Well-recognized for the mobile development tools, Sencha targets a variety of Operating Systems and platforms. Now, it has launched a fruitful version, Sencha space, which will prove to be a master and aid the organizations to add security & management technology as well as deploy secure applications & audits on different devices, including desktop and mobile. Furthermore, it provides help in the addressing of challenging tasks like testing, building and deployment of the cross-device HTML-based apps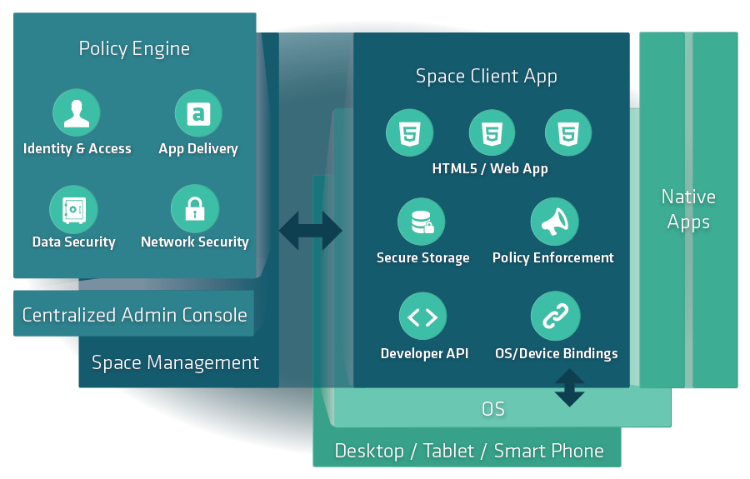 Power of Sencha Space for Organizations in the Reduction of:
Cost
Compatibility
Complexity
Inefficient development process
Errors & bugs
By simplifying testing, developing and debugging processes, it saves up to 60% development expenses and time in comparison of hybrid & native development models.
Get ready to Know the Newly Added Features With This Release (Sencha Space 1.2)
On-Premise Administration: Featured with the richest management capabilities, it lets you deploy Space on a private cloud instance or your data center.
Desktop Client Application: This single integrated program is substantial for the successful applications' deployment on the users' smartphones, desktops as well as tablets.
Remote Debugging Support: Seamless application, which simplifies the app development and testing task of developers with the feature of remote debugging for iOS and Android OS. It is the perfect platform to find out and fix bugs in an easy manner.
Android Custom Runtime: Diminish the extreme burden regarding the fragmentation of the Android platform with high performance, consistent and Chromium-based runtime on every Android 4.x device.
Deep Glimpse Over Sencha Space 1.2 & Its Comprehensive Benefits
Being a leader, helps you deliver the business applications in the most secure web app environment that segregates and even encrypts the proprietary applications & data across the devices.
This powerful platform will help the developer reduce the complexity and cost of the multiple device-based enterprise app development, deployment, and maintenance by erasing the vitality of native packaging, multi-code bases, consumer app store development, and usage of sensitive applications in insecure browsers of consumers.
Boost IT policy enforcement along with the centralized management of devices, users, applications, groups, and policies to maintain security & access control.
Lucrative for the development and debugging of cross-platform apps, it provides the best user experience using Remote Debugging and Sencha Space APIs capabilities.
This platform also aids you to simplify the regulatory compliance and audit with reporting & data analytics.
To make your browsers more powerful and deliver the optimal user experience, CSSChopper has added a new service in its wide list, which is based on Sencha Space 1.2. Abreast with technical advancements, our team of adept developers is technically knack in the same arena and they also acclaim you to render client-centric Sencha Space 1.2 services. Expand the scale of your organization by executing your desired needs in the proficient manner. Check our portfolio to know our competence in this newly launched platform (Sencha Space 1.2).