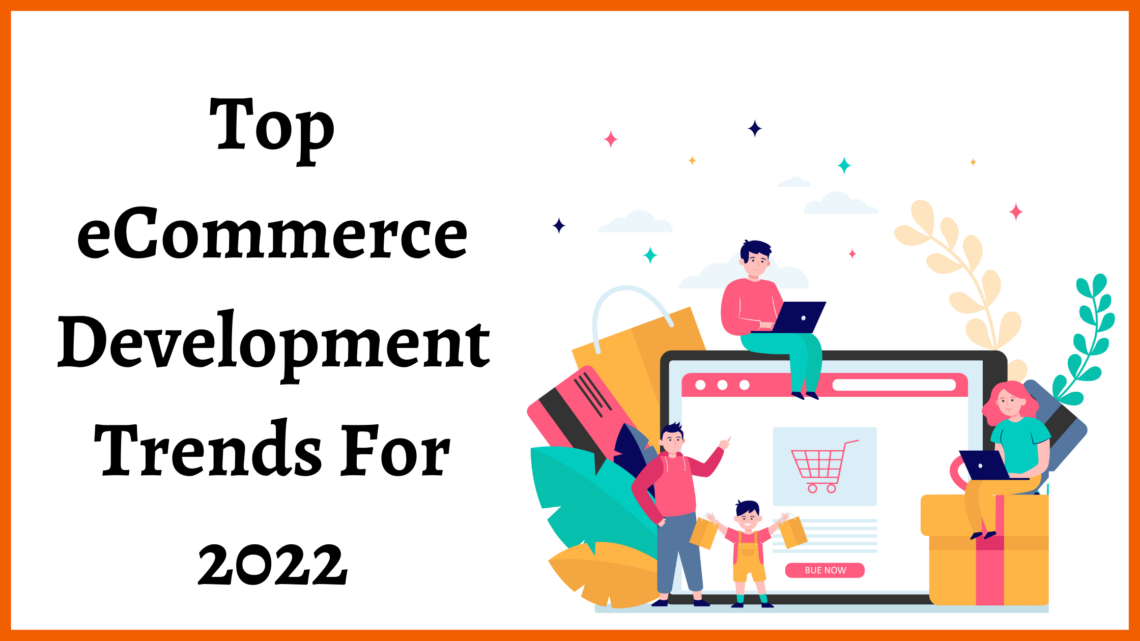 5
mins read
Today, we live in the digital age where we are surrounded by multifarious gadgets and equipment that make our lives convenient and vibrant. Whether it's about sending a mail, getting some information, or buying the desired products, it's a matter of a few clicks to perform these activities.
Over 20% of total retail sales will come from eCommerce by 2024, surpassing $1 trillion. As eCommerce businesses are growing around the world, online shopping is becoming more ubiquitous across nations. It has inspired many entrepreneurs to invest in eCommerce website development. 
However, creating the right eCommerce website is not as easy as it seems. You need proper planning and the latest trends in eCommerce to make a market-ready website. Trends are important to look at when it comes to website development as they give us the best way to create competitive websites. 
Here we will discuss the top 8 eCommerce website development trends in 2022 to build modern and productive eCommerce apps. 
eCommerce Web Development Trends for 2022

Voice Search
Ever since the advent of smart speakers and voice assistants like Google Assistant, Alexa, Siri, etc., people's lives have become different and more effortless in many ways. These devices and tools are here to differentiate people's lives by helping in making a transition from "typing" to "speaking". Nearly 55% of households worldwide are expected to own smart speakers by 2022, resulting in the global market revenue for intelligent speakers growing exponentially by 2025.
Voice devices and tools are designed to receive certain voice commands that enable users to access a myriad of services. Voice search has become a popular trend, and it will remain so in 2022 as well. Many eCommerce platforms provide various Voice User Interface solutions that allow users to search for products based on voice commands. You can successfully enhance your business with Shopify website development or using any other platform of your choice to optimize your website for voice search. Voice search also boosts SEO, so it is beneficial for businesses in multiple ways.
Faster Page Speed
Ultra-fast load times are among the most essential web development standards. For years, a fast loading time has been a vital ranking and conversion factor for websites. Especially with the introduction of Google's Core Web Vitals algorithm update in 2021, page speeds are more important now than ever for website rankings.
Most internet browsers expect a site to load quickly, and the time after clicking a link should not exceed two seconds. You're most likely going to lose visitors if your site takes longer than three seconds to load, and they won't come back, and you're unlikely to keep them! In order to help their eCommerce clients achieve high rankings in search results, developers have to learn how to build light and fast-loading websites. 
Marketing Automation 
Marketing automation is vital for online businesses to achieve their goals that have been set up for growth and revenue. It allows them to manage their marketing processes and automate their campaigns that run on multiple channels. When you combine eCommerce with marketing automation, you get a perfect recipe for online business. You can provide the best shopping experience as well as create effective marketing campaigns to target the desired audience.
Moreover, you should keep in mind that marketing automation is more than just automating email marketing and scheduling social media posts, it is providing steps like customized landing pages and easy-to-access shopping carts. You can take advantage of varied eCommerce platforms like PrestaShop development to build robust eCommerce websites and combine it with the trend of marketing automation to ensure convenient marketing and better customer satisfaction.
  Artificial Intelligence 
One of the revolutionary technologies that have emerged during the past few years is artificial intelligence or AI. Artificial Intelligence has become a popular technology for eCommerce websites and a top trend in custom website development. AI helps businesses in multiple ways, like product recommendations and predictive analysis. AI along with machine learning is being widely used to improve customer service and personalization. Here are some applications of AI for eCommerce businesses:
It helps businesses to learn about their customers.

Businesses can use AI to deliver personalized user experiences as per their demands. 

Enhance the shopping experience by connecting customer data with real-time insights.

Automation of tasks like customer service with the help of AI-based chatbots.

Optimizing pricing and discounting policies. 
If you are keen to use these technologies in your eCommerce website, you have to ensure that you choose the right eCommerce platform. Finding a suitable platform can be challenging. You can get some help to make the right choice by going through our blog "How to choose the right eCommerce platform?" regarding this.
Chatbots
Chatbots are one of the most all-embracing trends in eCommerce development. Chatbots are quite helpful for eCommerce businesses as they automate human-to-human interactions. It means customers can interact with chatbots on an eCommerce website to get numerous services quickly and conveniently. Often custom support has been an Achilles' heel for many online businesses. But, with the help of artificial intelligence-based chatbots, companies can provide efficient and convenient customer support.
By 2023, it is predicted that eCommerce transactions will total $112 billion. Chatbots can provide answers to customers' queries and interact with them to resolve any possible issues and customers don't need to wait a very long time to find solutions. You can hire web developer to build a feature-rich website that has a smart chatbot.
Headless and API-driven eCommerce Websites
So far the elements that we have discussed here are those that customers interact with directly. However, users are not aware of the back-end tech structure of an eCommerce website despite it having a huge impact on the overall user experience. Headless eCommerce is a solution that enables online stores to decouple the eCommerce platform from the front-end presentation layer. Consequently, online businesses can utilize DXP, CMS, PWA, or other existing or customized front-ends in their tech stack. 2022 could see a jump in the use of headless eCommerce websites. In fact, it will see an increase in the adoption of new headless front-end solutions like PWA (Progress Web Apps).
The Rise in Mobile Shopping
You should make your site easy to navigate and use for mobile users. In 2022, web developers will continue to create websites that are easy to use with a finger. Basically, we will use our phones more often. If you are reading this on your phone, look at the way you hold it. eCommerce sites with mobile app-like functionality may encourage smartphone users to make this decision.
The user will feel more comfortable on a mobile site with this interface and functionality since they already spend most of their time on mobile apps. Due to users' increasing reliance on digital devices, mobile will likely replace desktop computers as the most popular channel for online shopping shortly.
AR/ VR
This technology eliminates many hurdles arising in online shopping, making it an absolute boon to the eCommerce industry. When previewing products or experiencing services before purchasing, augmented reality (AR) plays a key role. Having this kind of visualization helps them decide if a product would meet their needs. Businesses that offer eCommerce platforms with Augmented Reality (AR) will expand their market horizons. 
Several surveys and reviews testify to VR experiences. Consider Airbnb, which allows you to preview a rental before making a reservation. It's like how IKEA can show you how your room would look with a given sofa. VR can be a sturdy tool for websites to deliver valuable, engaging content in a way that helps visitors decide whether or not to buy.
Let's Sum Up!
Online shopping has become very popular globally, making shopping easy and convenient. Nowadays, there are plenty of eCommerce platforms that businesses can choose to create the best websites. You can hire a WordPress developer or choose a Magento developer, or select professional developers for any other CMS technology to create outstanding eCommerce websites. 
However, to create a modern and feature-rich eCommerce website you must follow the latest trends to build your site. Now that we are on the threshold of the year 2022, it would be interesting to see new trends and implement them on your website to stay updated with the latest technologies.