Undoubtedly, businesses have to face many challenges throughout their journey to become successful companies. One of the biggest challenges for them is the budget constraints that force them to make optimal decisions to take maximum benefits of their limited resources. As websites have become indispensable for every business regardless of their size and domain, companies look for affordable ways to turn their ideas into reality. To be the best in the digital world, a company needs an attractive and enticing website that is unique and functionality-rich to stand out from competitors.
However, the spending on an on-premise development team is very high, so organizations are trying new alternatives to save costs and still achieve their KPIs. As a result, companies outsource their projects to dedicated development teams that work remotely on their projects. Indeed, this is an ideal scenario for businesses to have a remote dedicated team of experienced and qualified developers who can work on their projects from the ideation stage to the development and maintenance.
Have you wondered why companies choose these dedicated development teams over other options? You can check out the reasons why you should hire a dedicated development team to know it better. Hiring a dedicated development team brings numerous advantages to businesses besides the reduced costs of development. If you wonder what kind of benefits it brings to you, keep reading to know all these benefits.
What is a Dedicated Development Team?
A dedicated development team is built from a group of experts to help businesses achieve their objectives. The experts are skilled and experienced in managing software development projects for startups, mid-size companies, and enterprises. They are not freelancers; instead, they are the offshore service providers who work full-time with your in-house team to bring your ideas to fruition.
It is a fast-evolving digital era where websites are an essential part of life; hence, every business has the challenge to create a top-notch website that is user-friendly and less complex. Such a website can attract and hold the interests of different visitors. A dedicated development team has the skills, knowledge, experience, and ability to build something extraordinary that will turn your vision into reality.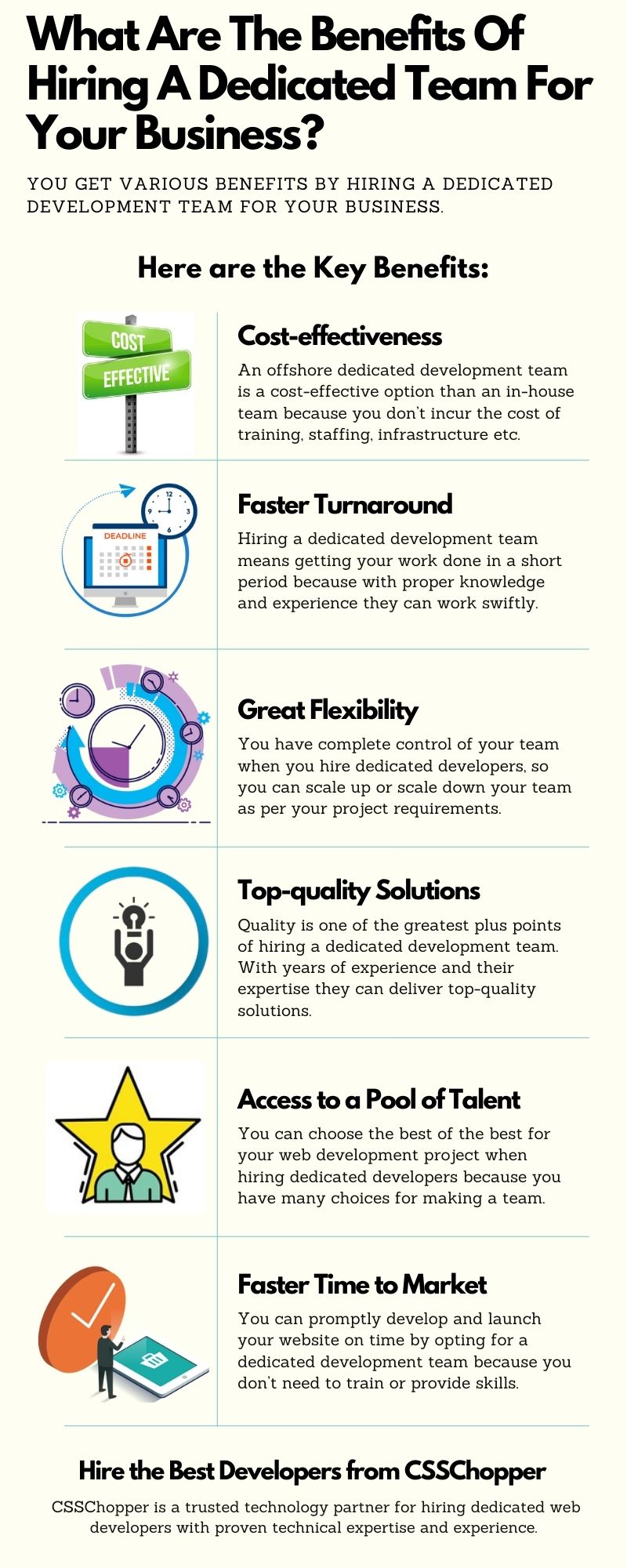 How does the Hiring of Dedicated Development Teamwork?
A development team works to help their clients meet their objectives most effectively. The process of hiring a team starts with a company providing details regarding project scope, timeline, and business goals.
It is recommended to specify the dedicated developers' skills and the number of developers you require to work on your project. Based on this information, you can look for a reliable web development company to hire developers. Once you find suitable developers, you can choose to onboard them immediately or take some time to gauge their skills through an interview then finalize the hiring.
The company you choose for hiring web developers can provide as many developers as you require for your project. There will be a pricing system according to your needs.
What is the team structure of dedicated developers?
If you want to hire dedicated web developers remotely for your project, you must be aware of the team structure to know who will be in the team. There are many people in an offshore team you hire who work in coordination to deliver the expected results. For a project like a website development, many professionals are required, like those who will develop the site, look after the development process, test the project, etc.
The following is a typical structure of a dedicated offshore team:
Business analysts: They are responsible for analyzing the project scope and setting up goals to meet your objectives. They document a core process.
Project Manager: He is in charge of planning and executing the project. He oversees all the processes, delegates tasks to team members, communicates with clients and other project management-related tasks. A project manager is a medium between developers and clients to take the project in the right direction.
Developers: Obviously, developers are an integral part of a dedicated development team. They are the people who take the responsibility of giving your ideas life with their expertise and proficiency in the latest technologies. Developers carefully comprehend your requirements and combine their skills and technical prowess to create something extraordinary for your business. Depending on your goals, they use various technologies like HTML, JavaScript, PHP, WordPress, Drupal, Magento, ROR, etc. In developers also there are front-end and back-end developers. You can hire both or any of them depending on your requirements.
QA experts: When your website or web application is ready, it needs to be tested to make sure that everything is up to the mark. Here the quality assurance experts come into the picture. They perform stringent tests on your website or web app to ensure that it meets the set requirements. They ensure that your product is error-free and working as expected.
These are not the only team members in a dedicated development team; there may be more depending on your needs and from where you hire them. Moreover, these are the typical team members in a dedicated development team, but there may be more with different roles and responsibilities.
Advantages of Hiring a Dedicated Team for your Business
You get many perks if you decide to hire a dedicated development team for creating your business website or web application.
Cost-effectiveness
One of the best perks of hiring a dedicated development team is cost-effectiveness. Developing a website or web app is not easy; it requires immense effort and time. The professionals who work on creating the desired web solution spend hours on it. Moreover, the cost of developing a website or web app depends on how you develop it. A dedicated development team is much more cost-effective than an in-house team.
An in-house team means paying for infrastructure, office space, maintenance, as well as for salaries and training of employees. However, you can eliminate all these costs by simply hiring a dedicated team who comes with infrastructure support, office space, and other things required to accomplish your project.
Fastest Turnaround
If you want to accomplish any task swiftly, you will always choose someone who has sufficient skills, experience, and knowledge of the subject matter. Similarly, hiring a dedicated team of developers means getting the project done in a short time. Having excellent knowledge and experience, the dedicated team can work on your project quickly and proficiently to deliver the project within the given timeframe. Hence the turnaround time is faster compared to an in-house team. And, despite the prompt delivery of the project, the quality is also not compromised.
Great Flexibility
The best thing you get by hiring a dedicated development team is complete and direct control of the team. Consequently, the developers work on your command, and you can manage the team by increasing or decreasing the size according to your requirement. It lets you employ the resources effectively at any given point of time throughout the project. So, scale up or scale down the team as you require it.
Top-quality Solutions
Another unique benefit of hiring a dedicated team is the quality. And, quality is one of the biggest plus points in every project's success. If you choose a dedicated team from a reliable technology partner, you will have great professionals who can deliver the best quality work. They will provide the right solution without compromising on quality.
Access to a Pool of Talent
When you look for a dedicated development team, you have the opportunity to find talented and knowledgeable developers. When having an in-house team only, you have limited expertise and skills to create any complex web solution. But if you hire dedicated web development team, you will have a pool of talent to choose from for creating any complex solution. Your in-house team might struggle to adapt to the changing work environment, but offshore teams have enough experience to withstand any environmental adaptations.
Faster Time to Market
Hiring a dedicated team from an offshore web development service provider helps you avoid hassles in hiring freshers and providing them training with every subtle detail. Indeed, you can skip the learning and training process to create your project faster and make it on time. Hence, it offers a faster time to market.
What are the Engagement Models for Hiring Dedicated Teams?
Every website development company has its own way of collaborating with clients, and however, there are some standard methods they follow for collaboration. We have three engagement models for clients, and they can choose any of them according to their needs and requirements. Here are the engagement models that we have for hiring our offshore developers:
Time and Material
In this hiring model, you pay for what you opt for. Indeed, you are charged for the resources you hire, depending on the time for hiring. You are free to hire our resources for any duration you want and pay accordingly. It is an apt hiring model for short-term hiring requirements.
Dedicated Developer Model
With this hiring model, you get the option to hire dedicated web developers on a monthly basis. It allows you to hire developers for the duration of your project, and our developers will accomplish your task accordingly.
Offshore Development Center
We have an extensive team of proficient developers, and we can serve clients of all time zones by providing the facility to hire our developers through our offshore development center. We offer unmatched web development services within the stipulated time frame.
How can CSSChopper Help?
At CSSChopper, we offer a dedicated team of front-end, PHP, JavaScript, HTML, Ruby on Rails, Laravel, CodeIgniter, etc., with proven experience and expertise in the technology to help you achieve the web development goals and objectives of your business. We take away the pain of creating a top-notch web solution for your business and delivering the best-suited product.
Without further ado, let's see how we help you with our offshore hiring services:
Based on your requirements, we prepare a roadmap for your tech needs and a hiring plan. Our experts offer consultation on your needs to help you choose the right way to solve your challenges.
We allow you to choose the right experts for your projects by letting you conduct tests and interviews to vet candidates depending on their skill set, testing capabilities, performance, etc., to help you choose best-in-class developers.
We offer flexible and focused work schedules, an excellent talent pool, and a well-coordinated development process.
Having a decade of experience in the web development industry, we have mastered the art of improvising our workflow through communication, long-distance, and timezone barriers.
We offer smooth communication through phone calls, online chats, emails, Skype, Slack, and other mediums.
Final Thought
Whether you are a startup, small business, or corporate giant, having a website is vital to meet your goals. And, when it comes to developing a website, hiring dedicated development teams can be a beneficial choice. Indeed, hiring a dedicated team can give you tech results that an in-house team cannot match up, and they can deliver the right solution as per your needs. CSSChopper is a trusted name to hire professional web developers with proven expertise in the field.