Web development is an ever-evolving industry, and crafting an impactful digital footprint is essential for a business to uphold a competitive edge in the market. A business with a high-quality website can showcase its products and engage with its target audience. However, the process of designing and developing a website takes a lot of effort, time, and money, especially for a startup that lacks resources and expertise.
This is where white-label solutions come in, an ingenious way that can save you time and money by delivering high-quality web solutions. White-label web development takes up your work and delivers a solution that is tailored to your client's needs. While they can do all the work related to the development, you can take care of your business operations and parallelly expand your business.
What is a White-label Web Development Company?
As the name suggests, white means blank; it is just a blank on which your client can affix any brand with which they collaborate. This means that the company's services can be rebranded to other agencies or diverse businesses as if they were providing it. This method allows a company to expand its service offerings without having to invest in recruitment and the full infrastructure of a web development team.
Simply put, white-label web development companies are specialized firms that create web solutions without attaching their name/brand to them. Resultantly, a client will re-sell a web solution under its branding.
Let's say your client wants a website to promote its products or services. But website development is not the type of service you deal in, this is where you can outsource your client's work to a company that is skilled in web development. On behalf of you, that particular agency will take your client's requirements and get it done. You can pay an agreed price to the company on which you have fixed the deal and render the website to clients under your brand. This way, you are delivering the services under your name/brand even though you are not skilled in it.

Who can opt for a White-label Development Solution?
A range of businesses can look forward and opt for white-label software development services by staying competitive and delivering full-scale services to their clients.
Basically, startups can focus on leveraging the power of this latter approach in web development. It is because of a lack of resources and proper funding to hire a dedicated team for a project this method is suitable for them. A bootstrapped business can hire a reputed business technology partner to get the work done for them, like recruiting a permanent employee.
Marketing agencies can harness the power of white-label web development. The inner focus of a marketing business revolves around content, whether it is content marketing, graphic design, and so on. But, if they get in contact with any client looking for help in web development, this is when they can opt for this approach.
IT Consulting agencies, despite the popular belief, sometimes are not tech-savvy. They are not affluent in web development terminology, contrary to the name and designation. But, they get amassed web development clients, and due to a lack of understanding, they can propel this project to a white-label solution provider.
Benefits of Working With a white-label Technology Partner
You can more focus on nurturing your relationship with clients to work on newer projects, while the specialized company you've collaborated with can work seamlessly on those projects.
This is quite similar to a movie production, where the director (your agency) takes on center stage, overseeing the project and interacting with clients. While the spot crew (the talented professionals, your white-label technology solutions partner) works thoroughly behind the scenes on your project, ensuring a final cut.
This latter approach in web development has numerous benefits that your business can leverage by partnering with them. Major ones are enumerated below
1. Help you Offer More Services
As a business, you have avoided a wide array of projects that have been on any specific technology. Let's assume a project on WordPress that is related to design and development. The reason behind this is a limited budget for hiring a dedicated employee or a lack of expertise in your agency. This is where you are lagging some potential clients.
Here, partnering with a potential white-label website development company can help you offer a range of services. Now, you can offer all the services that the agency offers to your clients and present them as your own without worrying about budget or expertise.
2. Provide More Value
One of the reasons that you can go for white-label service is that you create additional support with your custom branding. This means that you can resell a website developed by a white-label company with your branding. This results in increasing the value of your business, as your clients get work done by you within your brand name.
3. Cost-effective
One of the main benefits of working with a white-label web development company is cost savings. You can save a significant amount of money by outsourcing your web development needs to a white-label solution partner.
How can this be cost-effective, then?
It's budget-friendly because you do not have to build and maintain a web development team for your business. This, in turn, can save overhead expenses for your business. Also, it is inevitably true that web development is indeed an expensive, but white-label technology solution providers eliminate the need to hire additional full-time staff. As a result, you get affordable services without having to pay an extra penny.
4. Provide High-Quality Web Solutions
Delivering high-quality web solutions to your clients can significantly increase the credibility of your business. When you partner with a software solution technology partner, they will leverage their experience to develop a quality web solution.
With a highly skilled and specialized team, white-label companies make use of the latest advancements in technology to get the work done by ensuring the highest possible quality. This not only increases your credibility in the market but also allows you to generate additional revenue.
5. Timely Solutions
Another notable benefit of working with a white-label web development company is you get web solutions within a time. This is because they work with a team of skilled, experienced, and versatile developers who can offer an array of services, from design and development to maintenance and support. You get your project done more quickly and efficiently.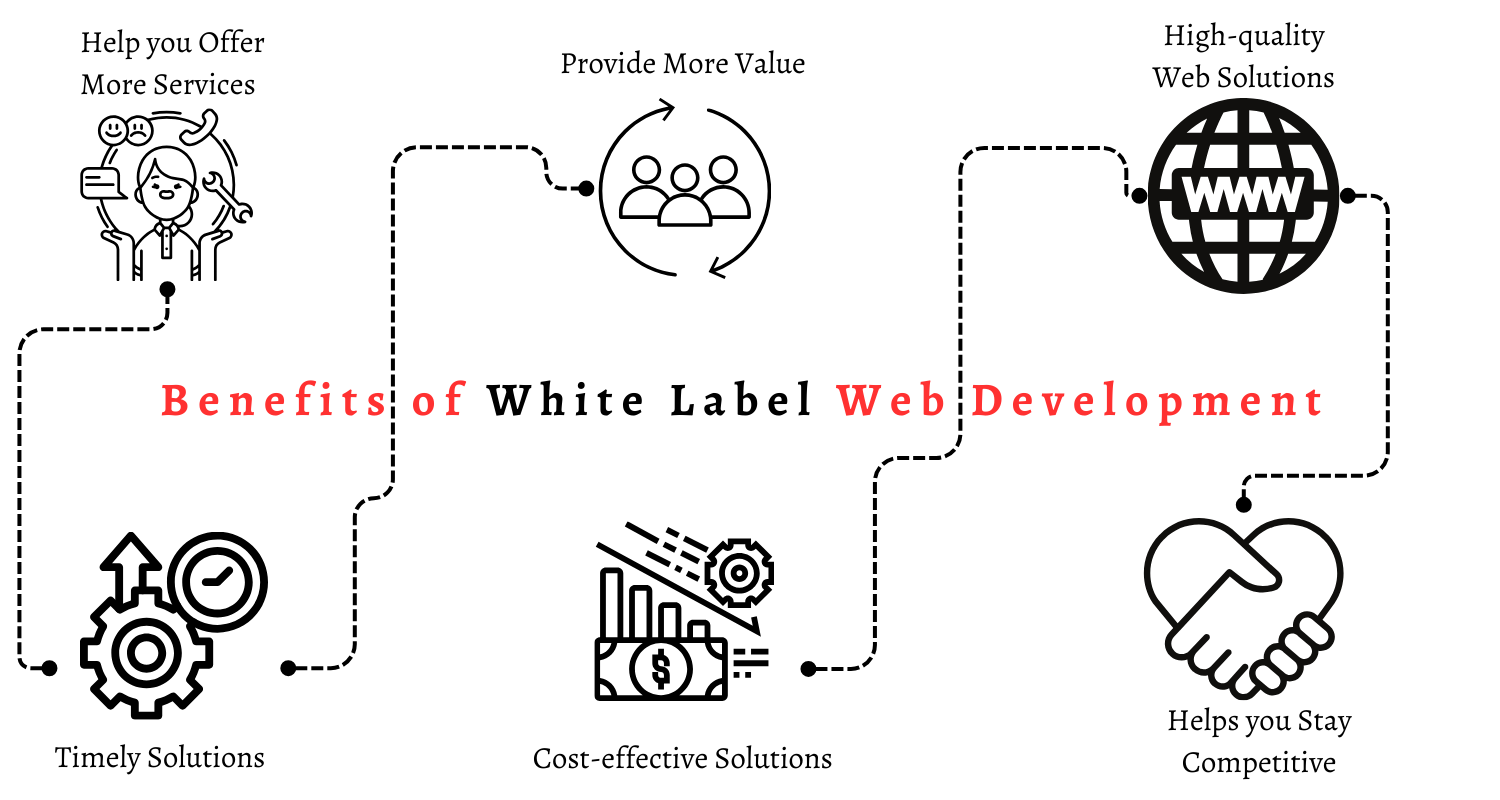 6. Expertise
When you partner with a white-label development solution provider, you get access to their team of highly skilled professionals who are proficient in diverse areas of web development. This lets them develop a tailored solution for your business. Small businesses or startups can leverage their expertise in web development as they do not have such resources to create an in-house team.
7. Competitive Edge
Partnering with a white-label technology solution partner can help you gain a competitive edge in the market. Now, the question to encounter is, how can this be possible?
As a business, you can offer more services without investing in the resources to pay for developing an in-house team. This can help your business to stand out from the competition by offering more comprehensive services to what users are looking for. Also, as a result, you can help your client enter the market more quickly and efficiently.
8. Scalability
Apart from developing scalable web solutions, a company having specialization in providing white-label services is scalable to work with. Simply put, you can scale up or down the required experts as per the requirements and budget of the project.
Whether your project is just to build a simple website with easy navigation or to build a complex multivendor eCommerce platform, a white-label service provider can accommodate your business needs. Not only that, for any further additional functionality in the project, you can exert their expertise.
9. Ease in Customization
Every business has a different set of requirements, and based on that, one wants its website to be developed. Whether you want your project to be developed from scratch, add any further functionality, or modify the developed content, this all can be done via customization.
When you outsource your project to an expert company, you get an ease in customization. Not only in customizing your website/template to one extent but also in developing it from scratch based on the specific needs, resulting in high-quality development solutions.
10. Secured Web Solutions
When you outsource your web solution to a company specializing in white-label services, you have enough time to spend on the other vital aspects of your business. This is all because you do not have to worry about the complicated technical details involved in the process of website development.
A white-label web development service provider can also take care of the crucial aspect of your website, which is its security. You can rest assured that your site is always updated and protected from potential privacy threats.
What Qualities to Look for in the Right White-label Technology Partner?
Without any doubt, this latter approach has several benefits that can help a business to retain its position higher in the market, increase its credibility, and improve brand visibility.
But, with numerous benefits, businesses still do not want to partner with a white-label solution provider. Why? This is because of the bad output that gave a bad impression about their business.
However, this problem can be countered if you partner with the right company, and that can be done if you follow some important considerations.
You can check the company's portfolio of delivering excellent projects
Check their reviews and ratings to understand their credibility
Communication says a lot; check how good they are at it
Lastly, check their expertise by testing them with small tasks
A good company will cooperate as long as the output it creates meets the expectations of its clients. However, there are some major qualities that you can consider before selecting a white-label agency. These are as follows:
1. Company's Approach towards Problems
As a business, while selecting the right technology solution partner focus on the company's approach to countering the problems. This includes their ability to identify and assess risks and how they plan to mitigate them.
You can also consider their experience of how they've dealt with similar problems and also their credibility in the market. Therefore, you have to invest your time in selecting the right company for your project. This will reduce the risk of problems and can maximize the technology's potential benefits.
2. Understanding of the Latest Technologies and Trends
The company you hire to complete the project should adapt to the latest trends in technology. Their versatility and adaptability help them to meet the requirements of your project.
Hence, before getting any sort of partnership with a white-label partner, ensure that the company you pick stays updated with the latest technology updates.
3. Trustworthiness
The white-label agency you are partnering with is going to be responsible for all your client's project requirements on your behalf. So, ensuring that the company you hire is trustworthy is essential.
How a company works and reports to you will give a fair idea of its reliability. If they try to amend any changes that are not necessary, you can discontinue your partnership. However, if they continuously update you on your work's progress, partnering with them would be beneficial for your business.
Experience the Difference in White-label Development With CSSChopper
By outsourcing your project with us, you can survive the cut-throat competition as we help you develop quality web solutions tailored to your requirements. This will expand your client base and exponentially increase the revenue of your business.
With a team of highly proficient developers and years of experience in the market, we stay up-to-date with the latest trends in technology. Our team works on an agile development methodology to ensure the timely delivery of projects. We follow strict NDA (Non-Disclosure Agreement) to ensure the safety of every project.
We have worked for different business verticals within diverse industries. Our versatile team has completed over 9,000 projects and successfully achieved a 97% client satisfaction ratio.